Erim Gómez, PhD, was 5 years old when he saw a National Geographic documentary about grizzly bears in Yellowstone National Park. From that moment on, he was determined to work with wildlife.
Although he doesn't engage directly with grizzlies, as an assistant professor of wildlife biology at the University of Montana (UM), Gómez has found his niche at the home of the "Griz."
For Gómez, getting to this place is personal. He attended three universities on the way to achieving his goal, but never had a professor of color teach any of his STEM (science, technology, engineering, and math) classes.
"I want students to be able to see themselves as professors or scientists because I really did not have that opportunity," he says. 
Through a lecture called "My Wild Life Story: From Special Education to PhD," Gómez shares his educational journey in the classroom and at speaking events to inspire underrepresented students to pursue careers in the fields of  STEM.
His story showcases his grit and determination in pursuing his dream while facing challenges as a first-generation American and contending with learning disabilities.
Gómez's parents, who were born in Mexico, became farmworkers after moving to the U.S. He grew up in California and Oregon with his two brothers and stayed in the Pacific Northwest long enough to obtain a bachelor's degree in environmental studies at Southern Oregon University and his master's degree and PhD in natural resource sciences from Washington State University. 
His lecture also shares learning challenges he had to overcome to get to college and graduate school. Gómez has coped with reading and writing disabilities throughout his education, having first been diagnosed as functionally illiterate in middle school.
"I remember still struggling with reading comprehension in my first year of college," he says. "I would listen to NPR to increase my vocabulary. I took the minimum number of credits I could, and it took me a little longer to graduate college."
While pursuing his PhD, he learned he has dysgraphia, a neurological disorder characterized by writing disabilities. To compensate, he begins writing projects earlier and uses computer software that reads his writing back to him so he can catch mistakes. In addition, he sends his writing to trusted friends and colleagues. 
Gómez shares the story of his learning disability to empower students.
"As scientists and knowledge creators, we have to become lifelong learners," he says. "I express to them that I don't care about their grades. I care about their learning."
Another milestone in Gómez's journey was the passage of Senate Bill 1070 in Arizona in 2010. The law allowed police to stop people who appeared to be undocumented and demand proof of legal immigration status, and Gómez felt people from his community were being treated like second-class citizens. Although he was conducting conservation research in graduate school with the help of a $100,000 Bullitt Environmental Leadership Fellowship, he saw the injustice others were experiencing and began to question how he could be of benefit to society in a more profound way.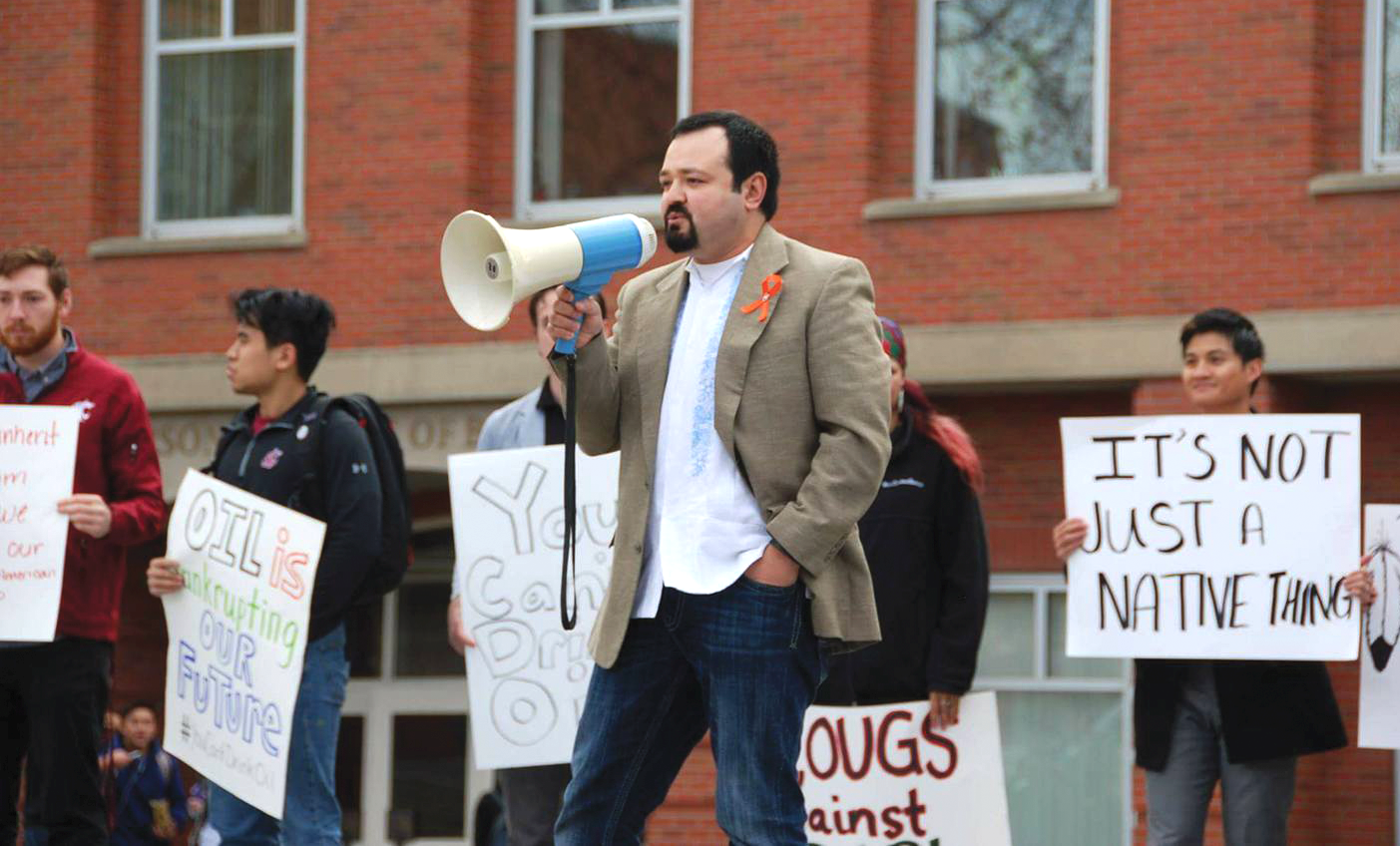 When a graduate student from Haiti came to his office for assistance in applying for the same fellowship, he found his purpose as a mentor. His calling was sealed shortly thereafter when he worked with a Latino student to obtain a scholarship through the McNair Scholars Program, which advocates for people in underrepresented groups seeking PhD opportunities.
"It was one of those moments like, 'Okay, I can help my community, and my community, to me, is broader than Latinos. It's anyone that's underserved or doesn't have the same opportunities,'" Gómez says.
In his position at UM, dressed in a guayabera every day, the traditional Latin American summer shirt, Gómez's Mexican heritage also inspires his teaching. He provides an authentic history of wildlife conservation in North America, educating students about such topics as the introduction of invasive species in the U.S. for hunting, the removal of ecosystem management among Native American communities, and the spraying of DDT pesticide in fields where people of color were agricultural workers. 
Gómez also incorporates components of traditional ecological knowledge, or environmental knowledge passed down from Indigenous peoples, in his instruction. For example, he talks about cultural burnings, or what Western scientists call prescribed burnings, which originally came from Indigenous practices.
"When I teach traditional ecological knowledge, it's also a way for me to connect with my lost Indigenous ancestry," he says.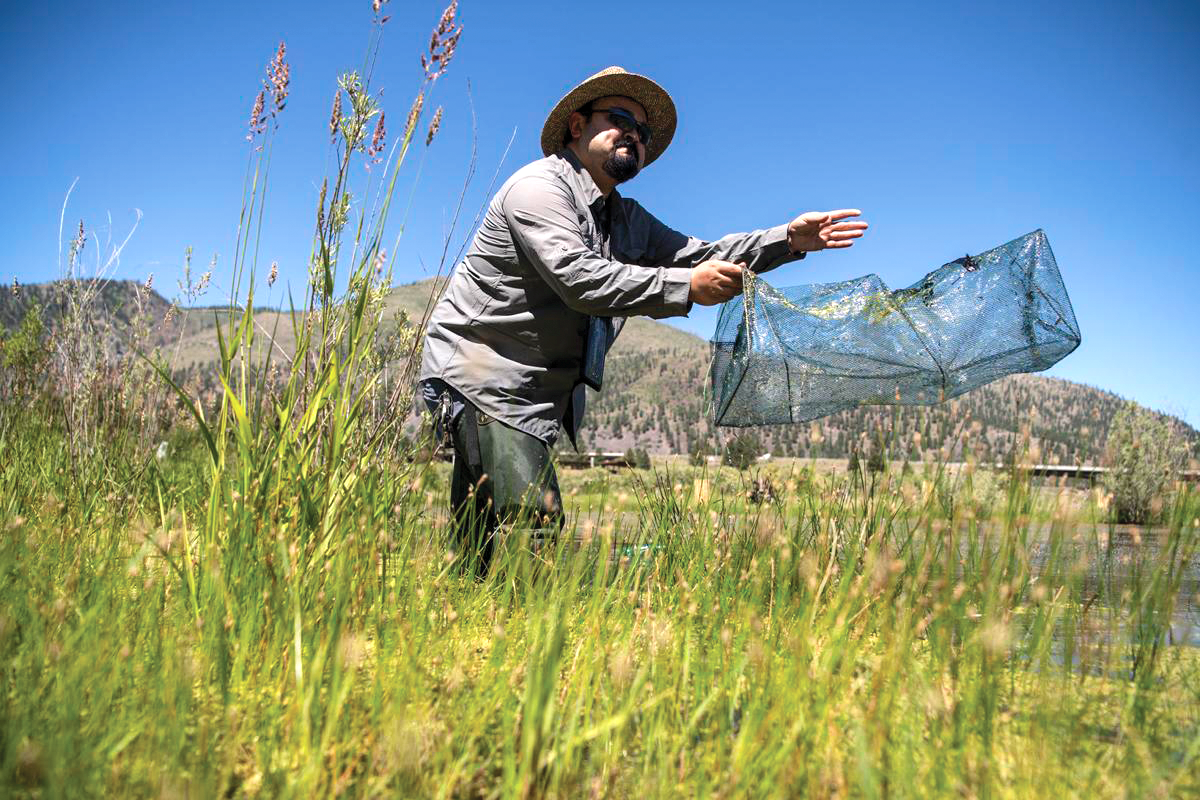 Students need real-world experiences to succeed in wildlife careers, Gómez says, so he often teaches outside, where his class spends time identifying and observing wildlife, and in his Careers in Wildlife Biology course for first-year students, he helps them develop a 10-year career plan. 
Gómez helped create UM's Society for Advancement of Chicanos/Hispanics and Native Americans in Sciences, which encourages underrepresented students to attain postgraduate degrees in STEM. He also sits on DEI (diversity, equity, and inclusion) committees that promote a number of projects, one of which was to make the Graduate Record Examination, a known obstacle to graduate education, optional at UM.
As a teacher and mentor, he advocates for designated funding for DEI programs, breaking down barriers for underrepresented groups, and the active recruitment of diverse students into STEM fields. 
"We know that when we have different perspectives in science, it helps us do better science," Gómez says.●
This article was published in our April 2023 issue.