The largest college admission scam in recent history has resulted in more than 50 indictments connected to a multimillion-dollar racketeering ring. The scandal raises the question — how do admissions offices move forward with validity?
The scheme was revealed in March by an FBI investigation with the codename Operation Varsity Blues (OVB) that outed wealthy adults on charges of bribery to gain their children admittance to upper-tier universities. Former college admissions counselor William Rick Singer is accused of spearheading the fraudulent acts through his nonprofit foundation, which served as a clearinghouse for bribes via his college consulting organization.
The cheating scam changes everything. Until safeguards are in place, the legitimacy of the admissions recruitment at universities will be questioned. INSIGHT reached out to schools, state departments, and admissions experts to discover how the reform process is taking shape in the weeks after the indictment.
Nearly all campuses described the scheme as consisting of isolated incidents that were committed only among a few college personnel, mostly members of athletics departments. However, some states and universities have already begun internal investigations, and many admissions offices have started to look for a process that will help schools avoid future scandals.
Admissions Offices and Policies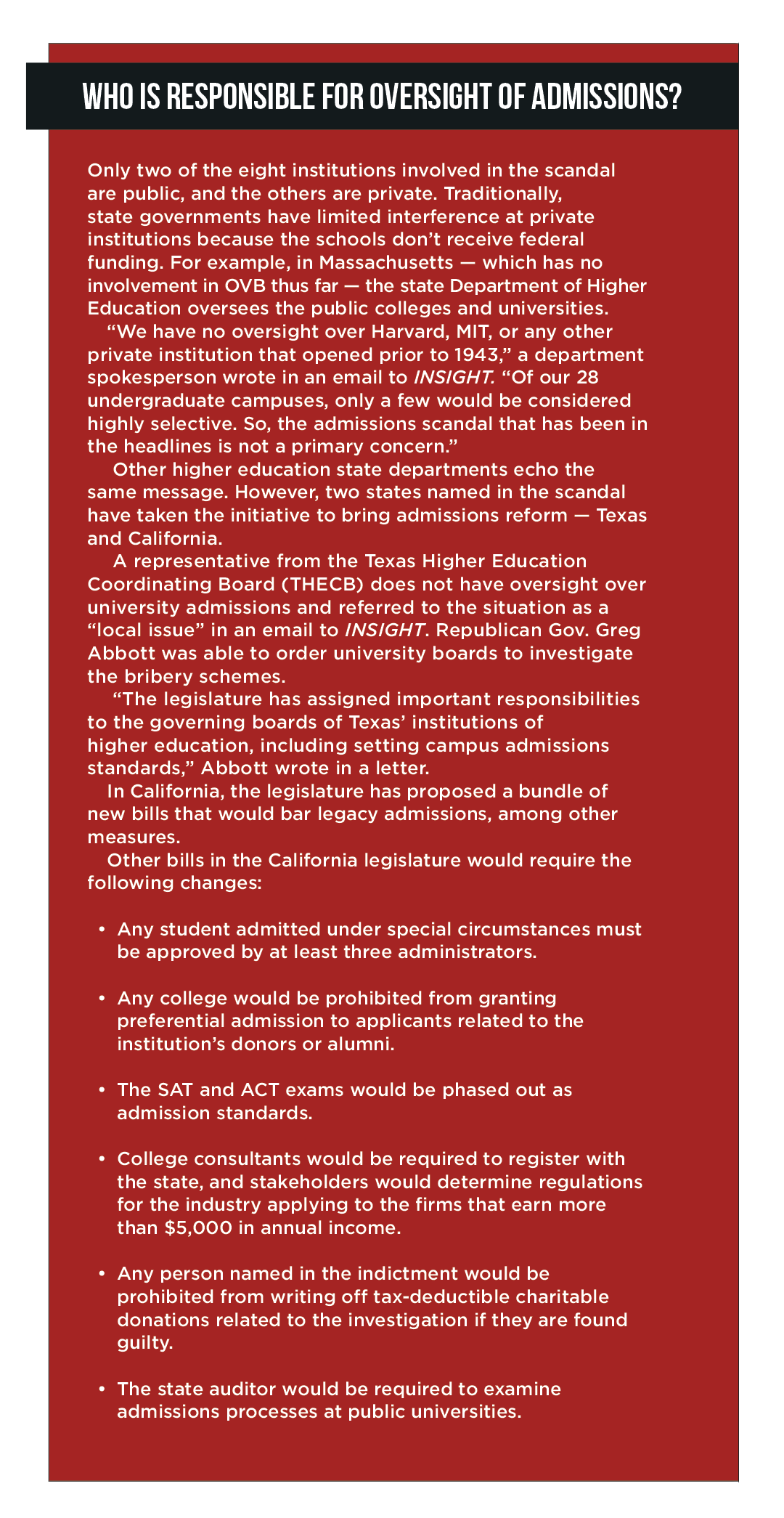 Mike Reilly, executive director of the American Association of Collegiate Registrars and Admissions Officers (AACRAO), says admissions leaders are approaching this scandal as an opportunity to consider "what role we have in ensuring these things don't happen moving forward and what processes we need to evaluate."
Many who work in the area of college admissions refer to OVB as a "bribery scandal," as the term "admissions scandal" implies that the field itself is corrupt, Reilly says. "There were no admissions personnel named in any of these [allegations]," he says, "but our processes were usurped by criminal and unethical activities." He adds that the vast majority of applicants are honest and that some of the extreme tactics employed by Singer's company are both rare and difficult to detect. 
It is already common practice for admissions departments to have regulations for monitoring fraud, such as comparing grade point averages to test scores or evaluating claims made in applications and essays. Comparing those measures with participation in an extracurricular activity and cross-checking high school records can reveal cheating, Reilly says.
Athletic recruitment and admissions could see specific changes after the scandal. "Not everybody has a rigorous process for tracking students who were [admitted as athletes] but then subsequently weren't participating in athletics," says Reilly. "There's certainly a lot of work that needs to be done in athletics and compliance, and I think you'll see stronger relationships between those offices now."
AACRAO's annual meeting took place in early April, giving thousands of admissions personnel from across the United States the opportunity to deliberate on OVB. During a panel discussion, members addressed how "some of the things we're doing contribute to an environment where students and families feel they need to take these extraordinary and illegal measures to get into selective colleges," Reilly says. 
Higher education needs to do a better job of informing the public of how admissions decisions are made by looking beyond GPA or advanced placement test scores and at a broader set of achievements, admissions employees agreed.
AACRAO is concerned that public misunderstanding of postsecondary admissions may lead legislators and policymakers to push for "quick fix" regulations that might exacerbate the issue of privilege. Some legislators have argued that the only way to make college admissions equitable is to base all decisions solely on academic performance.
Those standards could disproportionately affect underprivileged applicants, including many students of color who come from low-income school districts with limited access to services like ACT and SAT preparation. Rather than rush to a solution, legislators and university leaders alike need to "take some time" to fix the problem, Reilly says.
Admissions experts and those with experience in higher education strive to have a voice in any legislative reforms. The National Association for College Admissions Counseling (NACAC) participated in a hearing on OVB hosted by Rep. Donna Shalala of Florida on March 28.
Following the hearing, Shalala, who had previously served as president of the University of Miami and Hunter College as well as chancellor of the University of Wisconsin-Madison, proposed a bill known as the College Equity Act.
Rather than mandating specific reforms to admissions practices, it "establishes grants for equity audits, providing colleges and universities with the resources to examine and address gaps in student outcomes based on race and ethnicity, gender, income, and other lines of identity," she said in a statement. These audits would include financial aid, faculty diversity, access to campus services, and other factors, in addition to admissions processes. 
Lawmakers and institutions should approach any admissions reforms with the mindset that it is their duty to increase, rather than restrict, educational access. This idea especially applies to reforms that may hurt those who are already disadvantaged, such as making it more difficult for students with disabilities to receive accommodations on standardized tests, Reilly says.   
"You shouldn't build your processes around the assumption that everyone's a fraud or put impediments in place that make it harder, particularly for low-income students, but at the same time you have to have due diligence in making sure that admissions are fair and people aren't corrupted in the process," Reilly says.
Solutions for Athletics Admissions
One of the most brazen aspects of OVB is the fabrication of athletic records. At least nine college and university coaches have been charged with accepting bribes. Donna Heinel, former senior athletic administrator at University of Southern California (USC), was accused of accepting more than $1.3 million. One of Singer's employees allegedly created false athletic records, including doctored photographs. 
These allegations reveal just how much power and autonomy athletic coaches have in the admissions process. Kirsten Hextrum, PhD, an assistant professor in educational leadership and policy studies at the University of Oklahoma, studies college sports and has long advocated for reforming athletic recruitment. In an email to INSIGHT, she suggests several measures that schools can take to make the process more transparent:
● Institutions and athletic departments should jointly develop a uniform application for athletic admission and an application portal where student athletes can apply for admission. Both of these should be publicly advertised and readily available.
● Institutions should have oversight personnel whose job is simply to ensure that admissions materials submitted are accurate.
● The NCAA should limit contact between high school and college coaches to a standardized letter of recommendation.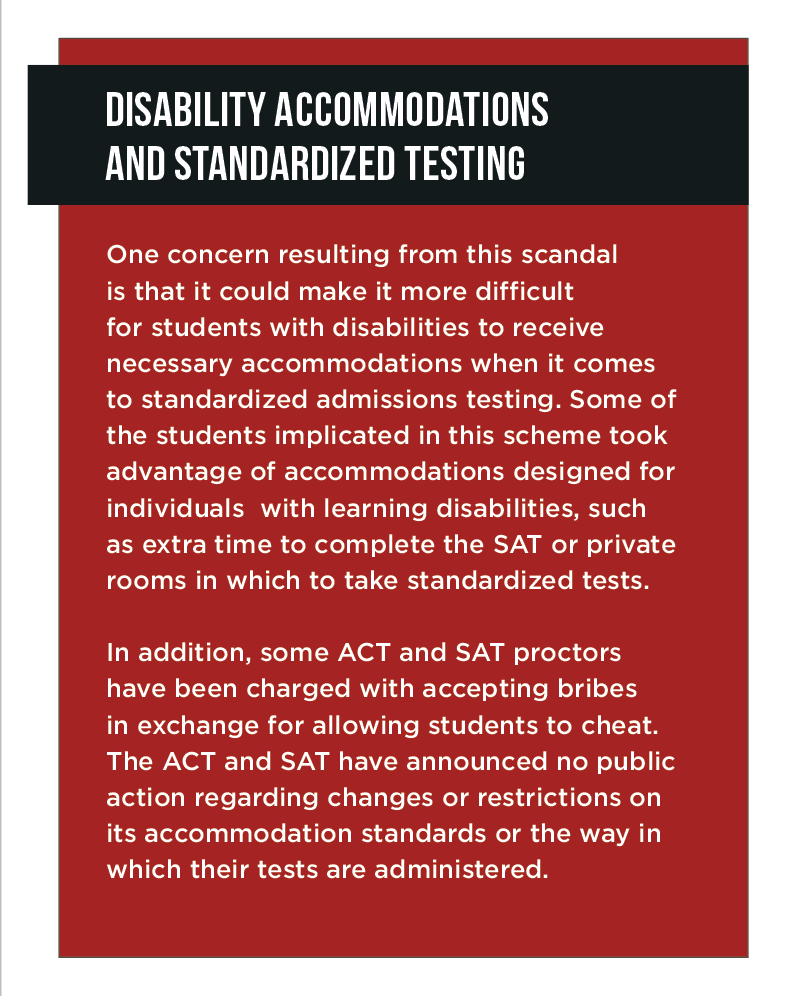 Some of the institutions involved in the scandal have already adopted athletics reforms. Georgetown University, which fired tennis coach Gordon Ernst in 2017 after realizing he had recruited nonathletes, began auditing team rosters. Yale University announced on March 26 that in the future its athletics department will confirm the credentials of all recruits before sending their endorsement to the admissions office.
The NCAA released a statement saying it is looking into the allegations "to determine the extent to which NCAA rules may have been violated." The association declined INSIGHT's request for further information, stating in an email that they cannot comment on current investigations.  
Potential Impact on Independent College Consulting
There has been substantial criticism of the independent, fee-for-services college consulting industry in the wake of OVB. Some have suggested that such outside assistance be banned from admissions or that applicants should at least have to disclose to colleges whether they have used these services. 
Mark Sklarow, chief executive officer of the Independent Educational Consultants Association (IECA), rebuffs these proposed solutions. The onus should be on schools to make the admissions process less opaque so that the public understands how and why acceptance decisions are made, he says. This transparency could help parents and students understand that a singular focus on elite institutions is not only unrealistic, but unhealthy. 
"I think there's going to be growing awareness that the pressure kids feel to get into a name brand school is a negative," Sklarow says, noting that this pressure can lead to student burnout or cheating. "Hopefully people will see that it hurts students in pretty significant ways to let them think that if they don't get into a top school, their lives are over."
Rather than blaming the industry for this type of corruption, Sklarow says people should realize that ethical consultants help students find the colleges that are best suited to their individual talents and needs rather than groom their credentials for elite institutions. OVB may shed light on the fact that many students don't have access to this kind of tailored assistance because public school counselors simply don't have time or resources to provide them with individual attention, he says. 
"Singer was a criminal masquerading as an educational consultant, but there are people who say the solution may be to not allow any consultants at all," Sklarow says. Requiring students to disclose whether they have received outside help on their college applications would affect middle-income students in public schools who pay for consultants or low-income students who receive these services pro bono. "A kid in a private school where there are 12 students per counselor isn't going to have to disclose that their school has been giving them privileged help for years." 
In addition to better admissions transparency and improving the counselor-to-student ratio at public schools, Sklarow says a solution to the corruption evident in OVB is that families adopt higher standards when hiring college consultants. IECA accepts around one in four professionals who apply to the association because it has a strict code of qualifications and ethics, including a review of how members advertise their services, he says.●
Mariah Bohanon is the associate editor of and Mariah Stewart is a staff writer for INSIGHT Into Diversity. This article ran in our May 2019 issue.