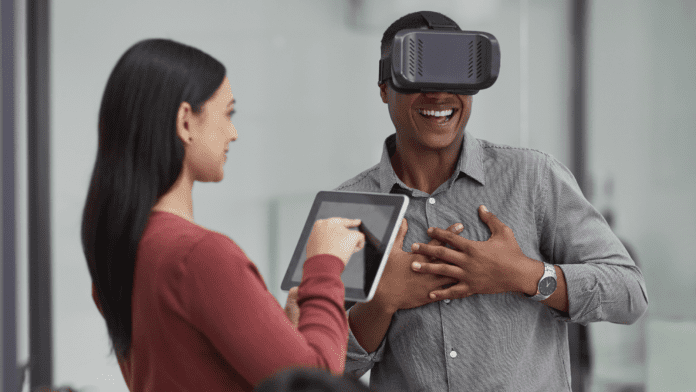 With technology becoming ever more integrated into education and business, a virtual reality (VR) technology boom is anticipated over the next several years. VR's current $3 billion global market is expected to spike to $57.6 billion by 2027, according to a 2019 report by research and consulting firm Fortune Business Insights. That 1,860 percent increase does not even account for the COVID-19 pandemic, which will undoubtedly result in even more companies and consumers adopting VR as an essential tool, according to Forbes magazine.
Although this technology has traditionally been associated with video games and entertainment, it might just be the future of education and workforce training — including in the area of diversity, equity, and inclusion (DEI).
At California Polytechnic State University (Cal Poly), experts are exploring how VR can combat sexual harassment and violence as well as promote LGBTQ inclusion. In December 2020, the university received a $45,000 grant from the Public Interest Technology University Network to support a group of interdisciplinary faculty members and students in researching how VR can improve training in these areas.
The funding will be used to develop screenplays that portray scenarios of discrimination, harassment, and bias, explains James Werner, EdD, a project lead and associate professor of media arts. The screenplays will have branching narratives, or differing storylines, that are driven by users' actions and their responses to different situations. Because training is done individually rather than in a group setting or class and is interactive versus passive watching of video sessions, the situation at hand feels more personal.
"I think there are a lot of those uncomfortable situations or those situations that are difficult to role play and talk through. With [VR], people can actually be immersed in these real-life, realistic situations and essentially be able to become comfortable with the uncomfortable to the point where they can interact, engage, and intervene,"  says Christine Hackman, PhD, associate professor of public health at Cal Poly and a project lead.
In an immersive experience that gives users a safe space to make mistakes, the intended messages may resonate more with trainees than in traditional sexual harassment and DEI trainings, she says.
Research has long shown that conventional trainings, which often include role play scenarios, tend to be ineffective. While participants "are easily taught to respond correctly to a questionnaire about bias," they often forget the lessons learned within a matter of days, according to a 2016 article in the Harvard Business Review. Traditional training also has the potential to do more harm than good. Negative outcomes can include defensive reactions from White participants, a sense of resentment among coworkers of different sociocultural identities, and the reinforcement of gender and racial stereotypes.
"The biggest fear people have [when it comes to DEI training], particularly White people, is making a mistake and appearing racist," says Coleen Carrigan, PhD, a project lead and Cal Poly associate professor of anthropology. "VR allows people to have some privacy to work on these real-life scenarios and work through what it can feel like to try to interrupt some violence that is happening in spaces that are supposed to be safe for our students."
The researchers are working with Cal Poly Safer, an on-campus resource for addressing sexual harassment and assault, to gather data and explore how current training on these topics can be improved. They are also partnering with the Gay and Lesbian Alliance of the Central Coast and the San Luis Obispo County Behavioral Health Department to determine the content for the training screenplays.
Thanks to advancements in the VR field and its rapidly growing popularity, the training modules developed by Cal Poly researchers will be accessible on most smartphones, according to Werner.
"Virtual reality traditionally has been very difficult for people to access because it takes a big computer rig and you have to go to a place, sit down, and have someone facilitate the experience," he says. "Now, we're in a place where we can compress it into an app and send it out to reach millions of people."
If the project is successful, the modules will likely be adopted for use by Cal Poly and its community partners, according to the researchers. They hope to promote VR training's appeal so that it will eventually be used at higher education institutions and organizations across the country.
Many experts have predicted that VR will be the future of DEI training because it is engaging and personalized and has measurable results, according to a study by Future Workplace, a human resources advisory firm. Some companies, such as tech firms Equal Reality and VR Perspectives, already offer workshops and training packages to help employers teach about unconscious bias, issues of inclusion for people with disabilities, and more.
Equal Reality counts Amazon, Google, the New York City Department of Education and J.P. Morgan among its clientele. In one Equal Reality case study, 97 percent of users said they found VR training more engaging than traditional techniques. Another study claims that VR training is effective at building empathy, as 99 percent of users "understood and felt what it was like to be treated disrespectfully," according to the company's website.
VR Perspectives' training focuses on non-confrontational methods to help users identify unconscious bias. Rather than telling the user how to react in certain scenarios, it shows "how bias looks, feels, [and] how to identify it and address it with appropriate behavior," its website states.
One of VR Perspectives' newest clients is the Farmer School of Business (FSB) at Miami University in Oxford, Ohio. Gillian Oakenfull, PhD, the faculty director of diversity and inclusion and an FSB professor, used a $50,000 grant to implement VR training as part of the school's fast-growing DEI program, Beyond Ready CQ. The school has partnered with VR Perspectives to develop and license DEI training simulations that take place in a virtual educational environment and to use the company's existing workplace simulations.
Beyond Ready CQ assesses business students' cultural intelligence — or CQ — and tracks their growth throughout their college career, Oakenfull says.
In partnership with VR Perspectives, FSB will implement simulations that allow students to "walk a mile" in the shoes of someone of a different race, gender, age, and ability level, she explains. The training is meant to help users develop empathy and track biases within simulated workplace and educational environments. Users can also be placed into a bystander scenario in which the situation unfolds based on their actions. FSB conducts a survey after each training to gauge the user's experience and what they learned by confronting the world from another person's viewpoint.
"We're using VR for perspective taking," Oakenfull says. "It's very difficult for somebody to understand what the experience is for somebody [else]. By putting it into VR, by making it personal and by making it private, I can walk in their shoes."
Since FSB's student population is largely composed of White men, it is especially important to broaden their worldview and provide DEI education that inspires true allyship for underrepresented and disadvantaged groups, Oakenfull says.
In recent weeks, FSB has also partnered with Equal Reality, the company that initiallypiqued Oakenfull's interest in VR DEI training, she says. FSB and Equal Reality will work together to develop VR and two-dimensional DEI training specifically aimed at higher education.
Beyond the inherent incentive of developing cultural intelligence and empathy, FSB students will be able to add credentials earned from participating in Beyond Ready CQ's VR training to their résumés. The training will also be available to community members and business leaders who wish to improve their cultural intelligence; they too will be able to add this innovative experience to their résumés.   
Unlike the VR that is being developed at Cal Poly, FSB's training modules will be computer generated and require a physical space. The school hopes to begin sessions in spring or fall 2021, when COVID-19 restrictions lift to make in-person training viable, according to Oakenfall. It will be available to more than 1,400 undergraduate and graduate students as well as faculty members.●
Erik Cliburn is a senior staff writer for INSIGHT Into Diversity. This article was published in our March 2021 issue.