All too often, LGBTQ+ people experience discrimination, stigma, and prejudice when seeking and receiving health care, but a new project called the Eidos LGBTQ+ Health Initiative, housed in the School of Nursing at the University of Pennsylvania (UPenn), aims to change that.
Operating like a consulting agency, Eidos, which UPenn calls "a first-of-its-kind academic social entrepreneurship lab," engages students and faculty across disciplines and from different UPenn schools, outside businesses, and organizations to work together and offer diverse perspectives aimed at improving LGBTQ+ health initiatives. Eidos team members focus on several areas, such as public health research, evaluation, user experience analysis, and marketing expertise to support the LGBTQ+ population.
The need is great, says Jessica Halem, Eidos senior director, because resources are often strained in LGBTQ+ communities. In 2020, for every $100 awarded by U.S. organizations, 23 cents specifically supported LGBTQ+ communities, according to a recent study by Funders for LGBTQ Issues, which aims to increase the scale and impact of philanthropic resources for queer communities. 
The political climate also makes work more difficult, she says. She points to differing LGBTQ+ laws and policies in each state, such as Florida's "Don't Say Gay" law and bans in over 20 states for best-practice medical care for transgender youth.
"The number one problem that LGBTQ people face is discrimination and stigma," Halem says. "It's not that we are any different than anyone else, it's that we face so many barriers in the health care system that keep us from getting the kind of preventative care, the screenings, and the education that we deserve."
Research affirms this assertion. Queer adults experience higher rates of discrimination in health care, according to a survey conducted in 2022 by The Center for American Progress, a policy institute.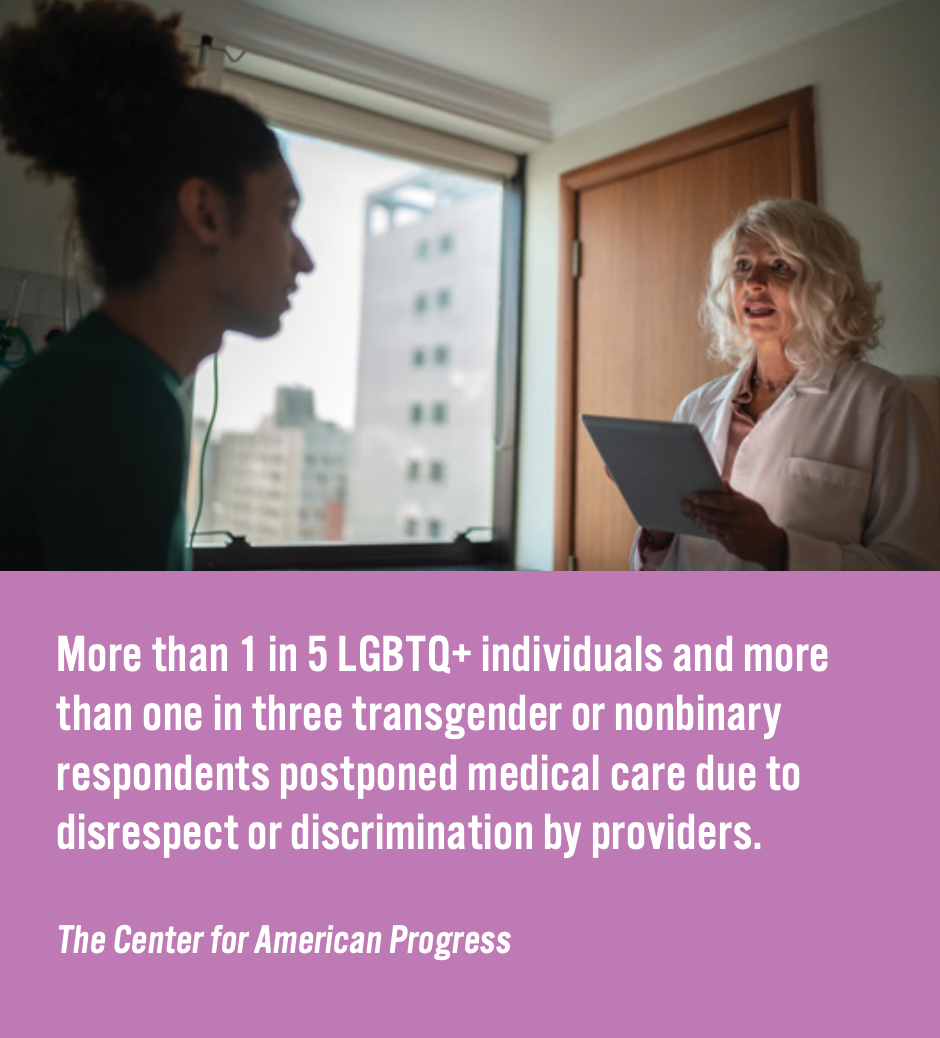 Among their findings, researchers reported more than one in five LGBTQ+ individuals and more than one in three transgender or nonbinary respondents postponed medical care due to disrespect or discrimination by providers. Common instances of mistreatment, harassment, and discrimination by providers include making religious statements about their actual or perceived gender identity, intentionally misgendering patients, using harsh or abusive language when providing treatment, engaging in unwanted physical contact, and exhibiting physically rough or abusive behavior. 
To solve this, Eidos works to connect stakeholders across all areas of health care delivery, from inside and outside higher education.
For example, Halem is working with the developers of the mobile application Trace, a platform for transgender and nonbinary individuals to track their gender-identity transition journey and find allies for support, ideas, and resources.
Eidos has connected Trace with experts across multiple university departments, including engineering, public health, business, and marketing, to assist in strengthening its business model and the application's user experience. Enabling Trace to work with people in different disciplines supports the goal of assisting a greater number of transgender and nonbinary users and positively impacting their mental health.
Another innovation Eidos team members are working on — in collaboration with the nursing and engineering schools at UPenn — is Project SLIP, an effort to develop a new type of condom to improve the efficacy of preventing the spread of HIV and other sexually transmitted diseases.
Leaders at Eidos have also assisted Julia Votto, a graduate student in UPenn's School of Engineering and Applied Science, with a thesis project aimed at finding solutions to LGBTQ+ health disparities.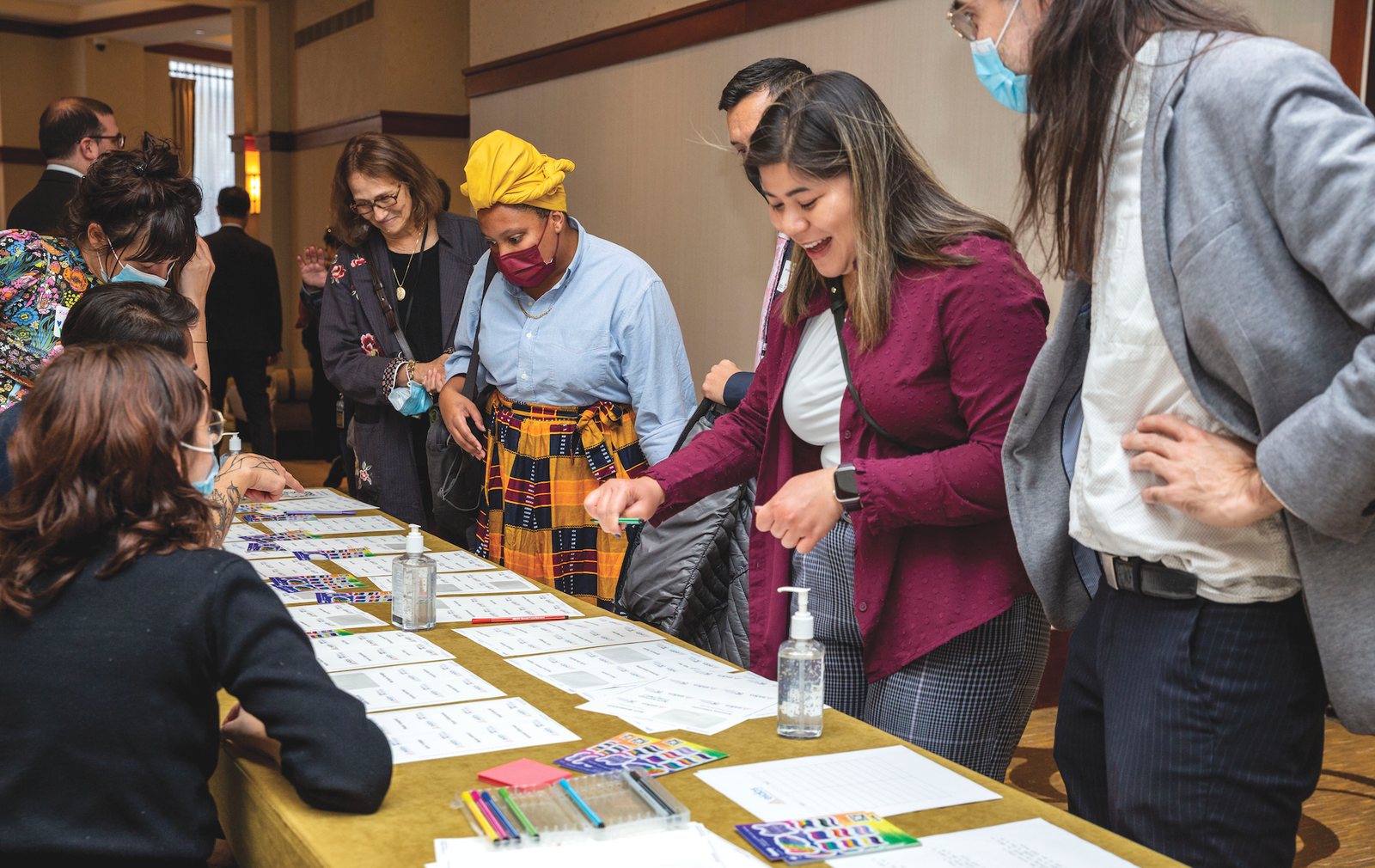 "I am queer, and I have so many wonderful queer friends, peers, and mentors," Votto says. "I see how hard they work every day to better their communities and the world, but I also see and personally understand the traumas that are associated with being queer, especially in America and in health care."
Votto says it's inspiring to watch LGBTQ+ people get the attention they need to effect change at a major university. She hopes that through projects such as Eidos and her thesis research, LGBTQ+ people will receive health care in new ways and live healthier lives.
By prioritizing communities that are most marginalized and finding solutions to their suffering, everyone is uplifted, says Halem. There are many stories of LGBTQ+ resilience and community support, which is what she hopes will inspire people when they're faced with other challenges.
"Even when the world is against us, we persevere, and that for me is the kind of story that I want health care to figure out and bottle," Halem says.●
This article was published in our March 2023 issue.