The mental health crisis among current and former members of the armed forces continues to be a pressing concern nationwide, with much research showing that suicide rates for these populations have risen significantly in recent decades. A 2021 report from Brown University estimates that four times as many service members and veterans who served since September 11, 2001 have died by suicide than by combat.
Across the U.S., colleges and universities have identified military service-related mental health issues as a crucial area of study, education, and advocacy. Through cutting-edge research, treatment programs, and outreach initiatives, higher education institutions are working to find solutions to improve the health and well-being of veterans and their families. 
INSIGHT highlights some of the most innovative research centers across the U.S. that are dedicated to helping veterans and current service members access the resources and support they need to thrive.
Center for Innovation and Research on
Veterans and Military Families
University of Southern California
Suzanne Dworak-Peck School of Social Work
Founded in 2009, the Center for Innovation and Research on Veterans and Military Families (CIR) is dedicated to increasing the number of clinical social workers and behavioral health providers who work with members of the armed forces. 
In addition to conducting educational and behavioral health research, the center provides training to qualified community providers on how to treat veterans and current service members. A collaborative partnership with the University of Southern California Institute for Creative Technologies makes it possible for CIR to incorporate artificial intelligence technology into these lessons. During training, social work students participate in consultations with virtual avatars who simulate the experiences of veterans who have been exposed to combat stress. CIR also created a computer-administered assessment to measure students' communication skills, cultural awareness, understanding of potential ethical and legal concerns, and more. Efforts are currently underway to develop telehealth services and online behavioral health intervention models.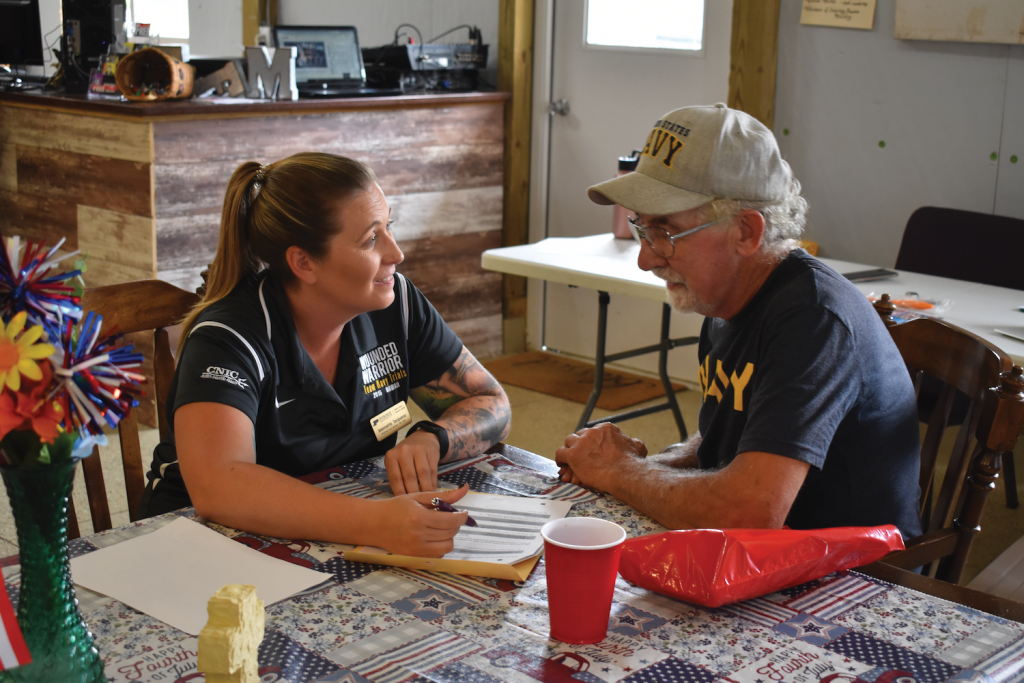 Military Family Research Institute
Purdue University
For nearly 30 years, the Military Family Research Institute (MFRI) has specialized in studying the families of service members and determining best practices for improving their relationships and well-being. Research projects have focused on topics such as diversity among military families, shifting family roles during and after deployment, and the effects of parental deployment on young children. As part of its research, the MFRI has worked with the nonprofits Sesame Workshop and ZERO TO THREE — both of which focus on supporting the needs of babies and young children — to analyze the effectiveness of their educational materials for military families.
The MFRI also collaborates with organizations and institutions in Indiana and across the nation to support the academic and professional success of student veterans and military members. These efforts include launching a fellowship for women student veterans, offering hands-on assistance to colleges and student veteran organizations, and providing more than $2.5 million in funding to bolster institutional support for this demographic.
Military Suicide Research Consortium
Florida State University
The Military Suicide Research Consortium (MSRC) was created by the U.S. Department of Defense to establish a multidisciplinary approach to suicide prevention among military service members and veterans. The consortium is part of the department's National Research Action Plan that seeks to improve the scientific understanding of suicide, post-traumatic stress disorder (PTSD), traumatic brain injuries, and related conditions. 
Though primarily operated out of Florida State University, MSRC staff members are also based at the Rocky Mountain Mental Illness Research, Education, and Clinical Center and the University of Washington (UW). There are currently 19 MSRC research projects in progress at multiple institutions, including Miami University, the University of Pennsylvania, and UW. Most of these studies are focused on evaluating innovative therapy methods and other intervention strategies that help clinicians identify and treat service members who are at risk of suicide. 
Resilience Center for Veterans and Families
Columbia University Teachers College
Building resilience is a key strategy for helping veterans and their families adjust back into civilian life. The Resilience Center for Veterans and Families at Teachers College, Columbia University, aims to assist in this process by researching and assessing intervention programs that can positively affect health and well-being for military service members as they transition out of active duty.
The center has helped to change perceptions around military mental health through studies that show that PTSD is less of a concern for many recent veterans compared with the challenges of finding a job, working alongside other civilians, and maintaining relationships with family and friends.
The Resilience Center also partners with the college's Dean Hope Center for Educational and Psychological Services to recruit and train students to counsel veterans and their families. 
Suicide and Trauma Reduction Initiative for Veterans

 
The Ohio State University Wexner Medical Center
A national leader in suicide prevention and PTSD treatment, the Suicide and Trauma Reduction Initiative for Veterans (STRIVE) located at The Ohio State University (OSU) Wexner Medical Center has helped hundreds of veterans manage stress and trauma.
One of STRIVE's key initiatives is a two-week intensive treatment program for veterans with PTSD that has successfully helped 75 percent of participants improve their symptoms. The free program is offered both in-person on OSU's campus and virtually through daily telehealth appointments. 
STRIVE also oversees ongoing research on ways to advance psychological treatments, including active studies investigating the efficacy of peer-to-peer programs, evaluations on military primary care screening methods for mental health and suicide, and more.●
Lisa O'Malley is the assistant editor of INSIGHT Into Diversity. 
This article was published in our July/August 2022 issue.