Planet Kreyol, a Haitian American student organization at the University of Miami (UM) in Florida, recently hosted a vigil and donation drive to support Haiti in the wake of the 7.2 magnitude earthquake that struck the country on August 14. 
The earthquake displaced more than 24,000 people, according to the International Organization for Migration, and caused more than 2,200 deaths, the United Nations Office for the Coordination of Humanitarian Affairs (OCHA) reports.
On August 26, UM students, faculty, and staff gathered for a moment of silence to honor those who perished in the quake. The donation drive ran through August 30 and collected essential items such as medical supplies, face masks, diapers, and more. 
Located less than 700 miles from Haiti, Miami is home to the largest Haitian population of any U.S. city.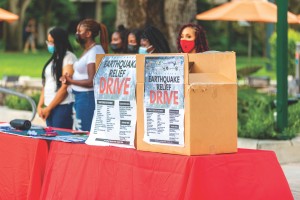 In addition to the campus vigil and donation drive, UM's Office of Diversity, Inclusion, and Community Engagement and the UM Miller School of Medicine hosted a virtual program called Brave Space for the community to reflect on the catastrophic event. The university's Global Institute for Community Health and Development is also working in partnership with the Haiti Ministry of Health to provide disaster relief services.   
The earthquake comes during a critical time in Haiti's history as the country's president, Jovenel Moïse, was recently assassinated, and recent tropical storms have made the island nation more susceptible to flooding and mudslides. 
More information on UM's disaster relief efforts in Haiti, including information on how to donate to support these efforts, is available at miami.edu/uresponds.●
This article was published in our October 2021 issue.