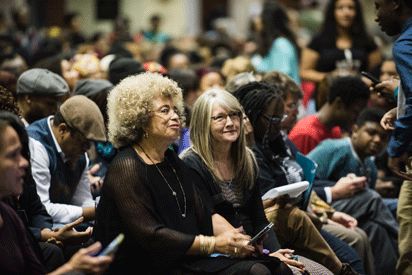 The Anne Braden Institute for Social Justice Research at the University of Louisville (UofL) seeks to support racial and social justice activism through the study of movements for social change.
Named for Anne Braden, a White journalist and prominent anti-racism activist from Louisville, the institute was founded in 2007 by UofL professor Catherine Fosl, PhD. Research projects are wide-ranging, from the study of low-income women's housing in Louisville to the state's civil rights history.
[Above: Angela Davis waits with Catherine Fosl to speak at the November 2016 Anne Braden Memorial Lecture. Davis' talk, titled "Freedom Is a Constant Struggle," took place a few days after the election of President Donald Trump. The hall was packed and the institute had to turn away 1000 community members who wanted to attend the event.] 
The institute's academic research doesn't provide "a direct line to social change," Fosl says, but exposes people to untold histories and enriches understanding of how they play out today.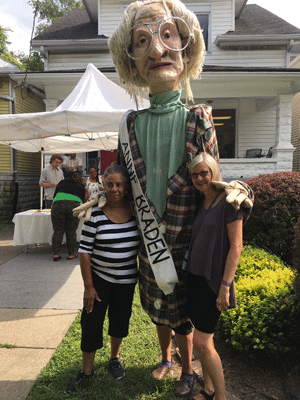 Recently, for example, researchers for the institute completed an award-winning project called The Kentucky LGBTQ Historic Context Narrative, a 125-page encyclopedia of the state's LGBTQ history dating back to the pre-colonial period. In addition, the institute inspires individuals to take action through social change, offering partnership opportunities with local organizations like Louisville for Racial Justice or the state's main LGBTQ advocacy organization, the Fairness Campaign.
In addition, for the past 13 years, the institute has sponsored the Anne Braden Memorial Lecture, featuring historians who focus on issues of social justice. Jelani Cobb, PhD, a professor of journalism at Columbia University and a widely known popular commentator on race and racism, delivered this year's lecture, "The Half-Life of Freedom: Race and Justice in America Today." The event marks the beginning of the annual Peace and Social Justice Week at UofL and within the local community.
Ginger O'Donnell is a senior staff writer for INSIGHT Into Diversity. This article ran in the December 2019 issue.