In the groundbreaking 2019 book How to Be An Antiracist, activist and scholar Ibram X. Kendi explains that it is not enough for a person or institution to simply proclaim themselves not racist; rather, fighting racial inequality requires a proactive form of advocacy known as anti-racism. To Kendi, there is no in-between: one is either racist or anti-racist.
In the spring and summer of 2020, amid the rise of the Black Lives Matter movement, many activists pushed for companies and organizations to adopt Kendi's message as an imperative. As colleges and universities across the U.S. issued statements affirming their commitment to diversity, equity, and inclusion (DEI), some higher education institutions took the almost unprecedented step of pledging themselves to the cause of anti-racism. These pledges took many forms, from implementing new policies and programs to revising institutional missions. 
For the Southern Illinois University (SIU) system, taking on this work meant going beyond making DEI changes to undertake the broader goal of "dismantling institutional racism and raising a new level of understanding through training and accountability," stated Daniel Mahony, SIU president, in an October 2021 speech that officially declared the system an anti-racist organization. The SIU Board of Trustees had approved a values statement affirming their commitment to anti-racism in December 2020, and in April 2021 hired Sheila Caldwell, EdD, to serve as the system's inaugural Vice President for Antiracism, Diversity, Equity, and Inclusion (ADEI) and Chief Diversity Officer (CDO).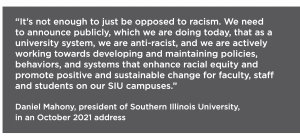 Caldwell, working with SIU system leaders, provided goals and procedures for a strategic plan that includes educating students, faculty, and staff on the principles and practices of anti-racism. Starting in fall 2022, students can enroll in ADEI certificate programs that address issues such as understanding the difference between free speech and hate speech and helping students of color avoid "racial battle fatigue" by engaging in self-care. Meanwhile, all SIU faculty and staff are required to complete anti-racist training that involves case studies, simulations, and more.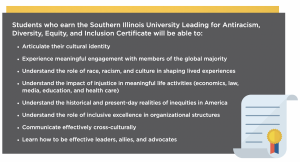 Ensuring that the campus community has this level of awareness is fundamental for moving the system's larger anti-racist mission forward, according to Caldwell. "These strategies cannot be implemented without people," she says. "I think relationships are one of the primary pathways to communicate these tactics to make sure that we're all on the same page."
SIU is also administering its first system-wide climate survey, rather than offering individual campus surveys. By doing so, Caldwell says, administrators will be able to examine the data and find patterns that can be used to move the system forward as one. In addition, an audit of all current policies is underway to determine what types of challenges are hindering opportunities for students, faculty, and staff of color. 
While Caldwell is excited about the progress made so far, she notes that the system "hasn't arrived yet" and that undertaking any anti-racist efforts should be looked at as a continuous journey rather than an attempt to reach a destination. Despite the challenges and commitment necessary, she says higher education institutions must realize their responsibility in taking on this work. 
"Higher education is meant to be one of the greatest equalizers in society," she says. "I think if we're going to live up to that reputation, we have to dissect who we are and where we are, and then make the necessary changes to advance and move forward."
One challenge that many colleges face when engaging in DEI and anti-racism work is obtaining buy-in from all campus community members — even those who may not personally see the value in such initiatives. 
For Tufts University, setting clear expectations was key to overcoming this barrier.
"Simply by choosing to be a member of [the Tufts] community, the expectation is that you will play an active and engaged role in [anti-racist] work," says Rob Mack, EdD, associate provost and chief diversity officer. "What this looks like for all of us is a commitment to learning and deepening our understanding."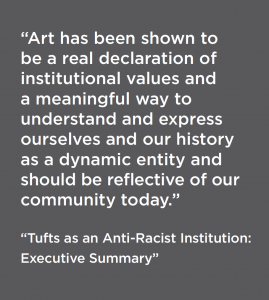 The "Tufts as an Anti-Racist Institution" initiative, launched in July 2020, involved more than 100 students, faculty, and staff reviewing policies and offering suggestions on how to eliminate racism on campus. In total, the university received more than 180 recommendations on how to make the campus more inclusive for people of color. Many of the proposals were concerned with increasing diversity and providing equitable access to resources and support, but the audit also raised concerns about less apparent forms of racism, such as the lack of diversity in campus art. 
After reviewing 196 public artworks, Tufts discovered that 100 percent of the portraits of historic university figures were White, 98 percent were of men, and all were created by men. To bridge these gaps, Tufts is working to launch an exhibition series featuring images and objects from its archives that convey the experience of underrepresented campus members.
Tufts also took a hard look at its campus safety and policing standards and found there were concerns about bias as well as a "lack of transparency in policies, procedures, training programs, budgets, staffing, and other key operational data." To improve well-being and safety for people of color on and around campus, university leaders are working to enact recommendations that include increasing the use of non-sworn personnel and mental health professionals for situations that do not require police officers. 
Tufts is still working to determine timelines and obtain resources to fulfill more recommendations identified in its audit. The goal right now is to "reimagine and reshape internal modes of operation that wield race-based harm," says Mack, and eventually assist campus members in getting to a place where they can "recognize, name, and then effectively respond to racism as it arises and presents itself."
"We will never rid the community of racism," he explains, "but we can learn how to disrupt it, dislodge it, and divorce ourselves from its snares over and over again."●
Lisa O'Malley is the assistant editor for INSIGHT Into Diversity.
This article was published in our March 2022 issue.