With the U.S. Supreme Court striking down the Biden administration's student debt relief initiative in June, questions about the affordability of higher education continue to grow. 
Despite President Biden's revised income-driven plan to reduce monthly student loan payments for low-earning borrowers and relatively steady tuition rates in recent years, the total cost of college remains largely unattainable for economically disadvantaged students, including those with scholarships and financial aid packages, who want to avoid taking on more educational debt.
Though federal legislative efforts to improve college affordability have stalled, institutions are developing innovative programs to close the gap. 
One example is the American Talent Initiative (ATI), a national nonprofit collaborative funded by Bloomberg Philanthropies and supported by the Aspen Institute College Excellence Program and Ithaka S+R. 

Composed of 135 member institutions, involvement with ATI demonstrates a strong public commitment to the improvement of college access and affordability, says Andy Borst, PhD, director of undergraduate admissions at the University of Illinois Urbana-Champaign (UIUC). 
Although ATI member schools operate their initiatives independently, they share best practices and learn from each other about successful programs for equitable access. Such collaboration can be crucial in navigating the regulatory and government relations challenges that arise when implementing comprehensive financial aid models, says Christine McGuire, vice president and associate provost for enrollment and student administration at Boston University (BU).

UIUC and BU were recently named on ATI's list of 28 High-Flier institutions, in part because they have steadily increased enrollment of lower-income students since the 2015-2016 academic year. According to ATI, their efforts in implementing need-based financial aid programs serve as examples of advancing a more equitable higher education system.
UIUC: Illinois Commitment
and the Illinois Promise
UIUC offers two primary initiatives to reduce the cost of college for resource-limited students: the Illinois Commitment and the Illinois Promise programs. The former guarantees tuition and fees for Illinois residents from families with a household income of $67,100 or less. The latter covers the full cost of attendance, including tuition, fees, room and board, and other indirect costs for students with the greatest financial need. 
Based on application criteria, approximately half of the state's college-age population qualifies for at least one of the programs, says Borst.
The programs primarily serve Pell Grant recipients, and they operate on a last-dollar basis, which means they fill the financial gap after federal and state grant aid has been applied. Approximately one-third of the undergraduate student population, around 11,000, receive financial aid through one or both Illinois programs.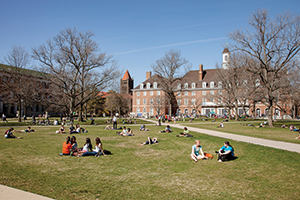 In addition to its two major affordability programs, UIUC designates a number of scholarships and grants for individuals from underrepresented groups, such as first-generation students and those transferring from community colleges. Though some of these awards have merit-based parameters, a majority are based on financial need, which is critical in promoting social and economic mobility for disadvantaged students, says Borst.
"That's why it's important to have initiatives like the ATI and some of the financial support programs with dollars dedicated to need-based funds, so that we can achieve education's true purpose of economic mobility, not just re-creating the structural social system that already exists," he says.
Since state spending on higher education has decreased over the past two decades, institutions have shifted from a low-cost, low-aid model to a high-cost, high-aid model. As a result, flagship and other public universities have had to designate comprehensive need-based financial aid funds for disadvantaged students, says Borst. Fortunately for UIUC, the Illinois state government has come back around in recent years by investing more in higher education, which has helped in establishing new financial assistance and scholarship programs.
"We are not waiting for the federal government to come in and have an intervention on the financial component of going to college," says Borst. "It's really more localized within states and [based on] the relationships flagship, competitive institutions have with their state."
Boston University: affordableBU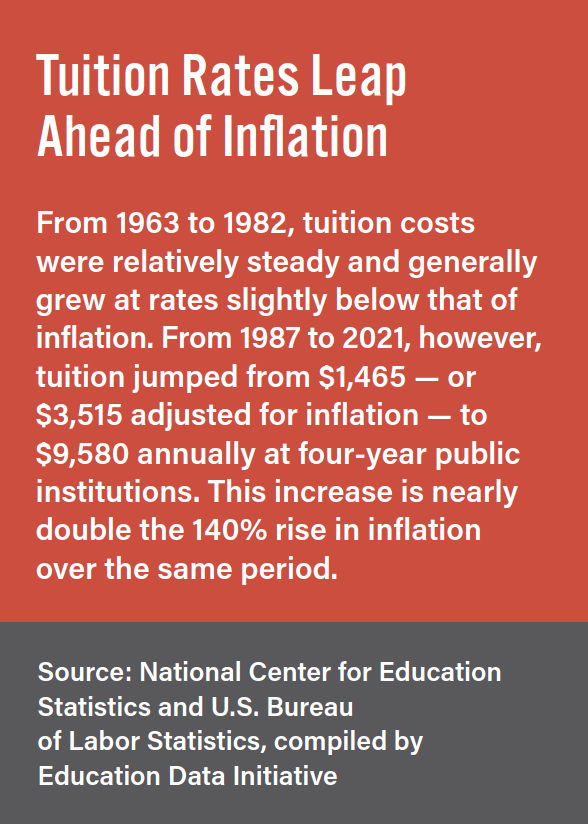 Affordability and socioeconomic diversity are primary goals of BU and comprise a core tenant of its 2030 strategic plan, says McGuire.
One of the university's key efforts to meet these priorities is affordableBU, which launched in fall 2020. The program utilizes existing financial aid systems and formulas to meet the full calculated financial need of eligible students, ensuring that Pell Grant recipients do not have to take out student loans to attend the school.
The program covers tuition and other expenses related to on-campus living, such as housing, food, transportation, and miscellaneous costs. Even with generous tuition-focused grants and scholarships, living expenses can quickly add up and make it infeasible for resource-limited students to attend college, says McGuire.
In the 2022-2023 academic year, affordableBU provided financial aid to around 7,500 students, with an average dollar amount of $60,000. As long as they remain enrolled, students who initially qualify for funding are guaranteed to receive that amount annually over four years.
"It's not just about meeting the students' needs but doing so in a manner that is predictable and covers their full program of study," says McGuire. "It is critical that we make world-class education accessible to a wide variety of people from different backgrounds and lived experiences."
Additionally, BU has a commitment with Boston Public Schools (BPS) in which high school graduates who are admitted, regardless of Pell Grant eligibility, receive enough financial aid to avoid taking out student loans. This also improves the racial and ethnic diversity of BU's student body, given that Hispanic and Black students make up 43 and 32 percent of BPS, respectively. 
"If [BPS students] decide to go to community college for a year or two and then transfer to Boston University after that experience, they still get the same deal," says McGuire. "We have several hundred Boston Public School students enrolled as undergraduates here."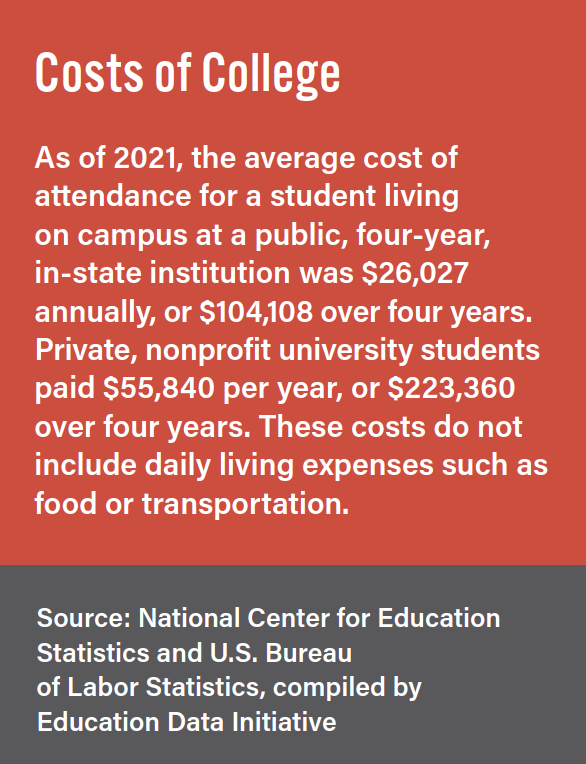 Along with affordableBU and the BPS commitment, the university has several other initiatives to meet financial and basic needs, including a first-generation student center, a professional clothing closet, a meal care program, and a food pantry. 
Though both BU and UIUC were committed to affordability long before joining ATI, being involved with ATI allows members to exchange successful practices and model ideas from other institutions. For instance, BU realized the need to administer the four-year guarantee of financial aid after seeing its effectiveness at other schools. 
Both Borst and McGuire say the alliance is helpful in managing the shared challenges of implementing aid programs and navigating the federal aid process.
"It is very helpful to hear what other schools have done and how they're making it work within some of the constraints that are placed upon us as higher education institutions," she says.●
This article was published in our September 2023 issue.