College and university communities across the United States came together for Martin Luther King Jr. (MLK) Day to honor MLK's role in America's long struggle toward racial equity. Two higher education institutions, the University of Texas at San Antonio (UTSA) and Grand State Valley University (GSVU), commemorated the civil rights leader by reflecting on the past and connecting King's teachings to ongoing issues of racial injustice.
[Above: Yusef Salaam, one of the Central Park Five, delivers the keynote speech for the annual MLK Day Celebration in the GVSU Fieldhouse Arena.]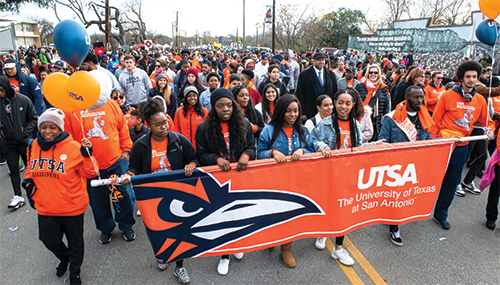 At UTSA, administrators, students, faculty, and staff joined 300,000 people on Jan. 20 for the nation's largest MLK Day march, sponsored by the city of San Antonio.
Two weeks later, on Feb. 3, UTSA held its annual Dr. Martin Luther King Jr. Lecture. Peniel Joseph, founding director of the University of Texas at Austin's Center for Study of Race and Democracy and author of the new book The Sword and the Shield: The Revolutionary Lives of Malcom X and Martin Luther King Jr., delivered the address.
The GVSU community participated in the Silent March — an annual walk across the university's campus in Allendale, Michigan, that gives time for reflection and mourning on MLK Day. 
Yusef Salaam, one of the Central Park Five, delivered GVSU's 34th Annual MLK Day Celebration speech, which he titled "Injustice anywhere is a threat to justice everywhere." This theme was reiterated later in the week when documentarian and Flint water crisis advocate Cedric Taylor gave a speech on contemporary issues of racial injustice. GSVU's weeklong commemoration culminated in a shared day of service on Saturday, Jan. 25.
Ginger O'Donnell is the assistant editor of INSIGHT Into Diversity. This article ran in the March 2020 issue.