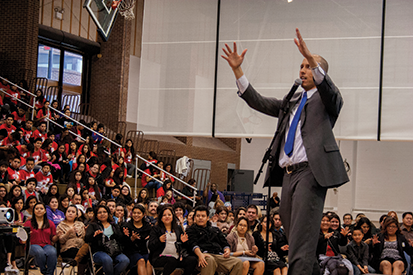 According to the Pew Research Center, Hispanic and Latinx individuals are "the principal driver of U.S. demographic growth, accounting for half of the national population growth since 2000." Emerging Hispanic-Serving Institutions (HSIs) aim to serve that growing group.
Two institutions of higher education.— one in a northwestern suburb of Chicago and the other in a small city in northwest Texas — have taken a multi-faceted approach to helping Hispanic and Latinx students thrive in their pursuit of higher education. 
[Above: High school students attend Harper's annual Latino Summit. More than 8,000 have attended the event over the past 19 years.] 
Texas Tech University (TTU) 
Located in Lubbock, Texas, TTU is home to more than 30,000 undergraduate and graduate students. Over the past decade, the university's Hispanic and Latinx population grew from 13 percent of the student body in 2009 to 27 percent in 2018. The university has been honored as a INSIGHT Into Diversity Diversity Champion for the last three years. 
Even before TTU became an HSI, the university instituted programs to ensure that this group could thrive. Efforts include an initiative founded in 2005, called Unidos Por Un Mismo Idioma, to get students, faculty, and community members speaking Spanish together. In 2010, the university started a mariachi group named Mariachi Los Matadores. 
The university more recently has focused on ensuring its student body represents the Texas community, says Jamie Hansard, PhD, executive director of undergraduate admissions. "Texas is quickly becoming a minority-majority state," she says. "As a state institution, our ultimate goal is that our demographics match as closely as possible to the demographics of the state."
A recruitment team of 35 employees, only seven of whom reside in Lubbock, are focused on this goal. Others work in more densely populated areas such as El Paso, San Antonio, Los Angeles, and Denver, and each office is required to employ at least one bilingual speaker. These staffers spend much of their time doing community outreach, such as visiting the local Boys & Girls Club as well as community and technical colleges. 
Additionally, TTU has a "transfer team" dedicated solely to visiting high schools and advising students on what classes they should take at community colleges in order to transfer into degree programs at TTU.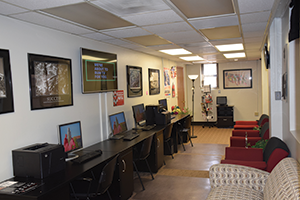 The university also works closely with the South Texas Academic Rising Scholars (STARS) Scholarship Fund, a nonprofit organization that serves low-income Hispanic and Latinx individuals living in southern and western Texas. STARS has provided financial support to more than 15,400 Hispanic and Latinx students. The program provides funding not only to new applicants but also to currently enrolled students, Hansard adds. 
Over the past 12 years, 210 TTU students received STARS scholarships and 23 are currently enrolled.
"As a public institution, it has always been our mission to recruit a diverse student class that is reflective of the evolving demographics in Texas," Hansard says. "I joined the undergraduate admissions team in 2008.  Since that time, we have increased our outreach to better support all prospective students and families." 
TTU also offers services through its Dream Resource Center to undocumented students, young immigrants protected under Deferred Action for Childhood Arrivals Act, and allies to the undocumented community. The center is one of roughly 50 Undocumented Student Resource Centers (USRC) in the U.S., most of which are located in California.
Harper College
Harper College is an emerging HSI in Palatine, Ill., where 28.3 percent of the total student body identifies as Hispanic and Latinx. Despite the group's prominence on campus, college leaders noticed a decline in their recruitment and retention rates in 2017. To address the issue, the community college formed a task force that same year to determine how to better meet their needs. 
The 15 members of the Hispanic Strategic Enrollment Management Task Force (HSEMTF) include employees from access and disability services, academic advising and counseling, admissions, and more. During a year of regular meetings, stakeholders explored the experiences of Hispanic and Latinx students, seeking to understand how the legacy of colonialism informs the economic and social dynamics that they experience today. 
The group went on a retreat and practiced strategy building exercises, and in May 2018, they issued 18 recommendations. 
Stakeholders identified problems with retention in developmental English classes, according to Claudia Mercado, EdD, assistant provost and dean of enrollment services. Harper's English faculty created pilot programs to address the issue. They will go into effect this fall.
The first solution is to place qualifying students in college level classes rather than remedial language courses. These students receive targeted support through a three-hour co-requisite class. "By providing them with three extra hours of instructional support per week, we're hoping that will be enough to help them get through," Mercado says.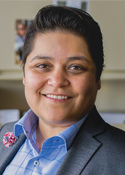 The second program creates a cohort of students between two classes who will have a shared experience. "It should help them have a higher success rate of getting through the courses because they're having more relationships," Mercado says. 
Another initiative, called Project Achieve — Surpassing Obstacles (PASO), recognizes that Hispanic and Latinx students are more successful if institutions involve their families in the educational process. Community colleges tend to lag behind when it comes to including families in what students experience, Mercado adds. 
While respecting privacy laws, PASO will host events to strengthen communication between students and their families. This summer, incoming freshmen and their families will be invited to celebrate students' future academic careers together. 
"We want to empower families to understand the [college] experience," Mercado says, "but we also want to make sure that they feel a responsibility to support their student and do what's needed for their education and their classes." This process will not detail specific policies, but rather focus more on answering questions about where to go for help, pointing out staff and faculty who offer bilingual support, and familiarizing families with Harper. 
Another recommendation of the HSEMTF is to educate faculty and staff about how to best support the college's Hispanic and Latinx population. 
At the first Diversity Symposium in October, the Harper community discussed local and national sociopolitical issues that strongly affect its Hispanic and Latinx students. The event featured the insights of activist and scholar Michael Benitez, PhD. He presented research on the evolving impact of Hispanic and Latinx students in higher education and discussed his own personal narrative as an immigrant from Puerto Rico educated in the U.S., says Pearl Ratunil, PhD, special assistant to the president for diversity and inclusion.  
Additionally, a 2019 faculty retreat in March provided a space for more than 140 attendees to improve their awareness of the day-to-day challenges and advantages that come with being Hispanic and Latinx. 
The retreat opened with a talk by Latinx student Jordan Delgado, who is wrapping up his last semester at Harper before transferring to the University of Illinois. Delgado shared stories from his childhood growing up in Chicago. He said he did not have high expectations for himself but overcame those challenges by earning grants that allowed him to go to Harper.
Mercado is eager to see more of Harper's Hispanic and Latinx students have transformational experiences like Delgado did. "Especially as an emerging HSI," she says, "we've got to get ahead of some of these issues and make sure we're continuing to support our growing population."
Ginger O'Donnell is a senior staff writer for INSIGHT Into Diversity. Texas Tech University is a 2012-2018 HEED Award recipient and a 2016-2018 Diversity Champion. Harper College is 2017-2018 HEED Award recipient. This article ran our May 2019 issue.