Large gaps in graduation rates between White students and students of color have long persisted in U.S. higher education. As of 2021, White college students were 250 percent more likely to graduate than their Black peers and 60 percent more likely than their Latinx peers, according to the website The Hechinger Report. One institution that has achieved remarkable success in closing these gaps is Towson University (TU), located in Maryland.
For decades, TU has operated numerous student success programs and incorporated diversity, equity, and inclusion (DEI) principles to ensure that its large population of students of color and those from disadvantaged backgrounds can achieve their goals. All underrepresented groups at TU have a higher median graduation rate than those at peer institutions of similar size and demographics, according to data from the National Center for Education Statistics. 
In 2020, Black and White students at TU both had a six-year graduation rate of 74 percent, while the overall graduation rates at TU were at 73 percent. Black students have surpassed the overall degree completion rate at TU for more than eight years in a row.
Maggie Reitz, PhD, vice provost for academic affairs, attributes this success to TU's longtime focus on recruiting and supporting underrepresented students.
"We had that foundation very early on, before other people even recognized the need or had any interest," she says.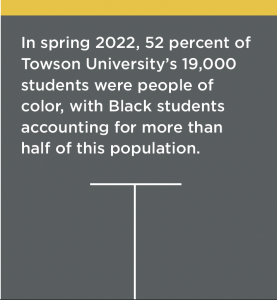 Officials at TU credit this to a robust collection of programs that support economically disadvantaged, first-generation, and marginalized students through mentorship, community-building, and skills development. One of the most notable is the Students Achieve Goals through Education (SAGE) program, a long-standing initiative at TU that matches first-year underrepresented students with peer mentors from similar backgrounds. SAGE sponsors weekly events on campus aimed at promoting academic and professional growth, including social activities, learning workshops, career development courses, and financial planning sessions. Participants can also choose to live in the SAGE Community on campus, which houses members and mentors together in residence halls. 
Having a peer-to-peer mentorship network is invaluable to building a sense of community, says Patricia Bradley, JD, TU's vice president for inclusion and institutional equity. Programs such as SAGE help first- generation and marginalized students understand and manage the challenges of college, which in turn has a positive impact on graduation rates.
"We really do believe in the mindset of our students learning together, living together, and playing together," she says. "It's that togetherness and that sense of belonging that creates an environment where students can thrive and be successful."
Another successful initiative is the Man 2 Man Program, which allows male-identifying students of color to connect with each other and discuss issues of masculinity, social pressure, race, culture, and more. It hosted a mental health conference in April aimed at helping men of color be more comfortable with speaking about emotional hardships.
"[Man 2 Man] is providing a space to be authentic, to be vulnerable, and talk about emotion," says Brian Jara, assistant director of diversity training and educational initiatives. "It's social, educational, and emotional support."
Other programs include Generation One, which provides networking and counseling resources to first-generation students. Officials at TU are especially proud of this program because numerous administrators at TU — including Reitz, Bradley, and President Kim Schatzel — are first-generation college graduates themselves.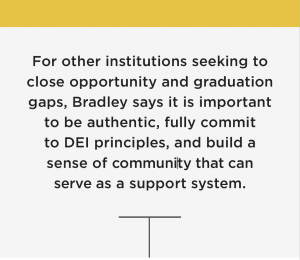 The university's commitment to underrepresented students begins before they even enroll. Through the College Readiness Outreach Program, TU engages with marginalized teenagers in Baltimore public schools to encourage them to pursue higher education, assists them in developing a plan for their college careers, and helps them prepare for academic success at the collegiate level.
In addition to these student-focused programs, TU has implemented faculty and staff DEI initiatives to improve cultural competency on campus and encourage instructors to connect with diverse groups of students. These include LGBTQ ally training and anti-racism affinity groups and faculty dialogues.
For other institutions seeking to close opportunity and graduation gaps, Bradley says it is important to be authentic, fully commit to DEI principles, and build a sense of community that can serve as a support system.
"You're just there as a support, so don't look at it from the perspective that these are the people who need the most help," she says. "They've already proven that they can succeed."●
Erik Cliburn is a senior staff writer for INSIGHT Into Diversity. Towson University is a 2020 and 2021 recipient of the INSIGHT Into Diversity Higher Education Excellence in Diversity (HEED) Award.
This article was published in our July/August 2022 issue.