Academic Freedoms Are Threatened as Politicians
Seek to Eliminate DEI on College Campuses

The recent and relentless attacks
on the work of DEI in higher education by state governors and other legislators will further marginalize underrepresented students, faculty, and staff, and experts predict such measures will have a chilling effect on recruitment and retention as well as academic standing.
In Florida and Texas, 2023 has brought a wave of proposed policies, leadership firings and new appointments, and political maneuverings designed to stifle DEI initiatives and closely related higher education offices. Measures have been introduced that would limit faculty speech both in and out of the classroom on topics such as race, gender, and sexuality; halt inclusive and equitable hiring practices; and eliminate programs that purportedly give "unfair" advantages to underrepresented groups.
As of press time, more than a dozen other states had moved into the political fray. Oklahoma and South Carolina legislators, for example, have demanded that public colleges and universities account for all funds spent on DEI programs, while the University of North Carolina Board of Governors voted to eliminate a question from student applications that asked them to describe how they would contribute to a diverse and inclusive environment.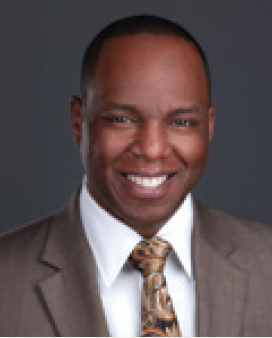 "DEI is a collection of perspectives, experiences, and issues facing all citizens. So to limit access to the information that strengthens us is troubling for a government to do," says Richard Baker, JD, PhD, executive director of institutional equity and equal employment opportunity and Title IX coordinator at Rice University. Baker is also a member of the INSIGHT editorial board.
Arguments against diversity efforts are often vague or fail to distinguish a particular grievance, Baker says, and political actions tend to omit whether it's the term "DEI" or the function of a DEI program or office that is objectionable. It's such a broad topic that general threats to ban it alarm practitioners, he says.
"If you're going to ban DEI as an office, does that mean you are banning support, retention, and recruitment programs in which underrepresented minorities are being recruited or are there retention efforts specifically for women in STEM?" says Baker. "Are you talking about MLK Day, St. Patrick's Day, Juneteenth, or even Christmas? Understand that all of those events are celebrated by those offices across ideology, race, and sexual orientation."
Ramifications and Pushback
Florida Gov. Ron DeSantis and Texas Gov. Greg Abbott, both Republicans, argue that eliminating DEI practices will strengthen higher education, but many campus employees and students don't see it that way. 
Given that most accrediting bodies require some form of DEI commitment and practice, including diverse hiring and recruitment, public colleges and universities in both states could potentially lose such accreditation. This, in turn, would have a major impact on federal and foundation funding as well as an institution's reputation. 
These policies will also make it much harder for schools to recruit and retain faculty and students, especially those from marginalized backgrounds, says Pat Heintzelman, president of the Texas Faculty Association.
"The impact will be that fewer minorities are hired," says Heintzelman. "Some [Texas] universities have tremendous numbers of Hispanic and Black students as part of their populations. They need educators of their own race who they can sincerely relate to and who can serve as role models."
Significant pushback in the form of protests and demonstrations have come from student and faculty organizations, including United Faculty of Florida (UFF) and the University of North Florida (UNF) Students for a Democratic Society (SDS).
"They have told [people of color] our history is irrelevant and that our stories are not worth telling," says Marlo Crosby, vice president of the UNF SDS. "They have told [LGBTQ+ individuals] that our identities are not of value to this nation and that our perspectives are not to be respected. They have told us that our education should be filtered. That our learning should align with the interests of the fascist politics and corporate elite that govern this state. I'm a Black, queer student on this campus, and I'm sick and tired of being told what to do. Ron DeSantis and the many like him have threatened us before and now they're on our doorstep."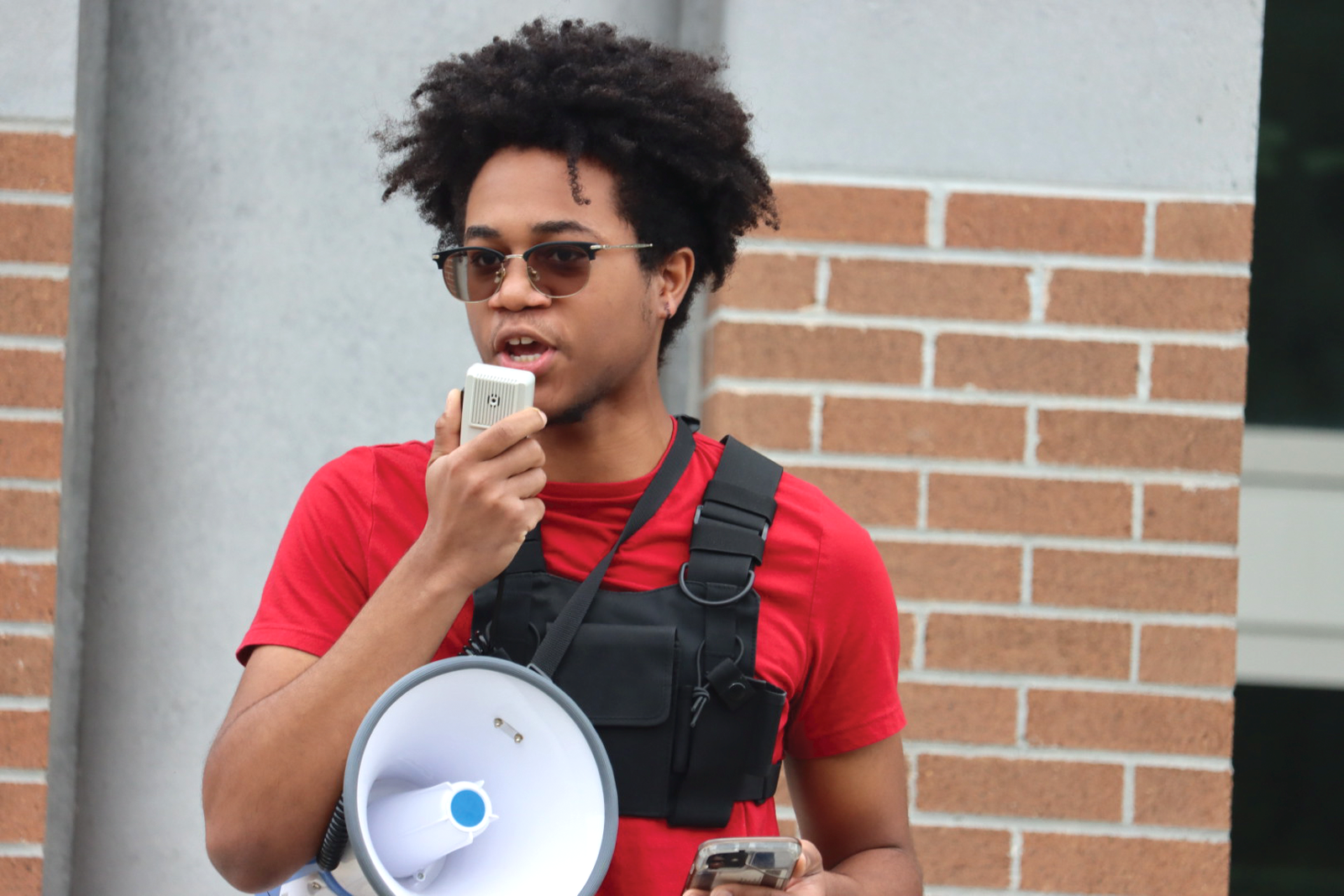 The Texas NAACP and similar organizations are in the process of drafting civil rights complaints against the state for its assault on diverse hiring practices. NAACP leaders have also called on the NBA, NCAA, and NFL to boycott hosting events in Texas until the DEI hiring attacks stop.
The U.S. Department of Education's Office for Civil Rights (OCR) has also come to the defense of diversity initiatives in higher education. The office has repeatedly affirmed that DEI programs are designed to foster inclusion and to help institutions comply with Title VI of the Civil Rights Act of 1964.
"Schools and colleges have implemented diversity, equity, and inclusion activities to remedy potential different treatment of students, provide remedial measures to address harassing conduct, assist in remedying other forms of discrimination on the basis of race, and foster a more positive and inclusive school climate," reads an OCR fact sheet on DEI efforts under Title VI.
Rather than the outright banning of DEI initiatives, those who work in DEI argue that there should be legitimate, good-faith discussions on the value the practices add and the benefits they offer institutions, states, and the national economy.
"There are legitimate questions that should be asked [about DEI], but I would question any action that would jeopardize the accreditation of any institution of higher education, especially any major flagship university," says Baker.
Supporting DEI Offices
Diversity leaders and associated staff at public institutions are in a particularly precarious situation. Since they often lack the protections that come with faculty tenure, these employees are more likely to see their jobs and offices eliminated as a result of the anti-DEI politics of legislators, board members, and administrators. This emphasizes the need for allies to voice their support, says Candi Churchill, executive director of UFF. 
"[Chief diversity officers] need to know they are not alone," she says. "These DEI leaders and staff need to be surrounded with love and support." 
This is especially important as Texas and Florida consider defunding DEI offices at their public institutions. In a show of solidarity during the recent state-required political ideology surveys, a majority of UFF members across numerous academic disciplines identified as DEI scholars. Students have also shown significant support for diversity initiatives in the state.
Nearly two-thirds of students at UNF say that DEI programs have had a positive impact on their college experience and that the initiatives are "definitely not" discriminatory toward students, according to a recent survey by the student government. Of the respondents, 73 percent strongly approved of the university offering courses on race, gender, and diversity. Two-thirds affirmed that the school's office of diversity and inclusion positively impacted their experience, while 20 percent stated they had no opinion.
"There are legitimate questions that should be asked [about DEI], but I would question any action that would jeopardize the accreditation of any institution of higher education, especially any major flagship university."
– Richard Baker, JD, PhD
"DeSantis has vowed to defund our university's office of diversity, equity, and inclusion and by doing so he means to drain the lifeblood of our campus," says Crosby.
It is critical that students and faculty who have benefited from DEI programs and initiatives share their experiences with state legislatures and college administrators and advocate for safeguards, says Baker. Examples of success demonstrate the clear value that DEI efforts provide to campuses, he says.
"What may be missing from this whole equation are the faces of the people that have benefited from the DEI efforts, those that have thrived and contributed to the economic and scientific growth of the state," says Baker. "Maybe the most important thing anyone can do is to show that these faces are not worth the politics. If there is a discussion that needs to be had, I hope they participate in that as well."
Anti-DEI Policies
A Florida bill proposed in February, House Bill 999, expands on DeSantis' Stop WOKE Act, signed in 2022. That legislation bans public educators from teaching about a person's status as privileged or oppressed as it relates to their race, sex, or national origin. If passed, the new measure will limit faculty at public higher educational institutions from discussing topics related to "identity politics," such as gender issues and African American studies.
The bill would also limit faculty speech regarding objectionable subjects outside the classroom by implementing a post-tenure review process that would give the state expansive hiring and firing authority. 
This is a political tactic to distract Florida's citizens from real issues plaguing the state, says Churchill.
"Our members really cherish their academic freedom and the pursuit of debate, ideas, and subject matter," she says. "So this is very painful to our members, who see this political interference in everything from the selection of the [college] president all the way down to what's happening in the classroom. It's really a distraction. We're in a real crisis in the state of Florida economically with the [rising] prices of homeowners insurance, health insurance, and housing. So instead of dealing with the real issues, our government is dividing us and distracting us with scapegoats like this that are not real problems."
In February, Abbott took similar steps to curtail diversity efforts at Texas public colleges and universities when he wrote in a policy memo that DEI hiring policies are discriminatory and violate state and federal employment laws. 
In response, the board of regents for the University of Texas System, which encompasses 13 schools, halted the implementation of any new DEI policies and launched a review of all current ones. 
The Texas A&M University System and the University of Houston System responded by discontinuing requests for diversity statements from job applicants, a formerly routine practice. Although anti-DEI advocates in the state have leaned heavily on the argument that the practice leads to employment and hiring discrimination against White male applicants, proponents of diversity programs dismiss this by asserting that federal and state laws already protect against employment discrimination.
"[Abbott's] memo and its claims are ridiculous and beyond an attempt for state government overreach," Paulette Granberry Russell, JD, president of the National Association of Diversity Officers in Higher Education, wrote in a statement. "They are just one more step in a broader assault on the basic underpinnings of diversity, equity, and inclusion, terms that some have sought to turn into dog whistles because they have not bothered to understand the basic history of America and the principles that can set it on a brighter path forward."
Government overstep into higher education is a common fear among many DEI experts and advocates. In addition to harming programs designed to support marginalized students, these encroachments on academia are antithetical to the idea of academic freedom and expression, says Heintzelman.
"[The legislature is] trying to get their foot in the door," she says. "It won't just be these items. They'll want to control other areas of higher education as far as content. We are supposed to be experts in our field in order to teach in higher education. We ask that they just let us teach what we know. It's about academic freedom for us as well as the students."
New College of Florida, a small, public liberal arts honors college in Sarasota, has served as proof of concept for DeSantis and his allies' attacks on DEI. In late January, six of New College's 13 board of trustee members were replaced with conservatives handpicked by DeSantis. Since then, the new board has ousted the college's president and appointed Florida's former Republican speaker of the house Richard Corcoran as the interim. In March, the board voted to abolish the school's DEI programs, including the office of outreach and inclusive excellence, despite significant pushback from students, alumni, parents, and community members.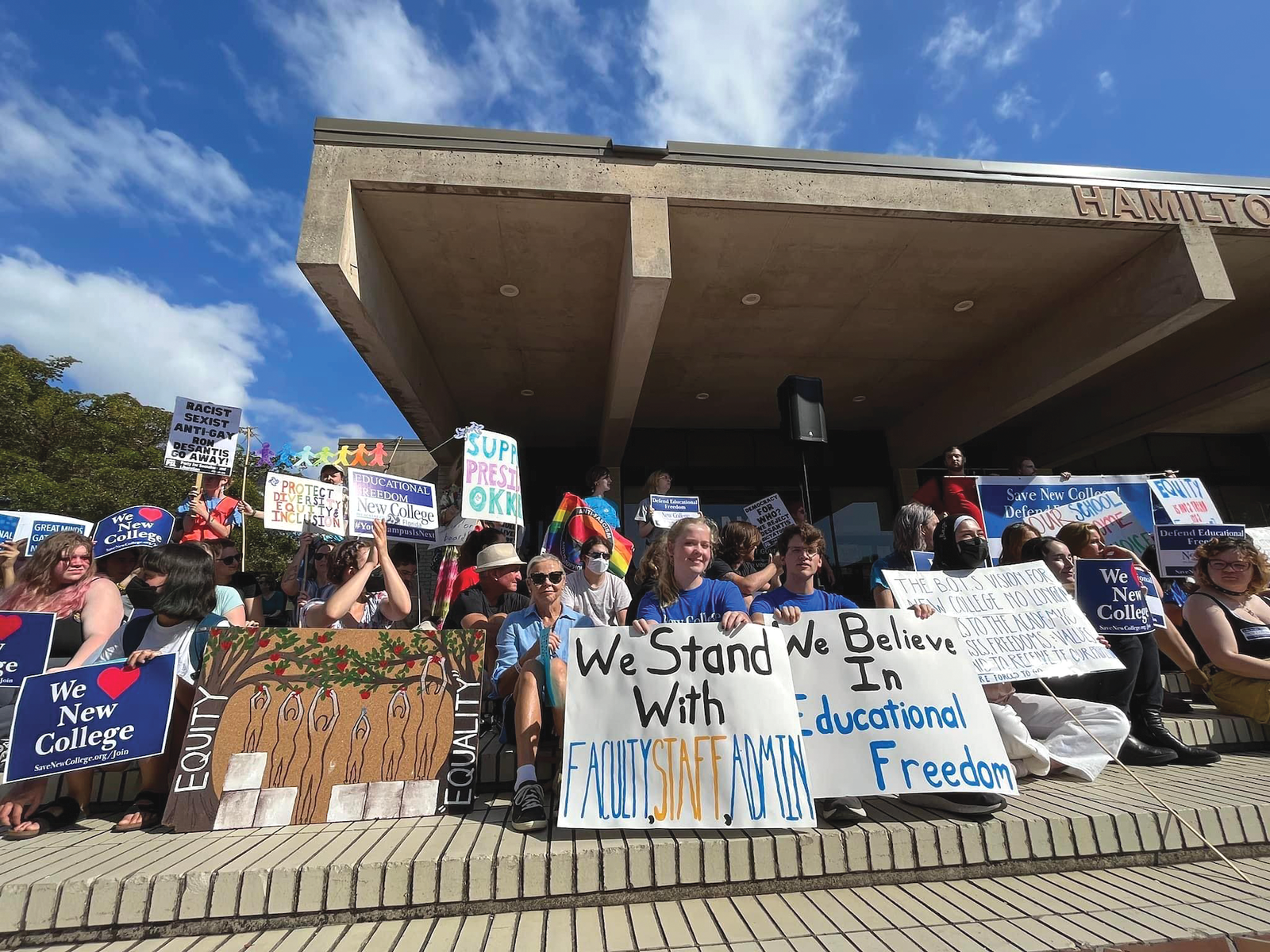 The UFF will leverage its collective bargaining agreement with the state if the anti-education actions and policies do not stop, says Churchill.
"It's corruption, and it's really scary that it's happening so quickly," she says. "New College is a canary in the coal mine for what is wanting to be done across the country in higher education, but this is not going to be an easy takeover."
Despite the political barrage in Florida and Texas and with other states poised to follow their lead, many in higher education refuse to step aside and allow erasure of the significant DEI progress made in recent decades. 
"I am not sure what the future will be, but I believe that we've made too much progress to go back to a point where we did not appreciate difference and the strength that it offers us as a society and as individuals," says Baker.●
This article was published in our April 2023 issue.
For additional coverage on recent anti-DEI legislation, visit insightintodiversity.com/waronDEI.