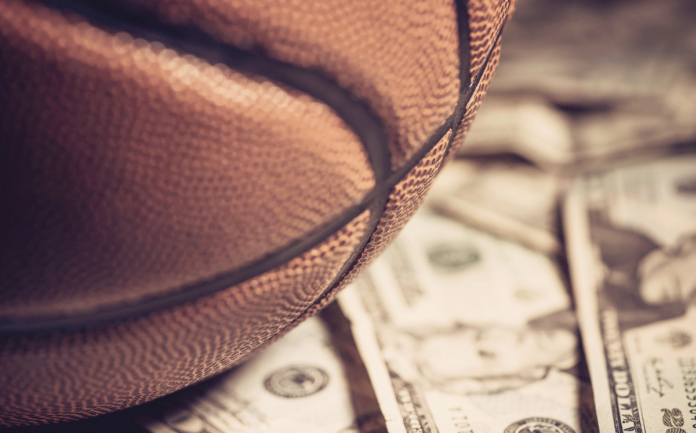 For years there has been near-constant debate surrounding student-athlete exploitation within the National Collegiate Athletics Association (NCAA), which generates more than $1 billion in revenue annually. While this dispute often centers on the issue of financial compensation for amateur athletes, a number of experts point out that one of the NCAA's greatest obligations to players, especially those who come from communities of color and low-income households, should be ensuring they are prepared for a future that may not include a lucrative professional sports career.
Fewer than 2 percent of all college athletes will go on to play professional sports, according to a 2020 NCAA report. For women's basketball, the odds are less than 1 in 100, with only 0.8 percent of players turning pro. Men's basketball players fare slightly better, with 1.2 percent of college athletes moving up to the professional ranks. College football, in which 1.6 percent of players make it to the NFL, offers some of the best odds for achieving the dream of a post-college sports career.
Unfortunately, many student-athletes have aspirations that far from reflect this reality.
According to a 2019 NCAA survey of more than 22,000 student-athletes, a significant number of Division I (DI) players responded that they are at least "somewhat likely" to play professionally or compete in the Olympics. The largest disparity between reality and expectations existed among men's basketball and hockey players, with three out of four reporting that they are at least somewhat likely to play professionally. Approximately seven in 10 players surveyed within the DI Football Bowl Subdivision responded that they are at least somewhat likely to go pro. Despite efforts by the NCAA and colleges to curb students' expectations in recent years, this figure is actually 12 percent higher than the number of DI football players in a 2011 survey who said they were likely to go pro.
Aspirations of having a career in sports are largely shaped by the media and can be extremely detrimental to those who do not make it into professional leagues, according to a 2018 study by Shaun Harper, a leading scholar on diversity, equity, and inclusion at the University of Southern California Marshall School of Business.
Media influence and pressure to play professionally are especially strong for Black men, who are vastly overrepresented in college sports, Harper writes in the study. Across 65 universities, this demographic totaled 55 percent of players on football teams and 56 percent of men's basketball teams while representing only 2.4 percent of the total undergraduate enrollment.
"Perhaps nowhere in higher education is the disenfranchisement of Black male students more insidious than in college athletics," Harper writes. While it may appear that athletics is offering this underserved demographic a much-needed path to college degrees, Black male athletes were actually less likely to graduate than Black men who did not play sports at 60 percent of the universities in Harper's study. Overall, African American student-athletes graduated at a rate 5 percent lower than other Black students and 21 percent lower than all students.
"I advise Black male student-athletes and their families to resist the seductive lure of choosing a university because it appears to be a promising gateway to careers in professional sports. It can be for a very small number of student-athletes, but not for the overwhelming majority," the study states.
A 2016 Gallup-Purdue Index Report commissioned by the NCAA, however, counters the notion that student-athletes are at a disadvantage when it comes to post-graduation prospects. A survey of 1,671 former college players who graduated between 1970 and 2014 found that 65 percent have full-time jobs compared with 63 percent of non-athletes who graduated from the same institutions. The report also found that former student-athletes were between 8 and 9 percent more likely to thrive in several areas of well-being, including social and physical wellness. They were 1 percent more likely to thrive in financial well-being compared with non-student-athletes. The report does not account for race or ethnicity.
Karen Weaver, EdD, is an adjunct associate professor in Higher Education Management at the University of Pennsylvania and host of the Trustees and Presidents – Opportunities and Challenges in Intercollegiate Athletics podcast, which focuses on the oversight of college sports. In a recent article in Forbes magazine, she states that much of the NCAA's assumptions about college graduates "are crafted through the lens of White privilege."
"Living the American dream of earning a college degree is pitched to promising high school [B]lack athletes. First-generation players come to campus with the expectations that coaches and support staff would take care of them; in return, a degree all but guarantees them immediate employment in a stable workplace," she writes.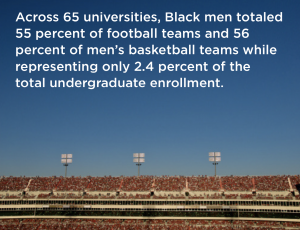 According to Weaver, one of the greatest detriments to student-athlete success is the sheer amount of time that players are required to devote to their sport rather than academics or other extracurriculars. Dedicating most of their time and energy to athletics leaves few opportunities to connect with professors or potential mentors outside of athletics who can help them explore career paths and guide them toward success off the court or field, she recently told INSIGHT.
Furthermore, coaches have lobbied the NCAA for the right to greater demands on student-athletes' time, which often leaves few windows available for jobs, service learning, and other real-world experiences that are increasingly important in competitive job markets.
"Unless there is a real understanding that it's okay for an athlete to step away from their program for, let's say, an entire semester to go work somewhere and miss out on all the training opportunities, then the athlete can experience something we call 'role conflict,' where they feel torn," Weaver explains. "They think 'What am I supposed to do here, miss my allegiance to my team or my future?'"
Due to overscheduling, student-athletes are less likely to pursue internships, especially paid internships, which are highly sought after by employers, explain Weaver.
Recent research from the National Association of Colleges and Employers (NACE) shows that women student-athletes were 6 percent less likely and men student-athletes were 17 percent less likely to work as interns compared with college students overall. One in five student-athletes reported that their athletic obligations prevented them from pursuing such opportunities. Yet NACE data shows that individuals who complete paid internships are more than twice as likely to have accepted a job by graduation than those who had unpaid internships or no intern experience. Graduates who have this experience are also more likely to start at higher tiers in the workplace and have significantly larger starting salaries than their peers.
While college players are required to maintain certain GPAs in order to participate in their sport and, of course, to graduate, Weaver asserts that a degree is only part of the equation when it comes to ensuring post-graduation success and upward mobility.
Student-athletes in high intensity programs often commit nearly 35 hours per week to their sport for practice, weight training, and more, according to Collin Williams Jr., PhD, the senior director of curriculum at the Ross Initiative in Sports for Equality (RISE), a nonprofit dedicated to empowering the athletics community to fight racial discrimination and promote social justice. Players, especially those with guaranteed scholarships, often face pressure to attend additional non-mandatory practices and events in order to prove they are committed to the team, he says.
Williams agrees with Weaver that these time constraints rob student-athletes of the opportunity to forge potential connections and develop "navigational skills" such as networking and drafting résumés, he says. When it comes to entering the job market, former players have expressed resentment when they realize they were underprepared for life outside of professional sports.
"I've had Black student-athletes tell me that there was deception and that they felt lied to, or they will turn it on themselves and say, 'I wish I would have known,' because now they don't have those navigational tools," Williams explains.
It is important for institutions to present student-athletes with pathways to careers without crushing their dreams of playing professionally, he says. Ultimately, the NCAA and universities must reinforce that academic performance is far more important than athletic performance for the vast majority of players. This guidance is in the students' best interest financially and emotionally when it comes time to graduate.
"The end of a sports career can be a pretty traumatic experience," Williams says. "You're essentially losing a part of your identity, and it can cause anxiety, stress, and even depression. There is a lot of uncertainty and questions surrounding your own self-worth."
College graduation can often result in an identity crisis for those student-athletes who have devoted much of their life to a sport, says Williams. This issue is significantly compounded for those who were banking on playing professionally and were hoping that sports could lift them out of poverty.
In his book The Miseducation of the Student Athlete: How to Fix College Sports, Williams and co-author Kenneth Shropshire present a number of potential solutions to improve overall outcomes for college players. They suggest that the NCAA and colleges take steps to actually enforce limits on the amount of time that students can spend each week on team-related activities. Student-athletes should also receive adequate career guidance so that they can select a meaningful degree that interests them and will help them succeed. Colleges should consider, for example, that their sports teams offer a great opportunity to establish pipelines of diverse professionals who work in the sports industry in roles other than as an athlete.
Addressing the problem of student-athlete success head-on is necessary to fulfill the promise of providing these individuals with an equitable education, Williams says.
"We have to think more creatively," he says, "and view this through a solutions-oriented lens."●
Erik Cliburn is a senior staff writer for INSIGHT Into Diversity.
This article was published in our June 2021 issue.