Participation in the arts can be an empowering means of expression for many people, but it is a world that has not always been welcoming to those who are marginalized, including individuals with disabilities. 
Traditionally, this demographic has faced numerous barriers in the arts. Research has shown that people with disabilities are underrepresented as both subjects and creators across a range of artistic disciplines. Furthermore, studios, museums, and other cultural venues often lack appropriate accommodations for visitors and participants with disabilities, making it difficult for them to attend classes, plays, festivals, and more.   
At some schools of fine arts, however, faculty and students are working to undo this culture of exclusion by adopting innovative practices and programming that welcome creators, subjects, and audiences with disabilities. 
"The arts are quintessentially about the human experience, and everyone should have the opportunity to experience them," wrote Jill Bradbury, PhD, chair for the National Technical Institute for the Deaf (NTID) Department for Performing Arts at the Rochester Institute of Technology (RIT), in a recent email to INSIGHT.
The NTID has long been renowned for making theater more accessible to performers and attendees who are Deaf and hard of hearing (DHOH). Its Robert F. Panara Theatre, built in 1974, was designed using unique seating arrangements and other elements to support individuals with auditory and other disabilities. Recently, the institute introduced new techniques to further engage audience members who are Blind or visually impaired during its spring 2022 production of "In the Heights."
Bradbury, who is Deaf, organized what she describes as a "tactile exhibit" for guests with visual disabilities to explore before watching the play. This included a miniature version of the set, costumes of major characters, and both Braille and large-print explanations of what the costume design reveals about each character. Staff members in the NTID Performing Arts department used different techniques, such as mixing sand with paint, to give the set model plenty of texture, and audience members who were Blind or visually impaired were encouraged to take tours of both it and the actual set prior to the show. 
"We got great feedback on the model from patrons with visual disabilities," Bradbury says. "They said the model, along with the 'touch tour' of the set, helped them understand what was taking place onstage as they listened to the audio description or used the tactile or close vision interpreting."
Protactile and close vision interpreting are two types of communication systems used among people who are DHOH and Blind. Protactile communication entails the use of touch as a way to convey meaning and gain understanding of the surrounding environment. Deaf individuals who have residual vision sometimes use close vision interpreting, in which a sign language interpreter positions themselves closer and modifies their signing to account for any vision impairments. Both of these services were offered for "In the Heights," and it was also the first production at RIT to be audio-described, Bradbury says. 
Across the country, the University of California, Los Angeles (UCLA) School of the Arts and Architecture is also working to support people with disabilities who have a love for the performing arts. The school's Dancing Disability Lab allows dancers with a myriad of physical and mental disabilities to find community and develop their skills. 
The lab offers participants the opportunity to engage in both choreographed and improvisational movement that seeks "to expand and deepen action languages while they consider how we represent, view, transform, and challenge ideas about the body and personhood," according to a UCLA news release. Dancers from around the world who identify as having a disability are invited to apply for this unique opportunity, which runs for one week annually. In addition to practicing and performing, participants attend seminars on the history of disability in dance and engage in discussions about disability justice.
"People need to know we exist," Vanessa Cruz, a former participant who has arthrogryposis and scoliosis, stated in the release. "Dance is the perfect platform to allow our humanity to come through. People are either inspired by me or they feel sorry for me because that's how the media has shaped our identity, but dance can change that."
At other institutions, students are working to expand accessibility in the world of fashion design. Alyssa Chavez, a student at the Fashion Institute of Design and Merchandising (FIDM) in Los Angeles, used her own experience living with multiple disabilities — including chronic active Epstein-Barr syndrome, chronic fatigue syndrome, epilepsy, and a brain tumor — to influence the fall 2022 menswear collection she created as part of an advanced study program at the school. The collection features three looks: one for patients who are undergoing chemotherapy and radiation treatments, the second for those using wheelchairs or prosthetics, and the third for those who have visual disabilities. Each design features elements meant to "facilitate effortless dressing," including magnets, Velcro, buckles, and magnetic zippers, Chavez explained in a FIDM news release.
She named the collection CHA, which stands for Confidence, Hope, and Adaptive. 
"Fashion brands never address customers' disabilities," she stated in the release. "And if they do, it is more of tokenism, not something reflected in the clothing. This brand, CHA, I'm creating, is adopted on the idea of living your best life despite your disability."
At the University of Florida (UF) School of Art and Art History, this concept is being introduced in the classroom thanks to MFA student and instructor Angela DeCarlis.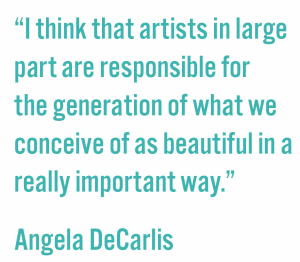 When DeCarlis, who uses they/them pronouns, began working as a figure model in Boston in 2018, they noticed the majority of art class models were White, cisgender, thin, and had no visible disabilities. The experience made them interested in learning more about "who is represented and who felt comfortable getting up on the model stand for artists," they say.
That same year, DeCarlis launched the first Figure on Diversity workshop at Lesley University in Massachusetts by inviting individuals who are underrepresented in the arts due to their race, gender, body type, visible disabilities, and more to participate as models. Though they originally intended this to be a one-off event, DeCarlis has since held multiple workshops, both at UF and online, with participants from around the globe.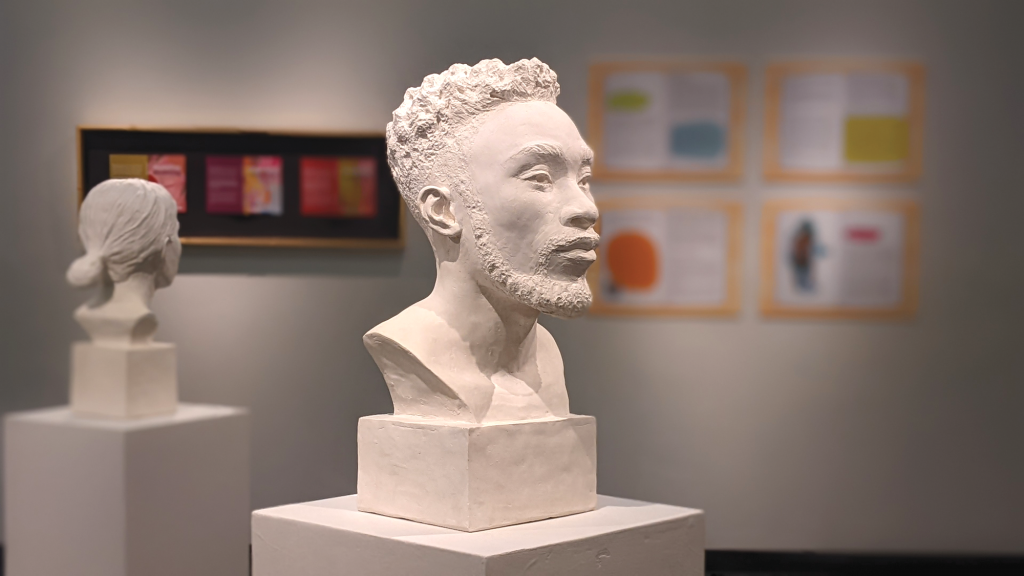 Being able to see oneself represented in art has been an extremely powerful experience for many of the models, according to DeCarlis. One participant who has scoliosis said that "she didn't think that art modeling could be for her because she was made to understand her body as anatomically incorrect and therefore not valuable to an artist's education," DeCarlis says.
Figure on Diversity has expanded beyond the workshops to include BustEd, a collaboration with sculptor Morgan Yacoe, a research coordinator in the UF Center for Arts in Medicine. Yacoe and DeCarlis are working together to create a new series of sculptural portrait busts that can be used as reference materials in art education. Busts are typically based on ancient Greco-Roman statuary that is "very Eurocentric, very male, and very hyper-idealized," DeCarlis explains. The BustEd project seeks to remedy this lack of diversity by featuring busts of people with marginalized identities, including disabilities.
 "I think that artists in large part are responsible for the generation of what we conceive of as beautiful in a really important way," DeCarlis says. "I think that there's a lot of conversation around representation in media and in magazines and in commercials and how that impacts us as a society. But ultimately, artists and creators, people who work with bodies in their education, are also largely responsible for that cultural understanding."●
Lisa O'Malley is the assistant editor of INSIGHT Into Diversity. 
This article was published in our June 2022 issue.