Hispanic Heritage Month
The El Paso Community College (EPCC) Hispanic Heritage Committee hosts a series of events annually to mark this special time of the year. The festivities begin with a celebration of Hispanic and Latinx cultures through food, drinks, and inspirational speakers. All EPCC libraries create displays that highlight Hispanic and Latinx heritage. The month continues with organized read-ins for students, staff, and community members as well as an art exhibit that showcases faculty, student, and community art. EPCC also offers scholarships throughout the month, which ends with a mentors' recognition ceremony that honors local dignitaries whose achievements make the college community great. 
International Fiesta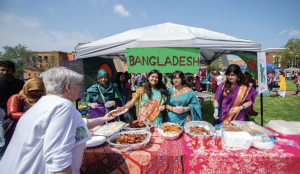 The annual International Fiesta is a day of cultural exchange and entertainment hosted in April at Mississippi State University. The event is open to the entire campus community and the general public. Student organizations, university departments, and other campus units set up culturally informative displays, food booths, and more that represent different countries of origin. Various groups provide entertainment through dance, music, and a fashion show. The day also features demonstrations of games and activities popular in other cultures, such as cricket, for children and families in attendance.
Women's Center and Pride Center Events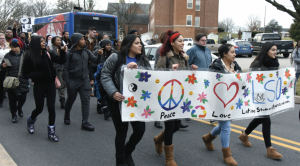 Shippensburg University's Women's Center and Pride Center hosted a series of events in 2020 designed to inspire the campus community toward social justice. The programming included a rally to celebrate 100 years of women's voting rights; a discussion on tackling transphobia, homophobia, and racism; queer and transgender sex education; and more. Some of these events, including a celebration of National Coming Out Day, took place during the university's first student-led Diversity Week in October 2020. The week included programming on topics such as race and immigration, disability identities, and common understandings of religion.
El Grito Celebration
For the past 12 years, Texas Tech University has invited the campus and local Lubbock community to embrace diversity through one of its signature events, El Grito Celebration. El Grito, which starts the university's monthlong celebration of Hispanic and Latinx heritage, honors the legacy of Mexico's declaration of independence from Spain and educates the community on the history of independence for 19 other Latin American countries. The event features local performers and musicians and pays tribute to each Latin American country during a flag presentation. 
Race for Equity 5K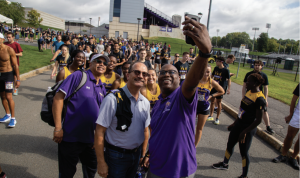 On Saturday, September 18, 2021, the University at Albany, State University of New York held its inaugural Race for Equity 5K. The event celebrates social justice accomplishments in the U.S., raises awareness about current injustices, and educates the community as the nation forges ahead in the race for equity. Throughout the course, the university posted 30 "social justice stations" dedicated to recognizing civil rights leaders or raising awareness about a current inequity. More than 500 faculty, staff, students, and community members attended the race.
First to Geaux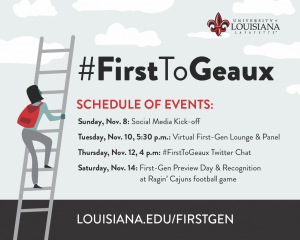 In recognition of the national First-Generation College Celebration, the University of Louisiana at Lafayette hosted First to Geaux, a weeklong series of events in November 2020 that celebrated the success of first-generation students. The week included a social media campaign, a virtual panel discussion, and a Twitter chat to highlight students' experiences and connect them with campus resources. It also provided an opportunity to build a community of students, faculty, and staff committed to first-generation success.
Lavender Leaders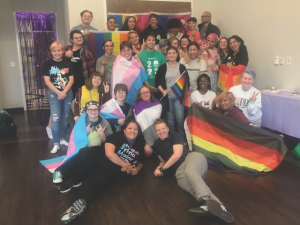 Lavender Leaders is an overnight retreat for incoming students at the University of North Texas who are interested in further exploring their gender identities and sexualities as they relate to leadership. Led by student coordinators, participants learn about building community support systems, practicing wellness, and taking advantage of leadership opportunities. Participants do not need to be experts about their identities or the identities of others; they just need to be invested in working toward a more equitable and just world. 
The Faculty Women of Color
in the Academy Conference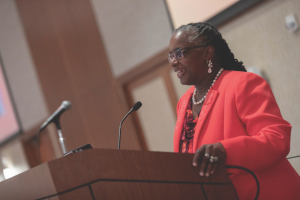 The Faculty Women of Color in the Academy (FWCA) conference at Virginia Polytechnic Institute and State University is a unique educational and professional opportunity for Indigenous women and women of color in higher education to network, engage, and learn with colleagues from around the country. The 10th annual installment of FWCA is planned for April 2022 and will feature sessions that explore the topics of leadership, career advancement, personal well-being, and scholar-activism.●
This article was published in our November 2021 issue.