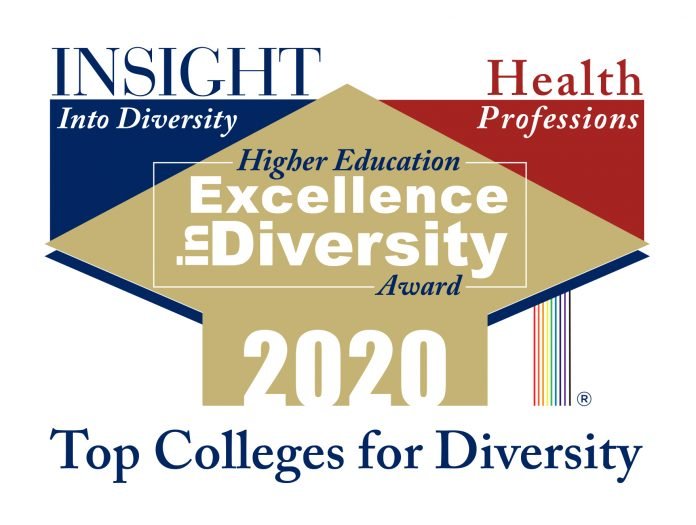 The annual INSIGHT Into Diversity Health Professions Higher Education Excellence in Diversity (HEED) Award recognizes U.S. medical, dental, pharmacy, osteopathic, nursing, veterinary, allied health, and other health schools and centers that demonstrate an outstanding commitment to diversity and inclusion on their campuses. In our December 2020 issue, we recognize the year's winners by highlighting some of the most important factors assessed by the Health Professions HEED Award.
Innovative Diversity Education
Booked for Lunch Club
The Booked for Lunch Club at the University of Maryland School of Nursing (UMSON) offers a platform for dialogue, awareness, and collaborative thinking through a variety of diverse reading and media materials. More than 100 members— including faculty, staff, and students from across the university's Baltimore campus — gather to discuss a shared reading every other month. Lunch and reading materials are provided through sponsorships with local woman- and minority-vendors from West Baltimore. Since the club's first meeting in May 2017, the group has read 15 books that explore topics such as systemic racism, politics, history, mental health, and more.
Anti-Oppression Collaborative in Education
The Anti-Oppression Collaborative in Education (IHP-ACE) was established as Massachusetts General Hospital Institute of Health Professions' incubator for innovative ideas in teaching and learning about Justice, Equity, Diversity, and Inclusion (JEDI) issues. With the support of trustees, the incubator has continued its faculty capacity-building efforts and provided more targeted support for developing inclusive curricula. IHP-ACE hired seven student fellows, each of whom is matched with an academic department to help support various curricular projects, including staffing task forces focused on anti-oppression, developing trainings and workshops for clinical preceptors and adjunct faculty, and supporting the JEDI strategic planning process.
Dean's Grand Rounds Lecture Series
Louisiana State University School of Veterinary Medicine holds a monthly Dean's Grand Rounds Lecture Series that is mandatory for Doctor of Veterinary Medicine students and well-attended by faculty and staff. It has featured speakers on several diversity and inclusion topics, including Unconscious Biases and Microaggression; Well-being in the LGBTQ+ Veterinary Community; Cultural Competence in Veterinary Medicine; and The Financial Case for Diversity and Inclusion in Veterinary Practices. In addition to educating on the value of diversity and inclusion, the series has raised awareness of disparities in mental health amongst marginalized individuals in the profession.
Health Equity Leadership Weekend
Sponsored by the University of Michigan Medical School's Office for Health Equity and Inclusion, the Health Equity Leadership Weekend (HELW) aims to promote the development of leadership skills in medical students interested in health equity, diversity, and inclusion work. Due to the COVID-19 pandemic, the second annual HELW was reconfigured to be a two-day virtual workshop and attracted more than 120 fourth-year medical students and over 300 total participants from across the nation. This year's theme, Gender Equity and Gender Healthcare Equity, tackled gender disparities and pay gaps, social determinants of health, and how to address other pressing health equity topics.
Leadership and Communication in Action Project
Texas A&M University College of Veterinary Medicine & Biomedical Sciences' (CVMBS) Leadership and Communication in Action Project encourages faculty, staff, and students to embrace the idea that leadership responsibilities at all levels require a strong communication skill set. As part of this year's project, 30 faculty and staff members who completed the 40-hour basic mediation course engaged the broader CVMBS community on the importance of effectively communicating and managing conflict. Working in pairs, participants created videos to explain specific conflict management skills, such as "I" statements and mindfulness, and how their colleagues can use those skills in their everyday interactions.
Health Disparities Panel Series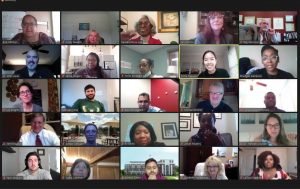 The Office of Diversity and Inclusion at the Edward Via College of Osteopathic Medicine Virginia campus created a new series on health disparities that affect underrepresented groups, especially the African American community. The series will focus on several topics and be held via virtual Zoom meetings moderated by student representatives. The panels will include esteemed alumni who will share their clinical expertise. The student moderators and physician panelists will discuss the academic and clinical aspects of an identified health disparity. The first panel meeting focused on "Colon Cancer in Young African-Americans."
Gainsboro History Tour
Hosted by the Virginia Polytechnic Institute and State University (Virginia Tech) Carilion School of Medicine, the Gainsboro History Tour was designed to inform community members about a neighborhood that was once one of the most vibrant centers of Black culture and commerce in the American South. The month-long 5K event enabled participants to take the self-guided tour that included 10 landmarks, such as the city's Martin Luther King, Jr. statue and bridge, and document their stops at each for prizes. As one participant said, "I was astounded by the amount of history within the Black community in Roanoke." 
Indigenization Curriculum Review
The University of Minnesota School of Nursing is in the process of an Indigenization Curriculum Review for both undergraduate and graduate courses. Led by an alumnus on sabbatical, the project will include faculty participation and will focus on Indigenous perspectives that have broad application to inclusion, diversity, and equity efforts in the school. The approach is congruent with the school's current effort to engage in self-learning and reflection around structural racism and social justice. The project will create case stories of Native Americans' health experiences that include social determinants of health and cultural aspects of health and healing. 
Problem-Based Learning Cases
The problem-based learning cases used at Pennsylvania State University (Penn State) College of Medicine, which portray diverse U.S. patients, now include a program evaluation to eliminate bias in training. Three medical student focus groups assessed the impact of faculty using the patient diversity aspect to challenge student assumptions about vulnerable populations. Adjustments were incorporated into faculty development to ensure they're teaching students to understand that health disparities are biologically and socially driven. The cases take place during the first two years of the medical curriculum and involve small groups of self-directed students and a faculty advisor.
Microaggressions in Medicine Virtual Training
In June 2020, the Office of Diversity and Community Relations at the Philadelphia College of Osteopathic Medicine launched a Microaggressions in Medicine virtual training for all rising third-year students and residents. The training is designed to examine the dimensions, explore the implications, and equip students with strategies to navigate the occurrence of microaggressions as future health care practitioners. The Microaggressions in Medicine training assists students in building a toolkit to respond to microaggressions they may encounter from patients during their clinical training. Over 600 students and residents completed the training.●
This article appeared in our December 2020 issue.