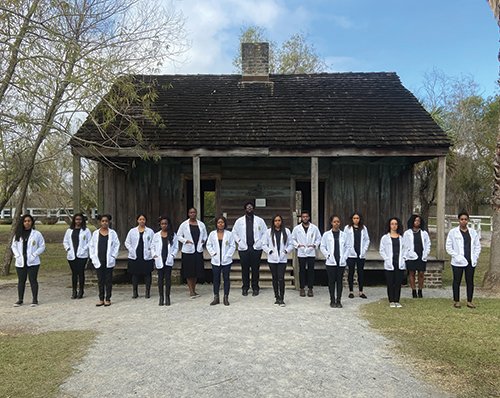 On December 14, 2019, 15 African American students from the Tulane University School of Medicine visited Whitney Plantation in Edgard, Louisiana, for a unique photo shoot.
The students posed in front of a slave cabin at the plantation, which is now a museum, while donning their symbolic white coats. A tweet of one of the photos, under the caption "We are truly our ancestors' wildest dreams," quickly went viral and gained the attention of multiple national news outlets.
Inspired by the powerful response to their photos, the students decided to form The 15 White Coats organization. The nonprofit group has a threefold mission: to reimagine cultural imagery in learning spaces, lessen the financial burden of medical school for applicants of color, and influence cultural literacy in learning spaces. Through donations as well as the sale of photographs and posters, The 15 White Coats is working to distribute their photos to classrooms across the U.S., establish scholarships, and more.