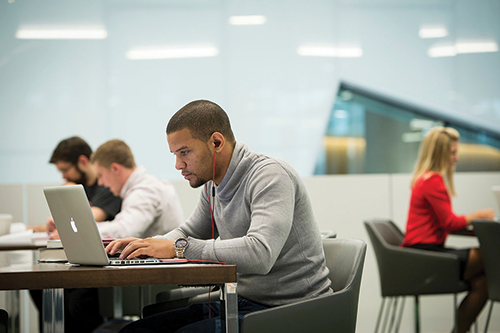 For Syracuse University College of Law Dean Craig Boise, 10 percent African American enrollment in the 125-year-old college wasn't good enough, even though that number is "pretty typical for law schools across the country," he says.
The college hopes to double Black student enrollment within the next five years through a 3+3 admissions program, which is common in higher education. The idea is that it's cheaper and quicker to complete two degrees when they're bundled together. Syracuse's program comes in the form of an agreement with three historically Black colleges or universities (HBCUs) in Atlanta — Clark Atlanta University, Morehouse College, and Spelman College.
[Above: A Syracuse University College of Law student at Dineen Hall (Photo courtesy Syracuse University College of Law)]
Pre-law students who fulfilled the requisite coursework at their undergraduate institutions and meet admissions standards at Syracuse will be eligible to complete their bachelor's and juris doctor degrees within six years, a year less than the typical seven.
"The problem from the standpoint of undergraduates going to law school is twofold," Boise says. "One, cost is a big factor. Two, a lot of minority students, particularly African American students, come from a background where they have not had lawyers in their families or have not been exposed to the culture of … the profession."
Despite these challenges, Boise says a lot of Black students know they want to become lawyers early in their academic careers. The 3+3 program at Syracuse offers a pathway for freshmen to go from undergraduate to law school in "as short a time as possible," Boise says.
But 3+3 programs aren't always effective, says Syracuse University assistant dean for enrollment management Denée Page. If an institution doesn't inform its students in their first year about these programs, the likelihood of their completing them diminishes.
"If there's one thing we know in admissions, it's that students will come to us eventually, but we have to find a way to connect with them first," Page says. "We are here to help them. It's not just, 'Apply when you're ready.'"
Another problem with 3+3 admissions programs for underrepresented students is a lack of inclusion efforts at the post-graduate institution. To prepare faculty to welcome 3+3 enrollees in the fall, Syracuse plans to send professors this summer to Atlanta to personally visit the participating universities. They will provide short courses to students, give speeches and presentations, and tap into the Syracuse alumni network there.
"They'll give students … a better understanding of the areas of law they're interested in pursuing and also what it means to function in a professional workplace," Boise says.
Syracuse will also help students prepare for the admissions exam, which can be a significant barrier to underrepresented applicants.
"Getting students of color into the profession is something we desperately need," Boise says. "It is still, sadly, rare enough to see Blacks in the legal profession, and when we are, it's really an inspiration."
Kelsey Landis is the editor-in-chief of INSIGHT Into Diversity. This article ran in the July/August 2019 issue.