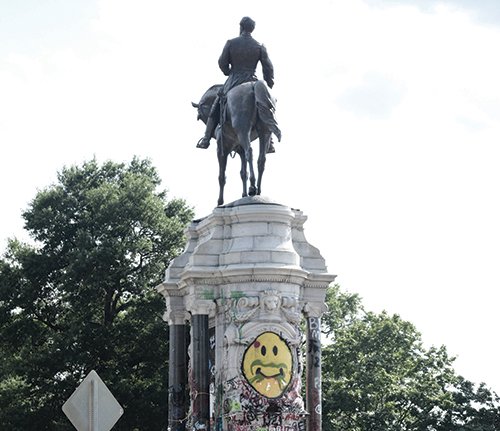 Alongside a major highway in Nashville, Tennessee, stands a 25-foot statue of a man who many would consider the embodiment of American racism. The historical monument — which was erected in 1998 — depicts Nathan Bedford Forrest, who is remembered primarily for being the first grand wizard of the Ku Klux Klan as well as a Confederate general and an owner and trader of enslaved persons. This massive symbol is located less than 10 miles from Vanderbilt University, Tennessee State University, and the historically Black Fisk University.
Other memorials to Forrest exist throughout Tennessee, and the state is far from alone in its reverence of this history. Altogether, the U.S. has an estimated 771 Confederate monuments, according to a June report from news network Al Jazeera. While most are located in Southern states, they can also be found in cities and on college campuses throughout the nation.
In recent years, the push to eradicate these memorials and other symbols historically tied to slavery and the oppression of marginalized groups has intensified. At colleges and universities, this work has often been supported by research efforts — as in the case of the Universities Studying Slavery consortium — and led by student and employee activists.
Calls for higher education leaders to remove these symbols intensified in recent months amid the widespread demands for racial justice that swept the U.S. following the murder of George Floyd in May. With the Black Lives Matter movement and other anti-racist efforts becoming mainstream, numerous colleges and universities came under pressure to take swift action in addressing and eradicating their symbolic ties to slavery and segregation.
In June, the Mississippi Board of Trustees of State Institutions of Higher Learning approved the removal of a Confederate monument from the campus of the University of Mississippi. The University of Nevada at Las Vegas removed a statue of its Rebels team mascot and announced that its board of regents will consider changing the mascot, which has been accused of honoring both the Confederacy and the oppression of Native Americans. The University of Alabama announced the removal of plaques that commemorate former students who served in the Confederate army and the creation of a select group of trustees to review all campus building names. At Princeton University, the board of trustees approved President Christopher L. Eisgruber's recommendation to expedite the removal of Woodrow Wilson's name from its public policy school, though the name wasn't officially set to change for another two years upon the completion of a construction project.
The process for eradicating racist symbolism on campuses, however, can be complex. In many cases, it is up to campus leadership and the board of trustees or regents to approve the renaming of buildings or removal of historical monuments. In some places, such as South Carolina, historical preservation laws restrict institutions like public colleges and universities from making such changes.
On June 12, the Clemson University (CU) Board of Trustees agreed to meet student and employee demands to remove the name of John C. Calhoun from the university's honors college. Calhoun was the seventh vice president of the U.S. and a prominent supporter of slavery; CU was built on his plantation in 1889.
"The honors college is a very intellectually challenging place. I remember the very first honors class I took was about social inequality and it was about race and socioeconomic status," says Roann Abdeladl, a junior public health major who advocated for the name change. "It just seemed very contradictory to me that we were learning these things in the classroom and that our professors were very adamant that we grow to be open-minded and learn to understand the importance of being anti-racist."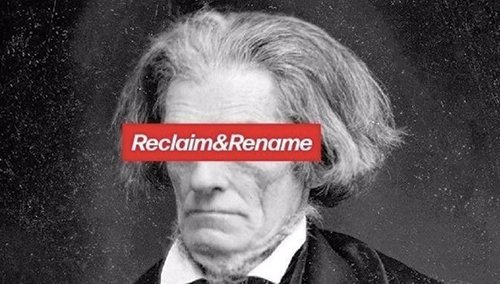 For Abdeladl, attending classes in a space named after someone like Calhoun created cognitive dissonance. As an Egyptian American who grew up in a homogeneous town in the South, Abdeladl says being underrepresented ethnically and religiously has always made her more conscious of race and racist namesakes than her peers, "who didn't have to worry about that because they were the majority," she says.
Abdeladl and other advocates are also pushing for removing the name of Bill Tillman, a former South Carolina governor and virulent White supremacist, from a campus building. While the CU trustees unanimously approved changing the name of Tillman Hall and submitted a formal request, doing so requires the support of state lawmakers because — unlike the honors college — it is a physical structure. A state law known as the Heritage Act prohibits changes to public structures named after historical figures, and despite the pressure from the board of trustees, conservative members of the South Carolina General Assembly have opposed removing Tillman's name.
In June, students, alumni, and faculty of South Carolina colleges and universities started a coalition called Repeal the Heritage Act. The group has garnered over 100,000 signatures on Change.org in support of the removal and renaming of slavery-supported structures. However, no legislation scheduled during the 2020 legislative season addresses these demands. Next year, if a two-thirds majority of both chambers of the General House Assembly vote to remove and rename structures, the Heritage Act can be overruled. Democratic State Rep. Seth Rose plans to pre-file a bill that calls for the removal of such structures.
At some colleges and universities, campus leaders have been slower to act even when it is within their power to do so. The University of North Carolina at Chapel Hill voted in June to remove a 16-year moratorium on renaming campus buildings but have yet to act upon demands from some students to change the name of its Tar Heels mascot.
At Washington and Lee University, 80 percent of the faculty voted in favor of removing Robert E. Lee from the institution's name in early July. The board of trustees responded with a statement pledging to create a review committee of campus names and symbols while asserting that they "will not act hastily" in changing the institution's name.
And at the University of Texas at Austin, school leaders announced several new measures in July in support of African American inclusion — including renaming the football stadium and erecting a statue of a Black athlete — but denied student requests to take down a segregationist statue and change the controversial school spirit song.
For activists such as Abdeladl who have fought for eradicating the symbolic representation of racism, however, changing names and taking down monuments are just the first steps in building truly inclusive learning communities. Creating real change requires fully addressing the legacies of racist oppression on campuses as well as being proactive in fighting such oppression now and into the future.
"This whole conversation goes beyond just names and statues," Abdeladl says. "It really should push universities to understand how they as institutions have been complicit in contributing to racism on their campuses and what they can do to make strides to actively support students of color [whether it be] financially, emotionally, physically, or anything else they need.●
Mariah Stewart is a senior staff writer and Mariah Bohanon is the senior editor of INSIGHT Into Diversity. This article was published in our September 2020 issue.