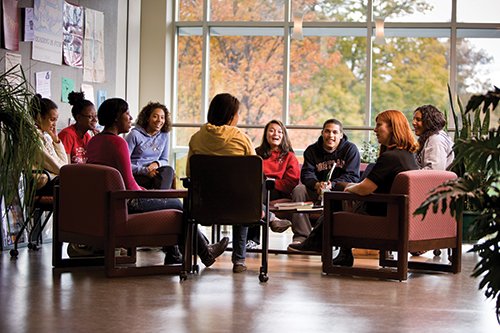 Pushing open the doors to the school's gym, a visitor is struck by the joyful noise of children exercising to pop music. Mr. D, microphone in hand, catches the students' attention and expertly instructs them how to quietly move to the next activity in their exploration of motor skills. Four college students, identification lanyards swinging from their necks, assist the children in following Mr. D's instructions.
Yet something sets this scene apart. Unlike the vast majority of teachers in most American schools, Mr. D is a teacher of color and the four college students under his tutelage are from underrepresented racial and ethnic groups.
They are part of the Cortland Urban Recruitment of Educators (C.U.R.E.) program, a unique teacher recruitment effort at State University of New York (SUNY) Cortland that encourages students who are African American, Hispanic and Latinx, Native American, or from economically disadvantaged backgrounds to become K-12 educators in underserved urban schools.
[The Cortland Urban Recruitment of Educators (C.U.R.E.) program provides scholarships, academic assistance, mentoring, and community support to encourage underrepresented students to work as K-12 teachers in underserved schools.]
By nearly every measure — including academic achievement, graduation rate, and teacher retention — C.U.R.E.  is a highly effective program. More than 125 students have graduated from C.U.R.E. since it was launched in 1998. Of these, nearly 95 percent have completed or are working toward a two-year teaching commitment in urban schools. Approximately three out of four continue their urban teaching career past two years. Mr. D, a program alumnus, is just one such example.
The C.U.R.E. program provides a combination of tuition support, academic preparation, mentoring, and follow-up, and it offers colleges and universities a readily available model for increasing the diversity of their teacher candidates.
According to C.U.R.E. scholars, tuition support is one of the most powerful aspects of the program. Research shows that many students from groups that are underrepresented in teaching are first-generation college students who may feel pressured to choose a career that seems more lucrative than teaching. By providing tuition support, C.U.R.E. reinforces the value that society places on teaching careers and makes it easier for students to pursue a major leading to teacher certification. The program provides almost $16,000 over four years to qualified candidates who agree to commit to two years of teaching in an urban district upon graduation.
C.U.R.E. participant Giavana says the C.U.R.E. scholarship had a drastic impact on her decision to enroll in a teacher education program at SUNY Cortland. "One day I received a call from a student telling me about C.U.R.E.," Giavana says. During that initial conversation, the student shared information about the annual $4,000 scholarship for program participants. "As soon as I hung up the phone, I sent a text to my mother saying, 'Mom, I'm going to Cortland.'"
The C.U.R.E. program also helped reshape Giavanna's career goals. "I think that growing up, there was this misconception that if you weren't a good teacher, you ended up [working] in the city. You only worked in [urban schools] if you couldn't get a job in the suburbs," she says. That thinking changed with her first field experience in an urban school. "I realized, first of all, that I'm not that person; I don't want to work in the suburbs. Seeing teachers who love what they do and where they work was really important."
In addition to tuition assistance and real-world teaching experience, C.U.R.E. provides students with faculty and staff support. SUNY Cortland has a faculty program coordinator who dedicates 50 percent of their administrative hours to direct daily operations, fundraising through grant writing and coordination with institutional advancement, and development of new directions and partnerships, all with the ultimate goal of increasing teacher diversity.
Program participants receive weekly formal mentoring from the C.U.R.E. graduate assistant, a college-funded position designed to provide academic support, coordination of college services, and transition-to-workplace advice. Having this staff position is an invaluable element of the program, modeled with research in mind about supporting first-generation college students and college students of color. First-year students meet weekly with the graduate assistant and can drop in during office hours to ask questions and be connected to additional campus services.
Jackie, a recent C.U.R.E. graduate, says this staff member was an essential support figure who contributed to her success in the program and was "always there for me." When Jackie shared her concerns about feeling valued as a student and as a teacher, the graduate assistant was able to provide reassurance and validation that made all the difference. "She was always there to listen to all of the things that I was going through," Jackie says.
Mentoring is another valuable component of C.U.R.E., and the program's mentoring structure has been cited as a high-quality model by accreditation teams, visiting scholars, and experts in the field. New students are assigned a peer mentor who has participated in the C.U.R.E. program for at least one year. Peer mentors meet once a month during structured meetings that allow for relationship building while addressing skill development. Past peer mentoring meetings have included workshops on finding club and leadership opportunities, writing résumés, and finding summer employment.
The one-on-one mentoring relationships are complemented by program-wide activities that offer professional development and expose students to topics related to equity and diversity. These include meetings and seminars in which the students learn about urban education issues. These gatherings help C.U.R.E. scholars develop a sense of identity as a special group on campus and connect them to real-world teaching practices that can inspire and reinforce their decision to pursue a career in urban education.
During the 2018-2019 academic year, C.U.R.E. students had an average GPA of 3.30, and more than half were on the SUNY Cortland Dean's List or President's List. They are visible and active members of the campus and local community. The program's four-year graduation rate of nearly 80 percent is significantly higher than the national four-year graduation rate of 41 percent. The program also demonstrates remarkable success at narrowing the college completion gap for students of color and those who are the first in their families to attend college.
Positive reinforcement for the C.U.R.E. mission of supporting students of color to become teachers emerges from interviews and from seeing our alumni in action.  Mr. D, for instance, says his participation in the program helped him develop leadership skills and mature as a person. Reflecting on his path to becoming the passionate teacher that he is today, Mr. D says C.U.R.E. "help[s] kids like myself who need redirection in their life because of the lack of opportunity in theirs."
Anne Burns Thomas is the Cortland Urban Recruitment of Educators Program Coordinator and a professor in the Foundations and Social Advocacy Department at SUNY Cortland. James A. Felton III is the Chief Diversity Officer at SUNY Cortland and an INSIGHT Into Diversity Editorial Board member. SUNY Cortland is a 2019 INSIGHT Into Diversity HEED Award recipient. This article ran in the December 2019 issue.