Boram Lee, PhD, was a graduate student at Harvard University last spring when she had her first experience with anti-Asian racism on campus. 
Lee, who is from South Korea, was riding her bicycle on campus when a stranger suddenly began verbally harassing her. 
"I was biking along, and this guy just yelled at me and swore at me," she says. 
The incident took place in March, shortly after the coronavirus pandemic began spreading rapidly across the U.S. 
Lee didn't want other Asian students who became the targets of such harassment to feel isolated in their experiences. She and Ja Young Choi, a fellow Harvard PhD candidate, created a tool that uses Google Maps to document instances of racism against Asian international students and Asian American and Pacific Islanders (AAPI) in Boston. 
Within the first two months, Lee and Choi's map received 129 reports. The project soon expanded, tracking racist incidents across Massachusetts and as far away as New York City. 
Many of the reports came from college students, according to Lee. 
"Someone reported that they were an MIT student and were walking by a building on campus when two people spat on them and then ran away," she says. 
Lee and Choi say these attacks — and their potential to escalate into more violent hate crimes — have become a global health crisis in and of themselves. Their goal is to raise public awareness of these incidents and shed light on the experiences of Asians during a time of increasing ethnic bias and hatred. 
Stop AAPI Hate
Others in higher education have found innovative ways to document and combat this growing wave of hostility. 
Russell Jeung, PhD, chair of the Asian American Studies department and an assistant professor at San Francisco State University, launched a website in March to track the rise of anti- Asian bias in correlation with the spread of COVID-19. He expected anti-Asian sentiment to start growing when the virus first began to spread internationally, he says. 
"Recently, after the 9/11 attacks and SARS in 2003, we knew that Asians were racialized as either terrorists or as outside threats, and so we anticipated a rise in racism," Jeung explains. He and his colleagues have been surprised, however, by the way politicians have stoked the flames of anti-Asian sentiment over the course of the COVID-19 pandemic. 
"What we didn't expect was that political rhetoric would incite so much racism," Jeung says. "The president insists on using the term 'Chinese virus' and complaining that the plague was sent by China, and that type of rhetoric we have found correlates to a rise in hate speech and hate violence." 
Jeung started documenting news reports of anti-Asian bias and hate crimes in January. In March, he and two local organizations — Chinese for Affirmative Action and the Asian Pacific Policy and Planning Council — launched the website Stop AAPI Hate to help track incidents. 

The site provides forms in English and several Asian languages for reporting bias, harassment, and assault.
Nearly 100 reports are submitted to the site daily, according to Jeung. As of October 8, it had documented more than 2,700 cases. 
"They're actually very hate-filled attacks with profanity and racial slurs," if not incidences of outright violence, Jeung explains. 
While there have been reports of such attacks at colleges and universities, he says the fact that most institutions shut down in March reduced the likelihood of these incidents occurring on campuses. There has, however, been anti-Asian harassment directed at students online, says Jeung. 
In May, a Zoom meeting hosted by California Polytechnic State University's Chinese Student Association was interrupted by non-university members who shouted racial epithets, showed images of swastikas, and blamed Asians for COVID-19. These incidents, referred to as "Zoom-bombings," became more prevalent as the use of video conferencing software increased. 
Many colleges and universities have taken steps to combat anti-Asian sentiment during the pandemic, according to Jeung. 
"There were some missteps made initially," he says. "The rush to quarantine and how [schools] quarantined international students were sort of discriminatory, but then a lot of [higher education] institutions came up strongly in denouncing anti-Asian racism. They made resolutions, health center statements, or presidential statements to create an institutional tone." 
For example, Purdue University's Asian American and Asian Resource and Cultural Center released a statement in May outlining the university's policies against racism, bias, and violence against students. It provided teaching materials for faculty and campus groups to educate students on the seriousness of racist incidents and the proper way to respond as a bystander. The center offered mental health resources for students who may have been affected by discrimination. 
Jeung says that colleges and universities can do more to raise awareness and protect AAPI members of their campus communities by providing online options for reporting racist incidents. Schools should be swift and intentional in addressing them. 
"It's sort of similar to how you have to investigate promptly Title IX issues," Jeung explains. "An online reporting center would be helpful in highlighting these issues and quickly addressing any forms of harassment." 
The #IAmNotAVirus Campaign
Raising awareness is an important objective for Asians and Asian Americans looking to combat harassment. That was the goal for Mike Keo, an Asian American wedding photographer based in Connecticut, when he launched the #IAmNotAVirus campaign.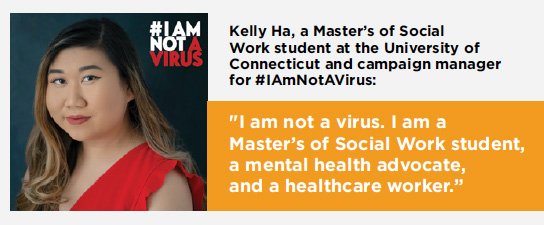 Keo started the campaign as a portrait series inside his studio. "It was a way for me to communicate what I was feeling — the anxiety and anger I was feeling — and see something more positive," he says. 
Before Connecticut was placed under lockdown in March, Keo photographed 25 Asian Americans in his studio to show that they were more than stereotypes. Once he began sharing the photos online, a community began to build and the #IAmNotAVirus project turned into a full-fledged campaign.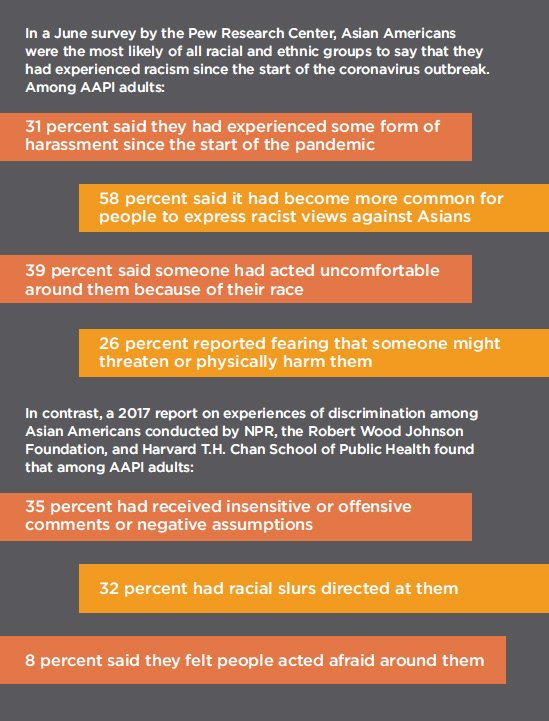 Although the pandemic has limited Keo's ability to create additional portraits, #IAmNotAVirus has grown in other ways. It now offers a podcast, webinars, and other resources for AAPIs and their allies seeking to spread awareness of and fight racism. The campaign includes an entire team of volunteers, many of whom are college students. 
The students, Asian Americans who found out about the campaign through social media, were eager to provide their support. "They saw it as something they cared about and wanted to be involved in. So, they've been helping with advocacy and the anti-racist curriculum we're working on." 
The curriculum is framed around Asian American equality, fairness, and representation and will feature involvement from the Immigrant History Initiative, a group that seeks to build community by celebrating and highlighting immigrant experiences. Keo says the curriculum will be piloted in local K-12 schools, with the ultimate goal of circulating it to schools nationwide.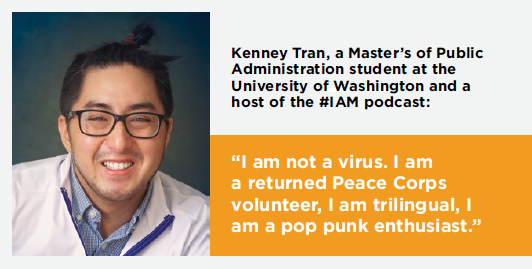 Keo and his team also host events, such as an online wellness clinic in October that provided Asian American college students with a way to express themselves through journaling, art, and other stress-relieving strategies. 
Ultimately for Keo, the goal of #IAmNotAVirus is to show younger Asian Americans that they're more than the racist remarks they may have heard in recent months. "We believe that visibility really allows the younger generation of Asian Americans to see themselves in different roles besides stereotypical spaces," he says.
Lisa O'Malley is assistant magazine editor for INSIGHT Into Diversity.
This article was published in our November 2020 issue. 
To learn more about combatting racist attitudes and attacks against AAPIs, visit stopaapihate.org or iamnotavirus.info.