After watching in horror the murder of George Floyd by police officers last May, RaJade Berry-James, PhD, promised her two teenage daughters that she would do everything in her power to make the United States a better, more equitable place for them to live.
As an educator in public policy, Berry-James knows that she is in a unique position to make such change possible. She is an associate professor in the North Carolina State University School of Public and International Affairs (NC State SPIA) and a member of the Executive Council of the Network of Schools of Public Policy, Affairs, and Administration (NASPAA), which oversees and accredits public policy schools on a global scale. Much of her career has been dedicated to ensuring that her students — the nation's future civic leaders and policymakers — understand racial and social justice issues.
With the unjust death of Floyd so fresh on everyone's minds, it is imperative that public policy educators seize the current moment to break down institutional barriers and address long overdue reforms, says Berry-James.
"Going forward, our curricula changes must advance our understanding of social equity and social justice, develop culturally competent professionals, and address critical issues in the public sector," she says. "Our students must be trained to identify problems as well as develop strategies to critically analyze oppression."
Brandi Blessett, PhD, is director of the Master of Public Administration program and an associate professor at the University of Cincinnati (UC) as well as a fellow member of the NASPAA Executive Council. As institutions and businesses issued messages of solidarity with the Black community after Floyd's murder and repeated police violence against African Americans, she shared in Berry-James' desire to see real change.
"One of the things that really frustrated me over the summer was that lots of institutions felt the need to respond in the moment with a statement," Blessett says. "[Some of] those statements were superficial in the fact that they were not associated with resources and/or an action plan to actually manifest the things they professed in response to valuing Black lives."
Berry-James, Blessett, and fellow members of NASPAA decided that it was time to take concrete action to lead the field of public policy education toward becoming a more socially aware, progressive discipline. NASPAA, having 317 member institutions across 25 countries, realized that it had a responsibility toward its members, students, and the public to achieve this goal.
One of its first steps was forming the NASPAA Task Force on Diversity, Equity, and Inclusion, which was created in direct response "to the killing of George Floyd and a desire for NASPAA to move toward intentional actions to become a model for member institutions in the fight against anti-Black racism, discrimination, and inequity," the association's website states.
The task force was composed of six members of NASPAA's Diversity and Social Equity Committee and six members of the Executive Council. The group spent several months developing a report on the association's commitment to diversity, equity, and inclusion (DEI) and proposing a comprehensive framework and action plan. Released in September, the report is meant to hold NASPAA accountable for committing to its professed DEI principles while also providing an example for its member institutions, explains Laura Bloomberg, PhD, NASPAA President and dean of the Hubert H. Humphrey School of Public Affairs at the University of Minnesota.
The report states that the association "has publicly committed to do all in [its] power" to, among other goals, dismantle systemic racism, advance policy solutions to stop police brutality against Black people, and create a "new, inclusive civic square consistent with our public service values." Some of the task force's specific recommendations include developing DEI training for NASPAA executives and member schools and supporting minority-serving institutions through concrete actions such as expanding membership and accreditation for historically Black colleges and universities (HBCUs).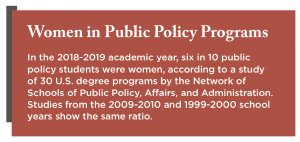 Of course, NASPAA's DEI report also addresses diversity among administrators, faculty, and students. The association identifies assessment and evaluation of diversity within member schools as one target area for improvement. It also states a commitment to seeking funding for the recruitment and support of underrepresented students in public policy graduate programs.
Another mission NASPAA pledges to uphold is to "provide transformative and inclusive education." The task force has recommended, for example, that the association's accreditation process emphasize equity in curricula and cultural competence in student learning outcomes.
Bloomberg, who lives in Minneapolis just three miles from where Floyd was killed, says public policy schools and programs striving to meet these standards can begin by evaluating their own internal commitment to DEI. An easy first step is having professors examine the diversity of their course readings. As it stands, the vast majority of assigned reading in the public policy and administration discipline is written by White men, she says.
"We should all take a critical look at what we are asking students to read in terms of literature in our field and how homogeneous or heterogeneous is the authorship. That's something that every class instructor could do right now," says Bloomberg.
Blessett says that a key element for furthering these new DEI goals, for both NASPAA and its member schools, is funding. Real change requires investment in actions such as providing DEI training for faculty and administrators, bringing in diverse guest speakers, and diversifying curriculums, she says.
It is possible for schools to achieve this level of transformation if they approach public policy education through a social justice lens, according to Blessett. The master's program that she directs at UC is rooted "in understanding the ways in which systemic oppression has manifested itself through our public institutions and the way administrators respond to vulnerable communities," she says.
"You can't be a public service professional and not have the history and context of how we got to this state and the role of institutions and government in creating differential opportunities for people who are not White, not male, not heterosexual, and not able-bodied," says Blessett. "Those differentials matter, and students need to be prepared to deal with that."
Public administration programs that have not prioritized DEI education in the past but are seeking to transform may need to evaluate which of their course offerings take priority, Bloomberg says. It might be necessary to replace some classes in order to ensure that social justice is a key component of students' education.
Berry-James says NC State SPIA has been increasing its focus on DEI for the past decade. When she first joined the school in 2010 as the director of the graduate program, she added four new courses focused on cultural awareness and social justice. Advancing student understanding of these issues is a continual process and one that requires diligence on the part of administrators and faculty.
"The future of public administration cannot be like the history of the United States," she says. "We must develop an anti-racist curriculum, one that describes social injustice, explores social inequity, and explains administrative failures."●
Erik Cliburn is a senior staff writer for and Mariah Bohanon is the senior editor of INSIGHT Into Diversity. This article was published in our March 2021 issue.