In 2018, more than 550 public policy students from around the world were challenged with stopping a hypothetical deadly disease from spreading across the globe. They worked as teams and raced against the clock to develop policies that could effectively save billions of lives.
This scenario is just one of the hypothetical crises that students face in the NASPAA-Batten Student Simulation Competition. Every year, hundreds of master's candidates from member institutions of NASPAA — the Network of Schools of Public Policy, Affairs, and Administration — participate to see who can devise the best solutions to international crises.
[Above:
Twenty-eight students from the University of Virginia's (UVA) Athletics Leadership Program participated in a simulation in which they acted as White House crisis personnel, intelligence agents, and members of the media responding to an assassination attempt on the U.S. president. The event was sponsored by the UVA's Center for Leadership Simulation and Gaming. (Photo courtesy of University of Virginia Center for Leadership Simulation and Gaming)]
Nearly 600 students from 147 universities in 27 countries took part in the 2019 competition, which focused on the problem of global migration. Participants competed at 11 event sites, from Dhaka and Cairo to Mexico City and San Francisco.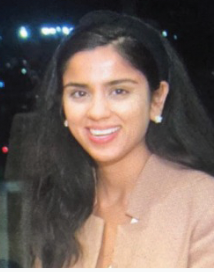 "We try to come up with a topic that is global and impacts everyone," explains Supriya Golas, director of simulation education at NASPAA. Topics are usually centered around the United Nations Sustainable Development Goals for 2030; in addition to pandemics and migration, past competitions have focused on climate change and food insecurity.
Noah Myung, PhD, an assistant professor at the University of Virginia Frank Batten School of Leadership and Public Policy (Batten), says the annual competition is like a "policy bootcamp" for those who are new to the world of public affairs and administration. For more experienced students, it's an opportunity to demonstrate their skills outside of the classroom.
Myung is the director of the Center for Leadership Simulation and Gaming (CLSG) at Batten, which helps develop the competition's simulations. This form of learning has become increasingly popular in public policy education in recent years for its ability "to bridge the gap between structured classroom learning and the real world," he says.
In the NASPAA-Batten Competition, simulations are based on real data, though the names of countries and world leaders are changed. Depending on the year, students may be teamed with individuals from their own school or from other institutions. They are given several hours to strategize, create a policy memo and PowerPoint presentation, and present their plan to the judges.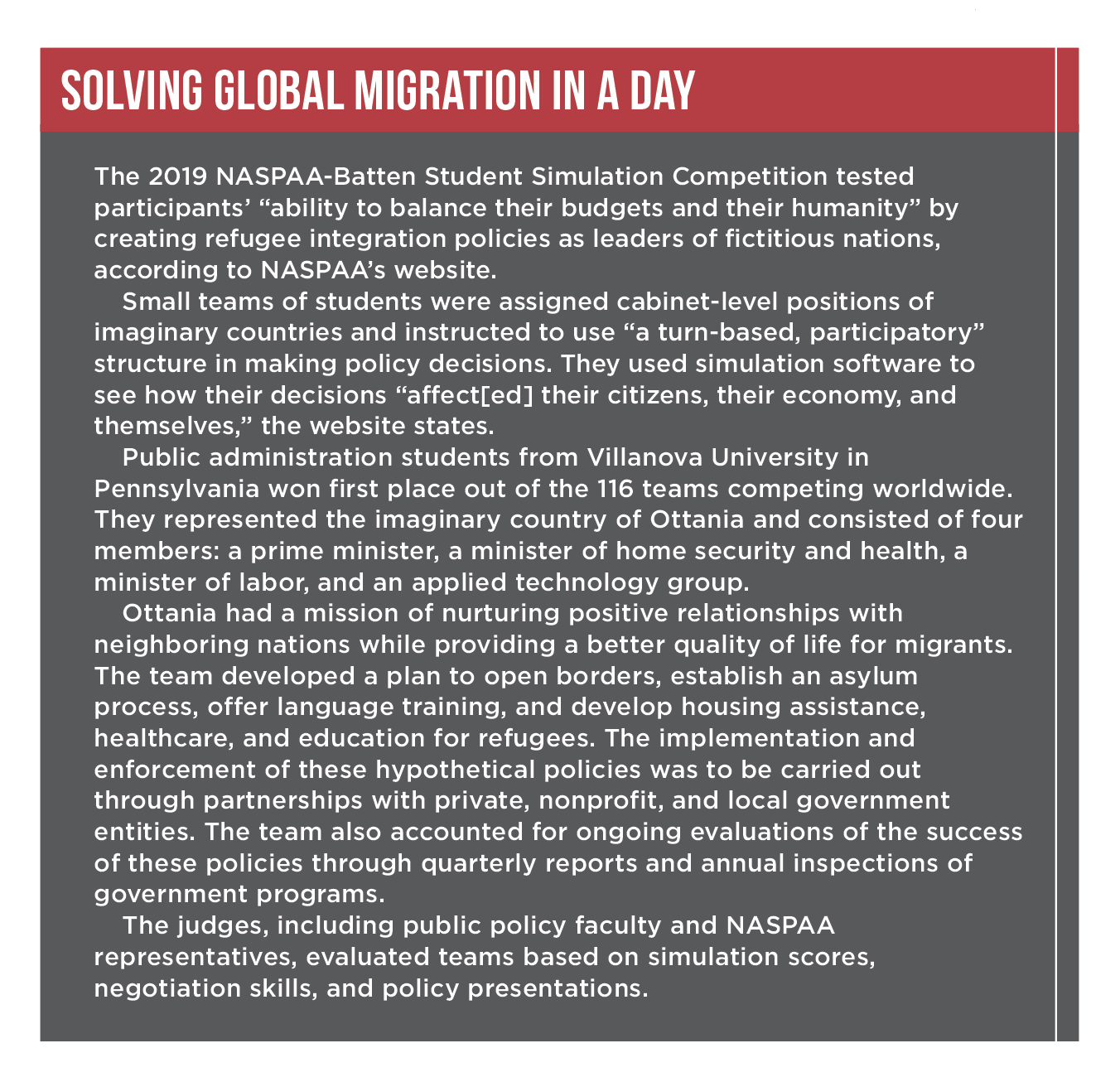 In 2019, fictitious countries were created to represent the flow of Middle Eastern migrants into the European Union. Students were assigned leadership roles for different nations and tasked with deciding the best policies for integrating them into EU society. 
A team from Villanova University won first place for developing an integration plan that would hypothetically result in a peaceful, diverse, and economically advanced nation.
NASPAA offers online learning modules for public policy schools looking to introduce simulations to their curriculum. Professors around the world can use templates from the NASPAA-Batten Competition to incorporate in their lesson plans.
With the help of CLSG, these simulations have become increasingly comprehensive and immersive since the first competition in 2015, Golas says.
"Now more than ever, we've been able to release these simulations to the public and get professors and students introduced to them not only through the competition but through other means," she says.

NASPAA recently created the Simulation Network, which allows its member schools to showcase their own simulations in the form of presentations, webinars, demos, and panels. Golas says the association hopes to eventually host regional simulation competitions that focus on more local, rather than global, issues.
Research supports the effectiveness of this unique educational format for training future policymakers.
In a 2012 article in the Journal of Public Affairs Education, researchers found that traditional pedagogical techniques such as lectures and tests "often fail to replicate the 'real world' in that these learning experiences frequently do not require the students to integrate, synthesize and apply the course material in realistic situations."
A 2014 study in International Studies Perspectives concludes that simulation design is a valuable active-learning strategy with regard to public policy negotiations. And a Harvard University report on teaching negotiation skills supports the use of "pseudo-real" simulations that — like those used in the NASPAA-Batten competition — are realistic enough to be familiar to students but aren't directly "ripped from the headlines." Case studies show this technique requires students to come up with innovative arguments and solutions rather than mimicking what negotiators and policymakers have done in real life.
Myung says students and faculty who are hesitant about simulation learning can volunteer at NASPAA-Batten or other competitions to overcome their reservations and that no preparation is required. If everyone involved has a good experience, the competition can "be a healthy ambassadorship where they promote the use of the simulation education system," he says.
Despite the seriousness of the topics involved, letting students put their skills to the test in a simulation is an exciting opportunity for them, Myung adds. "You don't want things to get too tense because this has to be an enjoyable event," he says. "It may be a learning [experience], but it's also fun."
Mariah Stewart is a senior staff writer for INSIGHT Into Diversity. This article ran in the March 2020 issue.