Sexual harassment in the field of scientific research is a longstanding issue that deters some women from pursuing their educational and career goals. The problem is so persistent, in fact, that the U.S. Congress recently decided to get involved. Now, proposed federal legislation in addition to increased advocacy efforts by women scientists and their supporters is drawing attention to a problem long overlooked within a male-dominated workforce. 
In 2019, Reps. Eddie Bernice Johnson (D-TX) and Frank Lucas (R-OK) introduced the Combating Sexual Harassment in Science Act to the U.S. House of Representatives to support anti-harassment efforts in science, technology, engineering, and math (STEM). It passed with unanimous, bipartisan support in April of this year.
"We have a responsibility to combat sexual harassment in the scientific community, both on behalf of the individuals who suffer from harassment and on behalf of our STEM workforce as a whole," Lucas said in an April hearing. "Only 23 percent of women who earn STEM degrees stay in STEM careers, and, sadly, a culture of harassment is one of the largest factors in our inability to retain women in the scientific workforce."
The legislation, which is still being reviewed by the Senate, grants funding for federal research to address the causes and consequences as well as mitigation of sexual and gender harassment in the STEM workforce, including at federally funded schools.
The bill also requires federal agencies that fund scientific research to "do their part to ensure that such funds do not go to researchers who are found to be harassers," Johnson stated during the hearing. 
In addition to research, the legislation requires the director of the National Office of Science and Technology Policy to establish an interagency working group to coordinate efforts to reduce the prevalence of sexual and gender harassment involving grant personnel. If passed, a total of $17.5 million will be appropriated toward the legislation's implementation.
"My mother was a scientist, and I know the importance of ensuring more women enter [and] excel in this field," Vice President Kamala Harris, who co-sponsored the bill, tweeted in 2019. "And that means we have to change the workplace climate in STEM [and] prevent sexual harassment." Harris has also stated that ending such toxic behavior is essential if the U.S. is to increase the number of women who enter STEM professions.
Adrienne Hollis, PhD, JD, a senior climate and health scientist at the Union of Concerned Scientists, says she is happy that this issue is drawing national attention, but wishes Congress would do more than simply fund research on the topic. Taking concrete steps to improve gender equity in STEM environments would be more beneficial to women and to the advancement of scientific research, she says.
"I'm way beyond research and examinations. I'm about action," Hollis explains. "I don't want to thwart the bill because it is something that addresses the issue, but the grants shouldn't be just about research; [they] should be about getting more [women] students into the STEM workforce."
Women in Hollis' discipline are especially vulnerable to harassment. Climate scientists of every gender are often targeted by climate deniers, especially online. Women who work in this field are subject to additional attacks — including death and rape threats — compared with their male peers, the Scientific American reports.
"We get this additional layer of hate mail, and people, I think, find it easier to put us down because we are women, or feel like they have more right in telling us what is right or wrong despite our expertise, which is always frustrating," Andrea Dutton, a geologist at the University of Florida at the time and an expert on sea-level rise, told the magazine in 2018.
In addition to intimidation tactics from climate change deniers, women in earth sciences have reported facing harassment and threats from colleagues during field experiences in remote areas. "[R]emote settings of traditional field programs enabled differential experiences for women. For example, women were uncomfortable with the lack of privacy going to the bathroom," a December 2020 report from the American Geophysical Union (AGU) found.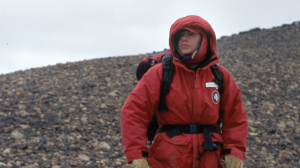 The report claims that sexual harassment is prevalent because these programs tend to blur the lines between formal and informal socializing. "During the day, students work on academic projects, and in the evenings, they socialize and drink together," the study states. "This blending makes the boundaries unclear for what behaviors are appropriate in each context."
Picture a Scientist, a 2020 Tribeca Film Festival documentary, explored this issue by sharing firsthand accounts of sexism and racism in STEM research.
"People said what happens in the field stays in the field," Jane Willenbring, PhD, states in the documentary. A geology professor at the Scripps Institution of Oceanography and director of the Scripps Cosmogenic Isotope Laboratory at the University of California, San Diego, Willenbring filed a Title IX complaint against Boston University (BU) Professor David Marchant after participating in a research program in Antarctica in 1999. Marchant barraged Willenbring and other women on their remote trip with sexual harassment and insults, she claims.
Despite the severe abuse, Willenbring waited seven years until after she had received tenure to report Marchant, for fear of reprisal, according to Science magazine. In 2019, BU fired him over the allegations.
Research has found that fear of professional retaliation prevents other women in STEM, including students, from reporting similar situations. Studies have also shown that the scientific community has shortcomings when it comes to proper reporting methods as well as workplace climate assessments.
A 2018 report by the National Academies of Sciences, Engineering, and Medicine, for example, revealed that federal science agencies and grantees failed to communicate through the proper channels, resulting in harassers receiving federal funding even after relocating to a different institution. AGU, meanwhile, recently reported that there is no "instrument designed specifically to assess academic research climates that includes psychological safety, civility, and misuses of power including, but not limited to, bullying, harassment, and assault."
Hollis encourages women in STEM who experience mistreatment to report the behavior. She notes that misogyny and microaggressions have traditionally been so ingrained in the scientific community that senior women in this field may also perpetuate these behaviors, but students should not let that deter them from their goals.
"Use your voice, because you don't have to put up with it in order to get your degree or get certified or do whatever you have to do," Hollis says. "Follow your dream."●
Mariah Stewart is a senior staff writer for INSIGHT Into Diversity.
This article was published in our September 2021 issue.