Amid Relentless Anti-LGBTQ+

Legislative Resistance, Universities

Must Do More to Support Their Campus Communities
State lawmakers are introducing and passing a multitude of harmful legislative initiatives targeting LGBTQ+ civil rights, and those actions are impacting the mental health and safety of high school and college students. Amid the frenzy of political and legal battles, higher education is being called upon to accelerate support services and policies to protect the rights of its LGBTQ+ students and employees.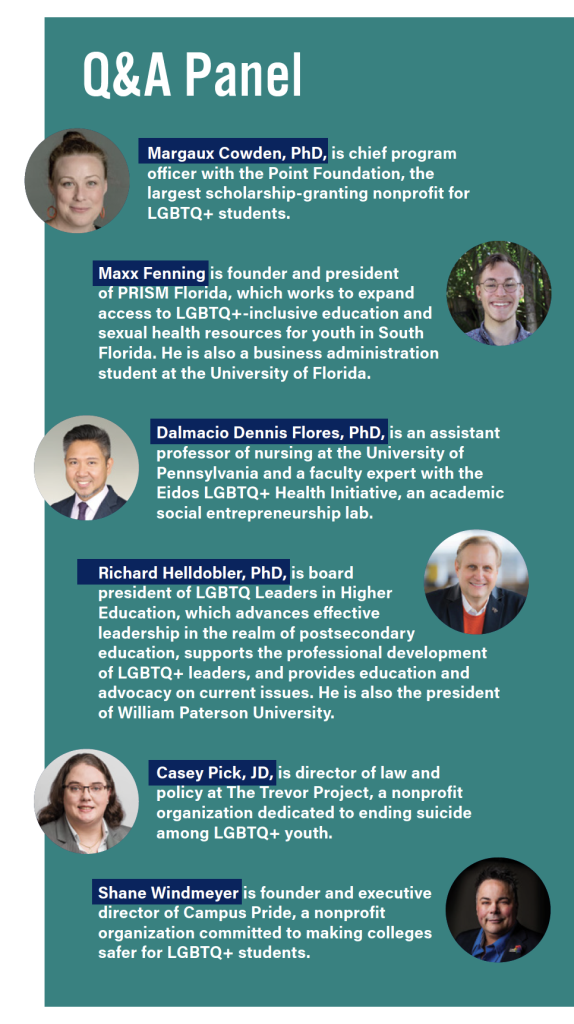 Along with civil rights, conservatives are assailing issues involving free speech and expression, education, health care, and gender-neutral bathrooms as well as gender identification processes.
"Many bills focus on K-12 education and youth populations under the guise of 'protecting the children,' although more frequently we are seeing bills introduced that impact the work of public colleges and universities as well as restrictions on access to gender-affirming health care for adults," says Eli Kean, PhD, assistant professor in gender and sexuality studies at Northwestern University. 
The transgender community, especially, faces serious threats in 2023, which marks the fourth consecutive record-breaking year in the number of proposed bills impacting their rights, according to the Trans Legislation Tracker. Health care, sports participation, curriculum, drag, and forced outing are all under attack.
Anti-trans template bills produced by conservative Christian groups such as Alliance Defending Freedom and Family Research Council propel many of these efforts, Kean says.
Higher education traditionally serves as a beacon of hope for LGBTQ+ people, but too often, the reality is different, finds the Williams Institute, an LGBTQ+ think tank at the University of California, Los Angeles (UCLA), School of Law. In a 2022 survey of LGBTQ+ four-year college and graduate students, 22 percent said they selected an institution away from home to find a more welcoming environment. However, 33 percent of those surveyed reported they were bullied, harassed, or assaulted on campus.
"I used to think if people can get to college, they're going to make it; they're in a pretty good place," says Kerith Conron, ScD, research director at the Williams Institute. "But we found a lot of college students were experiencing food insecurity. Graduate students were also not getting the mentoring that they'd like to get or not having the experiences that you'd expect."
Amid the current political climate and concern for the safety of the LGBTQ+ community, experts are calling on colleges and universities to intensify their student services and fortify equity policies. INSIGHT Into Diversity asked thought leaders and advocates to share their observations on current legislation and best practices in support of LGBTQ+ campus communities. They cite a wide range of strategies to help ensure the well-being of LGBTQ+ students, faculty, and staff. 
What current anti-LGBTQ+ legislation stands out to you as most egregious?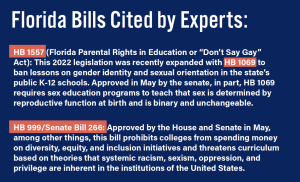 Cowden: What's happening right now is alarming because more of these bills are starting to actually pass into law. In addition to reducing and eliminating formal policies and programs that support the rights and freedom of LGBTQ+ people, the passage of anti-LGBTQ+ laws that affect schools and young people has a dampening effect on even informal, individual types of support for LGBTQ+ students. For example, a teacher who would otherwise be affirming of their students' identities now questions whether they can be supportive of LGBTQ+ students and still keep their job.
Fenning: What stands out to us most is the sheer volume of anti-LGBT legislation moving through the Florida legislature this session. In particular, our focus is LGBT-inclusive education, something specifically impacted by bills such as [Florida's] HB 1069 and [Florida's] HB 999.
Flores: As an assistant professor of nursing, legislation that curtails trans-affirming medical and nursing practice rises to the top. Central to a health care provider's work is the provision of the best possible care available. Given the preponderance of evidence-based practice guidelines from experts worldwide, withholding such lifesaving care is unconscionable. The fact that state legislatures are being used to inhibit affirming care is outside the bounds of acceptable behavior.
Helldobler: Frankly, all the anti-LGBTQ+ legislation stands out as an infringement on the fundamental freedoms of expression and the ability of all Americans to live their lives as they choose. At LGBTQ Leaders in Higher Education, we are most concerned about those laws (proposed and passed) that impede the foundational tenets of academic freedom and/or attempt to erase the histories of LGBTQ+ or other marginalized populations. Additionally, those efforts to subvert diversity, equity, and inclusion initiatives in academic institutions are a systemic attempt to prevent access and stifle creation of a more enlightened society, which is a fundamental purpose of education. 
Pick: We are witnessing another historic wave of anti-LGBTQ+ legislation in states all across the country. Lawmakers are considering a range of harmful bills that target LGBTQ+ young people — and trans and nonbinary youth in particular. Many of these bills are similar to Florida's "Don't Say Gay/Trans" bill that aims to silence discussions of LGBTQ+ people in schools, others are being proposed to restrict access to best-practice transgender medical care for young people who need it. Some bills we are tracking would force teachers and school officials to out students to their parents — regardless of whether their families are supportive; and others call to ban students from playing on sports teams that match their gender identity. While there are many different types of bills being considered, they all share the same goal: politicians are using LGBTQ+ young people to score political points. 
Windmeyer: More than any one piece of legislation, Campus Pride is alarmed at the unprecedented number of anti-LGBTQ+ laws and policies that have been proposed. The ACLU is currently tracking 469 anti-LGBTQ+ bills in 46 states, some of which have already passed. College students are impacted by many of them, from those limiting health care to those limiting free speech and expression. We're especially concerned about bills like Florida's HB 999 and SB266 which would prohibit colleges and universities from spending money on diversity, equity, and inclusion.  
What is the most innovative program, policy, or project at your organization or institution in support of LGBTQ+ campus community members?
Cowden: Point Foundation's BIPOC Scholarship is designed to support LGBTQ+ students of color at every level of higher education [who are] enrolled in any number of credits at any accredited college or university in the United States. It's a merit-based, need-informed scholarship that requires no minimum GPA — only proof of enrollment and a demonstrated commitment to education. The goal is to provide funding to overcome immediate financial barriers and thereby increase enrollment and persistence for LGBTQ+ BIPOC students, who navigate more and more complex obstacles to education as a result of the intersecting impact of racism and homophobia. 
Fenning: The PRISM Student Ambassador Program (P-SAP) gives students the opportunity to actively connect with other LGBTQ+ student leaders through monthly meetings, group activities, and a hub for communication through Discord. PRISM assists in coordinating LGBTQ+-related observances on campus, navigating discussions on hard-hitting topics in club or group meetings, providing information about students' rights, and more.
Flores: The Eidos LGBTQ+ Health Initiative is one of the University of Pennsylvania's latest programs that stands to benefit LGBTQ+ folks both on campus and beyond. It has a wide mandate to explore solutions to long-term health inequalities and to anticipate emergent issues germane for community members. By design, there is nimbleness in its capacity to leverage our campus assets for the advancement of LGBTQ+-centered care.
Helldobler: LGBTQ Leaders in Higher Education has partnered with The Virtual Care Group to give member organizations a discounted rate to provide virtual mental health care for our students. We are excited about this value-added opportunity for member organizations and, of course, for the critical care it will provide to our students.
Pick: The Trevor Project's 2023 National Survey provides a glimpse into how the recent wave of anti-LGBTQ+ policies in the U.S. — and the harmful rhetoric surrounding these policies — have taken a toll on the mental health of LGBTQ+ young people. Nearly one in three LGBTQ+ young people said their mental health was poor most of the time or always due to anti-LGBTQ+ policies and legislation, and nearly two in three said hearing about potential state or local laws banning people from discussing LGBTQ+ people at school made their mental health a lot worse.
Windmeyer: Since 2007, Camp Pride has offered a safe space for LGBTQ+ students to find community and learn valuable leadership skills. Students come together for five days in the summer, share challenges and strategies, then leave empowered to make change on their campuses. At the same time, our Advisor Academy provides faculty, staff, graduate students, and administrators with training in best practices, advising skills, and other ways to actively support students. This summer, Camp Pride will be held in person in Charlotte, N.C., for the first time in three years. 
What is the best way to support the LGBTQ+ community as a campus ally or DEI leader?
Cowden: Recent research suggests that as many as 27 percent of undergraduates identify as LGBTQ+. This means a significant proportion of [the] student body is trying to succeed while navigating an increasingly hostile climate. [Campuses should] make sure [they] have gender-inclusive housing and bathrooms. Increase the staffing in LGBTQ+ centers (yes, they definitely need more staff). Find ways for students' pronouns and preferred names to be mirrored across the student information system and learning management system. If state law limits the power of university leaders to provide affirming LGBTQ+ campus programs and spaces, it is more important than ever for university leaders to be prepared to listen to and engage directly with LGBTQ+ students on their campus.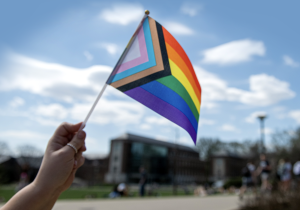 Fenning: Every campus has unique needs, so one of the most important things [to] do as an ally to LGBTQ+ students is to listen. Understanding the needs of students on campus and how [to] best meet those needs requires intentionally engaging and learning from [them].
Flores: A whisper of an effort can be as loud as a thousand virtuous people marching in the streets. As long as we're sincere and consistent in our allyship, we're making a difference. This can be a conversation with someone who's never had an interaction with an LGBTQ+ person or standing against unacceptable behavior when we witness it. As long as we use our social capital to serve as a platform for marginalized people, we're doing important work.
Helldobler: First off, let's send good energy to all those DEI leaders in states where their work is under attack, being suppressed or defunded. This work is certainly not easy in places like Florida, Texas, Oklahoma, and Kansas. But the best way to support them is for those of us outside those states to speak up and fight. Please know LGBTQ Leaders in Higher Education stands with you.
Pick: Every one of us has the ability to make a difference in the lives of the LGBTQ+ young people in our communities — and that is not an empty platitude; it is an evidenced-based fact. Our research found that having at least one accepting adult can lower the odds of a suicide attempt among LGBTQ+ young people by 40 percent. Teachers, school administrators, and other youth-serving professionals can take action to support LGBTQ+ young people by taking relatively simple but effective steps such as educating themselves on LGBTQ+ issues, sharing and respecting people's pronouns, and doing their part to ensure that the spaces they live, work, and teach in our inclusive and affirming for people of all identities.
"A whisper of an effort can be as loud as a thousand virtuous people marching in the streets. As long as we're sincere and consistent in our allyship, we're making a difference." 

Dalmacio Dennis Flores, PhD
Windmeyer: The best way to support the LGBTQ+ campus community is by making inclusion a pillar of the institution. When every decision — from admissions policies to course offerings to facilities management to faculty support — is viewed through a lens of inclusion, it promotes an atmosphere where all students, staff, and faculty can thrive. Not every person on campus has the power to determine the institutional climate, but every person on campus contributes to it. Staying aware of the anti-LGBTQ+ climate and how it is impacting students is a good place to start.
What message do you share with LGBTQ+ individuals who are struggling with their mental health, a lack of support or acceptance, or in meeting their basic needs?
Cowden: Connecting with an LGBTQ+ community can make a big difference. We exist everywhere, and I strongly encourage searching online for local LGBTQ+ organizations or resources. If it does not feel safe to seek community in person, consider an online community through Discord or another social platform. Finally: You are amazing and loved. Any room you are in is lucky to have you. Your experiences as an LGBTQ+ person have made you strong, and a global community of other LGBTQ+ people and elders has your back. Know that we are fighting with you and for you.
Fenning: Remember that you are not alone. There are thousands of people facing the same struggles as you and thousands working to support you. Connect with local organizations and support networks in your community and lean on that community where it makes sense for you.
Flores: If you struggle with lack of support or acceptance, know that you're not alone going through that ordeal. We can never pick the families or communities we're born into. However, it may be just a matter of time before those in our circle come around to recognizing and supporting us. That or we find our own set of people who eagerly await us and will instantaneously "get" us when we finally meet.
Helldobler: Seek out resources, lean on your tribe, and while we know it is difficult right now, it will get better. More LGBTQ+ legislators are being elected to office every year and corporate America is becoming more accepting and engaging in advocacy. These are important gains. The more we live proudly as our authentic selves, the more that pride becomes a way of life and not just a celebration in June. 
Pick: To LGBTQ+ young people who might be having a difficult time with increased anti-LGBTQ+ rhetoric across the nation, The Trevor Project wants to remind you that you're not alone. We will never stop fighting to protect you. If you or someone you know needs help or support, The Trevor Project's trained crisis counselors are available 24/7 at 1-866-488-7386, via chat at TheTrevorProject.org/Get-Help, or by texting START to 678678.
Windmeyer: LGBTQ+ students may feel isolated on their campuses and often lack the resources and experience to find the support they need. That's one reason it's so important for campuses to provide support services and opportunities for LGBTQ+ people to see themselves in the curriculum and to connect with each other. LGBTQ+ students need to know that they aren't alone and that they are part of a large, beautiful community with a rich history, full of people who care deeply about them and who are working tirelessly every day to make the world safer for them.●
This article was published in our June 2023 issue.