Public policy schools tackle society's greatest challenges by operating research centers and collaboratives dedicated solely to studying policy solutions on education, public health, and other issues that tend to disproportionately affect underserved communities.
These centers serve as interdisciplinary think tanks where faculty have the resources and opportunities to conduct research and perform advocacy work that leads to social equity and lasting change. At two public policy schools on opposite sides of the United States, researchers are working to tackle two monumental crises that pose an imminent threat to underserved, marginalized populations: climate change and the opioid crisis.
[Above: The Port of Oakland, California is a major economic engine for the region as well as a primary source of local air toxins. Students and faculty at the University of California, Berkeley Goldman School's Center for Environmental Public Policy are heavily involved in decarbonization efforts there. Their work helps to improve air quality for surrounding communities.] 
Climate Change
The Richard and Rhoda Goldman School of Public Policy (GSPP) at University of California, Berkeley is home to the Center for Environmental Public Policy (CEPP), which supports research and advocacy work related to environmental justice and sustainability.
CEPP is one of six centers operated by GSPP, with others focusing on issues in higher education, civility, and food labor research, among other topics. CEPP's executive director, David Wooley, JD, has over 20 years of experience working in environmental law. He is joined by five distinguished experts in the field who conduct research and work to influence state policy on issues of environmental justice and sustainability. These include Ned Helme, the former president of an internationally recognized climate and energy policy think tank called the Center for Clean Air Policy, and Daniel M. Kammen, a 1935 Distinguished Professor of Energy at UC Berkeley. In addition, six student researchers pursuing graduate degrees in public policy and related fields such as city planning and public health contribute research and advocacy efforts to the center's four main projects.
Wooley and his colleagues also teach courses on climate sustainability, renewable energy, and similar topics. Students from a variety of academic disciplines are eager to learn about these issues, according to Wooley.   
"A public policy school can take students who are getting really excellent training in specific fields and give them a chance to think about how to apply [that knowledge] toward the rapid changes that we need to see to improve climate change issues," he says.
Graduate students specializing in climate change, public policy, and related fields also have the chance to work with experts on the center's major projects. Several are employed each summer, allowing them to gain practical experience researching and advocating for environmental policies associated with the center's agenda.
One of CEPP's major projects concerns "port and freight decarbonization," says Wooley. Its goal is to reduce harmful emissions from a maritime port located near several disadvantaged communities in West Oakland, California. Situations such as this, in which low-income communities are pushed up against freeways, refineries, ports, and large transport centers, are "common due to historic patterns of institutional racism," he explains. Public policy schools have the ability to fight climate change and improve public health by advocating for underserved populations in these circumstances, Wooley says.
At CEPP, graduate student researchers working on the decarbonization project have had the opportunity to present their research to air pollution agencies and community stakeholders in order to develop an abatement plan that outlines specific ways for the Port of Oakland to cut down on diesel emissions. In addition to developing their policy advocacy skills and seeing how research can translate into action, the students have learned about new technologies that make it more feasible for humans to combat climate change. They saw firsthand how the growing market for environmentally friendly heavy-duty equipment — engines operated by batteries and hydrogen fuel cells, for example — affects both business practices and public policies alike.
The chance to effect real-world change through this project gives them a glimpse of the impact they can have as future public policy leaders, Wooley says.
CEPP heads a green bonds project, which aims to shift government and corporate investment patterns toward climate-friendly infrastructure. Project leaders work with state officials to influence the way bonds are issued and invested. In addition, they educate stakeholders about the benefits of considering climate change in infrastructure planning.
Furthermore, CEPP combats climate change on an international level through education programs on energy policy reform for business leaders from India. Groups of these individuals regularly travel to CEPP for extended education sessions where they "get a comparative sense of what's going on in California and the U.S. relative to India's policy and then come up with ideas to apply in their own communities when they return," Wooley explains.
According to Wooley, CEPP's projects demonstrate the unique strengths that public policy schools have to offer, representing an "integration between disciplines" and "policy [that is] is focused and actionable."
The Opioid Epidemic
The Opioid Policy Research Collaborative (OPRC) at Brandeis University's Heller School for Social Policy and Management (Heller) studies the effectiveness of state policies meant to curb opioid addiction.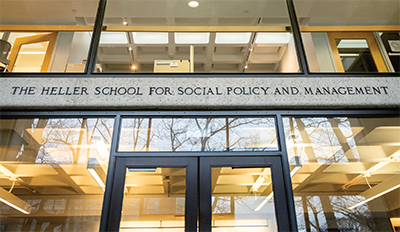 Heller's mission is to drive "positive social change through research, education and public engagement that inform policies and programs designed to address disparities in well-being and social inclusion in a sustainable way" according to their website; the school added the OPRC to its other research centers in 2016 in response to the uptick in state laws regarding opioid use.
"Once policymakers started to try to do things to address this crisis, they realized they didn't have much evidence to inform the most effective strategies," explains Andrew Kolodny, MD, OPRC's medical director. The collaborative was formed "to study these efforts so that we'll know what works and what doesn't work," he says.
OPRC defines itself as a "convener and collaborator" of the country's most cutting-edge researchers on opioid use disorder (OUD). Kolodny emphasizes that the collaborative is not an advocacy organization but rather informs policy through unbiased research.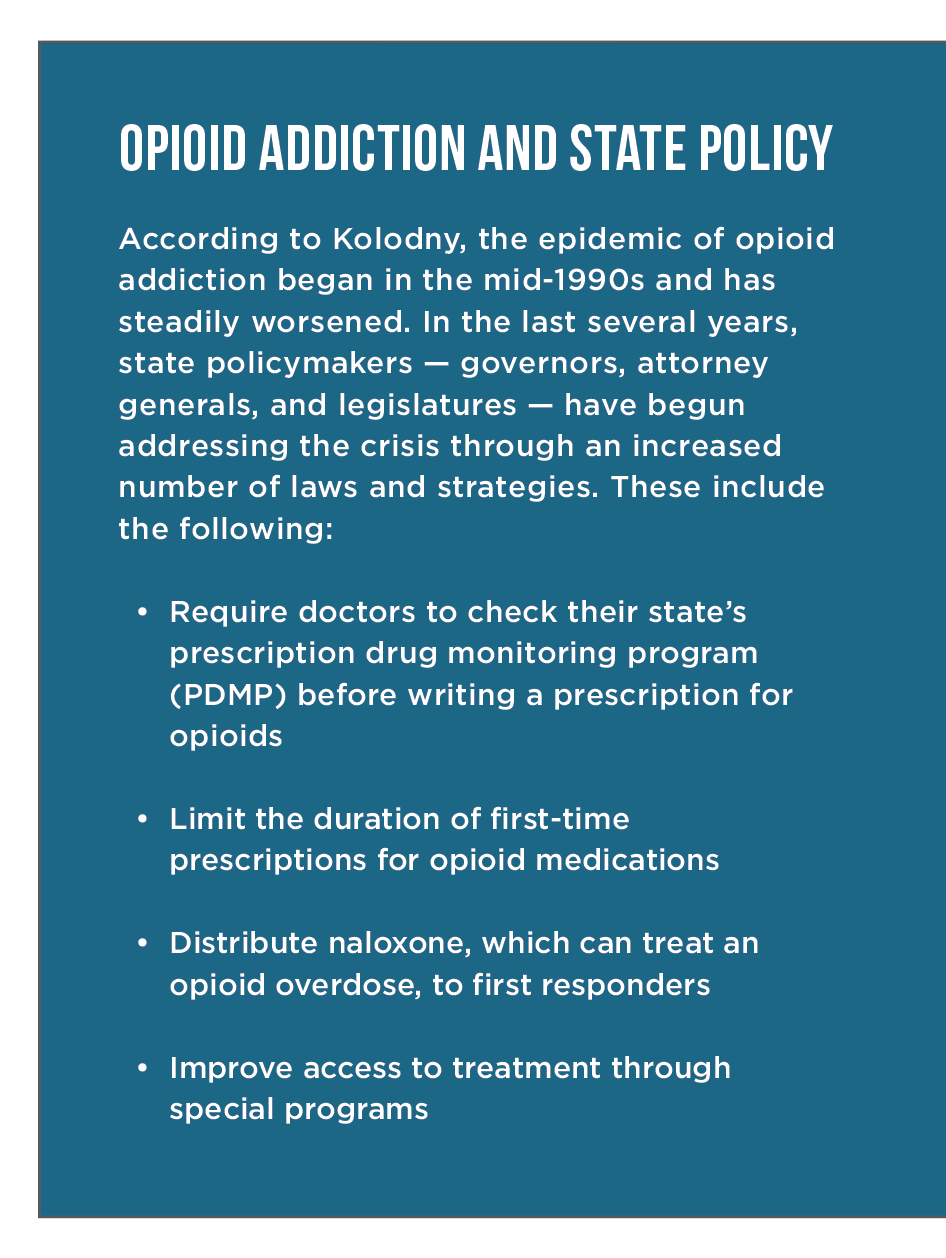 OPRC researchers are working on more than a dozen active projects, according to Kolodny. Heller professor and associate dean for research Cindy Parks Thomas, for example, is studying the impact of new treatments for substance abuse and the effectiveness of monitoring opioid prescriptions as a means to curb addiction rates. Sharon Reif, a senior scientist at Heller, has more than 25 years of experience researching substance abuse treatment and is leading a study of buprenorphine, a drug used to treat opioid addiction and relieve chronic pain. 
New OPRC projects include an investigation of racial disparities in access to OUD treatment and a study on how the availability of naloxone, which reverses overdoses, influences approaches to overdose risk management.
People often misunderstand the opioid crisis as a "drug abuse problem or an overdose death problem" rather than an epidemic of addiction and its effects on society, Kolodny says. "Addiction is the reason we have seen record high levels of overdose death, a soaring increase in infants who are opioid dependent, children winding up in foster care systems, and outbreaks of infectious diseases," he says.
Public policy researchers and policymakers have a responsibility to properly understand this epidemic and to provide the public with accurate information, says Kolodny.
"We've lost more than 500,000 Americans to opioid addiction over the past 20 or 25 years," he explains. "If a school of public policy is not engaged on this issue, there's something wrong."
Ginger O'Donnell is the assistant editor of INSIGHT Into Diversity. This article ran in the March 2020 issue.