As we share a bit of our publication's history in this special anniversary section, we also trace the trajectory of DEI in higher education over the past five decades — a period of profound transformation. From the passage of Title IX to the racial justice movements of the 2020s, each era has witnessed pivotal moments that left an indelible mark on college campuses across the country, progressively reshaping them into more inclusive and equitable environments.

The 1970s
In 1972, the passage of Title IX legislation marked a pivotal moment in the pursuit of gender equity within academia. This groundbreaking federal law, part of the Education Amendments of 1972, was enacted to eliminate gender-based discrimination in educational institutions that received federal funding. While Title IX is often associated with its impact on women's sports, its influence transcended athletics, reshaping the entire academic landscape.
By prohibiting discrimination on the basis of sex, which includes requirements for institutions to prevent and address sexual assault and harassment on campus, Title IX also mandated fair treatment in admissions, course offerings, and financial aid. As a result, women gained increased access to fields of study traditionally dominated by men. This legislation paved the way for broader cultural shifts, helping to redefine societal perceptions of gender roles and capabilities.
The 1980s
In 1988, City College of San Francisco (CCSF), the largest two-year college in the U.S. at the time, created the first-of-its-kind Department of Gay and Lesbian Studies (now the LGBT Studies Department).  The establishment of the department came at a critical point in the fight for LGBTQ+ rights during the AIDs epidemic of the 1980s, which was largely ignored by President Ronald Reagan.
CCSF created the department to help increase understanding and support for LGBTQ+ communities.  It demonstrated a commitment to academic exploration of LGBTQ+ history, culture, and experiences, provided a sanctuary for students and allies to engage in rigorous intellectual discourse, and shed light on the marginalized narratives often excluded from traditional curricula.
The 1990s
The Americans with Disabilities Act (ADA) of 1990 stands as a landmark piece of legislation that profoundly transformed DEI in higher education. By prohibiting discrimination based on disability and mandating that institutions receiving federal funds make reasonable accommodations, the ADA significantly increased equal access for individuals with disabilities.
The ADA's impact on higher education has been far reaching. It required colleges and universities to reevaluate infrastructure, curricula, and support systems to make them more inclusive and accessible. This not only allowed students with disabilities to pursue an education with fewer barriers but also fostered a more diverse learning environment that celebrates different perspectives and talents.
Among its most recognizable effects, the ADA ensured that college campus buildings must be physically accessible to individuals with disabilities. In the decades since the ADA's enactment, numerous colleges and universities have started to incorporate universal design principles in new campus construction, which prioritizes accessibility rather than just meeting federal requirements.
The 2000s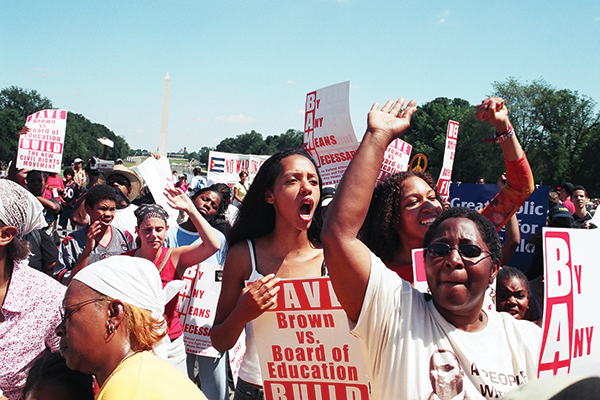 Grutter v. Bollinger, a landmark U.S. Supreme Court case in 2003, had a profound impact on DEI efforts in higher education. By reaffirming the principle that promoting diversity in college and university admissions is a compelling state interest, the case acknowledged that a diverse student body benefits not only the educational experience but also society at large.
The decision upheld the constitutionality of race-conscious admissions policies in higher education, which encouraged the expansion of various initiatives to support underrepresented students, such as implementing outreach programs, scholarship opportunities, and holistic admissions processes that considered a range of factors, including race, socioeconomic background, and life experiences. Colleges and universities across the country saw this decision as an endorsement of their efforts to create more diverse student bodies, as long as they could demonstrate that their policies were narrowly tailored and did not employ strict quotas.
While Grutter v. Bollinger represented a significant victory for proponents of diversity in higher education, it was overturned earlier this year in another landmark decision by the Supreme Court, which prohibited the use of race as a factor in admissions. Nevertheless, Grutter was critical in the implementation and expansion of numerous DEI efforts over the past 20 years.
The 2010s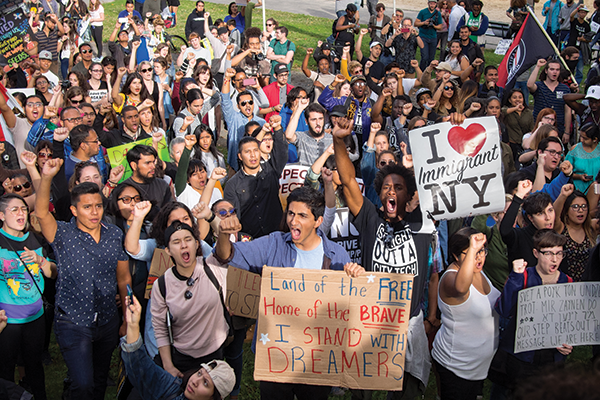 Enacted in 2012, the Deferred Action for Childhood Arrivals (DACA) executive order, signed by President Barack Obama, provides work authorization and temporary protection from deportation for undocumented individuals who arrived in the United States as children. As of March 2023, there were nearly 580,000 active DACA recipients, according to U.S. Citizenship and Immigration Services.
DACA's influence on higher education has been profound, enabling thousands of undocumented students, often referred to as "Dreamers," to attend colleges and universities without the constant fear of deportation. By providing a pathway to legal status and work authorization, DACA has expanded opportunities for these students to pursue their academic and career aspirations, contributing to a more diverse and enriched learning environment and workforce. As of 2021, more than 140,000 DACA-eligible students were enrolled in postsecondary education institutions, comprising 34.5 percent of undocumented students, according to the U.S. Census Bureau.
Despite the program's role in promoting access for many, advocacy groups such as the American Immigration Council and the Presidents' Alliance on Higher Education and Immigration continue to urge Congress to pass legislation that offers permanent protections for young immigrants while also broadening opportunities for other undocumented individuals and providing a clear pathway to citizenship.
The 2020s
The murders of George Floyd, Breonna Taylor, and other Black Americans in 2020 ignited a wave of racial justice movements and protests that reverberated throughout society and spurred a serious reckoning across the U.S. as well as in higher education. These events compelled many colleges and universities to confront systemic racism and inequities within their own institutions, leading to new or heightened DEI programming and policies.
In the months and years following these tragedies, schools have reexamined admissions policies, curricula, and campus cultures, prioritizing more welcoming, safe, and inclusive environments for Black students and other marginalized groups. This internal reflection and review also led to the establishment of new scholarships, programs, and initiatives focused on addressing racial disparities and increasing support and access for underrepresented students, staff, and faculty.
Despite recent backlash from conservative lawmakers who seek to dismantle DEI offices, policies, and programs, a majority of colleges and universities remain committed to upholding and expanding their DEI efforts.●
This article was published in our October 2023 issue.