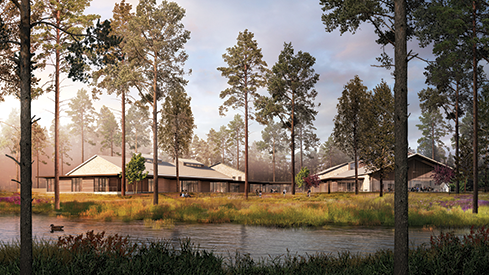 A new medical school under construction in Georgia may help address an ongoing shortage of medical practitioners in rural areas, a problem under scrutiny by the healthcare profession, medical schools, and the federal government.
[Above: A rendering of the new Philadelphia College of Osteopathic Medicine campus in Moultrie, Ga. (Photo courtesy PCOM)]
There are 271.6 active physicians in the United States per 100,000 residents, according to a report compiled by the Association of American Medical Colleges in 2017. The average ranges from a high of 443.5 in Massachusetts to a national low of 186.1 in Mississippi.
Georgia ranked 39th out of the 50 states, with 225.2 doctors per 100,000. But the study did not examine the difference between rural and urban areas, which can be significant. There are half as many doctors per capita in rural counties in Georgia than in the cities, according to the Georgia Board for Physician Workforce. 
Enter the Philadelphia College of Osteopathic Medicine (PCOM), which is building a new medical campus in Moultrie, Ga. They operate a satellite location in Suwanee, Ga., and both locations will offer an osteopathic medical degree as well as other graduate studies. 
Why would a Philadelphia medical school build its satellite campuses in rural Georgia? 
"Where you spent most of your time on rotations during medical school or residency, you tend to stay," says Dr. Michael Sampson, DO, the new chief academic officer for PCOM South Georgia. Sampson is focused on building a program that not only educates students in a rural county but sets up residency programs at five area consortium hospitals. The hope is that by educating and training them in rural areas, they will choose to remain there.
PCOM's philosophy is "we grow our own," he says, both through the college and the residency program. "We want to keep them in the area and train in the area, but also put the rural spin on it," Sampson says. "Medical care is different in the rural areas than suburban or urban areas." 
Rural healthcare tends to be more primary care-driven, with emphasis on pediatrics and education in healthy living and disease prevention, Sampson says. Rural physicians are challenged to educate patients on what they should eat and helping them get access to healthy fruits and vegetables as well as medication. 
In addition, there are some Georgia counties that don't have any physicians at all. "Transportation is great if you have a car," Sampson says, but socioeconomic conditions may vary. If a patient does not have a car or a caregiver to take them to a doctor, it is a hindrance to healthcare. 
Lack of access to healthcare is not a new problem, according to Paul Moore, senior health policy advisor with the federal Health Resources and Services Administration, a division of the U.S. Department of Health and Human Services. "There's not really any one [factor] you can point at" to explain the difficulty recruiting doctors to rural areas, Moore says. It's a number of problems: the financial challenges of treating lower-income patients, the complications of the care itself, and the sense of professional isolation for a doctor distanced from urban centers where they may have had access to a lot of specialists. 
"Some physicians are not comfortable with the range of skills they need [for rural practice]," Moore says. One possible solution for that has been "tele-health," where a specialist dials in to an emergency room remotely to offer a consultation when one is not physically available. 
"You can't get a neurologist to a town of 3,000 people," Moore says. So, the neurologist appears on a screen and views tests and the patient, using technology to assist with diagnosis. "It's not the total solution, but part of the solution," Moore says.
Another issue may be a lack of employment options for spouses and reduced educational options for children. "The system is already stacked against getting them there," Moore says. "[The PCOM project is] a good thing because you're moving the educational process closer to where the need is."
Part of recruitment means that welcoming the new doctor is vitally important. "The rural communities need to see that they're the most important part of the calculation," he says. "When they recruit doctors, it's about meeting all the needs of the doctor." Helping new physicians connect to the community and feel welcome will go a long way toward keeping them in practice in rural areas, Moore says.
As far as Moultrie leaders are concerned, PCOM is a welcome addition. "It's going to be a real boon, not only to Moultrie, but the whole south Georgia region," says Moultrie Mayor William McLeod McIntosh. While there is a hospital nearby, residents often have to go out of town to see a specialist, and the entire area is "badly in need of physicians."
"We're very fortunate and very excited about it going online and looking forward to what it's going to do for us and for the entire south Georgia area," McIntosh says.  Community leaders will be working to welcome the students and emphasize options for housing, recreation, the local arts center, and more, he adds. 
"We all realize it's not an island unto itself," McIntosh says. "We want those folks to realize what's here for them and their families, with a concerted effort to reach out and provide things of interest to the students. … We're looking forward to new folks coming to our community and the ideas they'll bring." 
Sampson is from a rural area himself and remembers having to travel a long way from the family farm to see a doctor. That's one reason he wanted to join the Moultrie project. "I love that small-town atmosphere. They're so friendly," Sampson says. "We don't even have to advertise that we're there. If you say, 'PCOM,' they say, 'We're so glad you're here.'"
It is also important to create pipelines for incoming students. The Suwanee campus has had success with middle and high school programs called "Opportunities Academy" to stimulate interest in healthcare. The programs are not just about visiting on career day and making a speech, however.
"You can't just talk to them," Sampson says. "You bring them on campus and have them do a mini medical school for a week." The students work in a simulation center and can actively work with a "patient." This type of experiential learning is especially rewarding when it involves individuals who didn't know what they wanted to do for a living until they tried it, Sampson adds.
"They say, 'I saw the light at the end of the tunnel. This is what I want to do with my life,'" Sampson says. He is already in the process of setting up similar pipeline programs in the high schools around Moultrie.
PCOM received initial approval from its accrediting agency to launch its inaugural class in December. The four-year program will open with a class of 55 students in a new, 75,000-square-foot building, initially offering the doctor of osteopathy degree. Recruitment of faculty and staff has begun, and construction is well underway for a projected August opening.
They won't lack for students. Sampson says the initial class attracted 3,500 applicants for only 55 slots, so the waiting list has already started.
Elizabeth Donald is a contributing writer for INSIGHT Into Diversity.This article ran in our May 2019 issue.