Over the last decade, the institutions that make up the Pennsylvania State System of Higher Education (PASSHE) have experienced drastic declines in student enrollment. Since 2010, five of the state-owned universities — Cheyney, Edinboro, Clarion, Mansfield, and Lock Haven.— have seen drops of 45 percent or more, with a combined decrease of 25.8 percent across the entire system.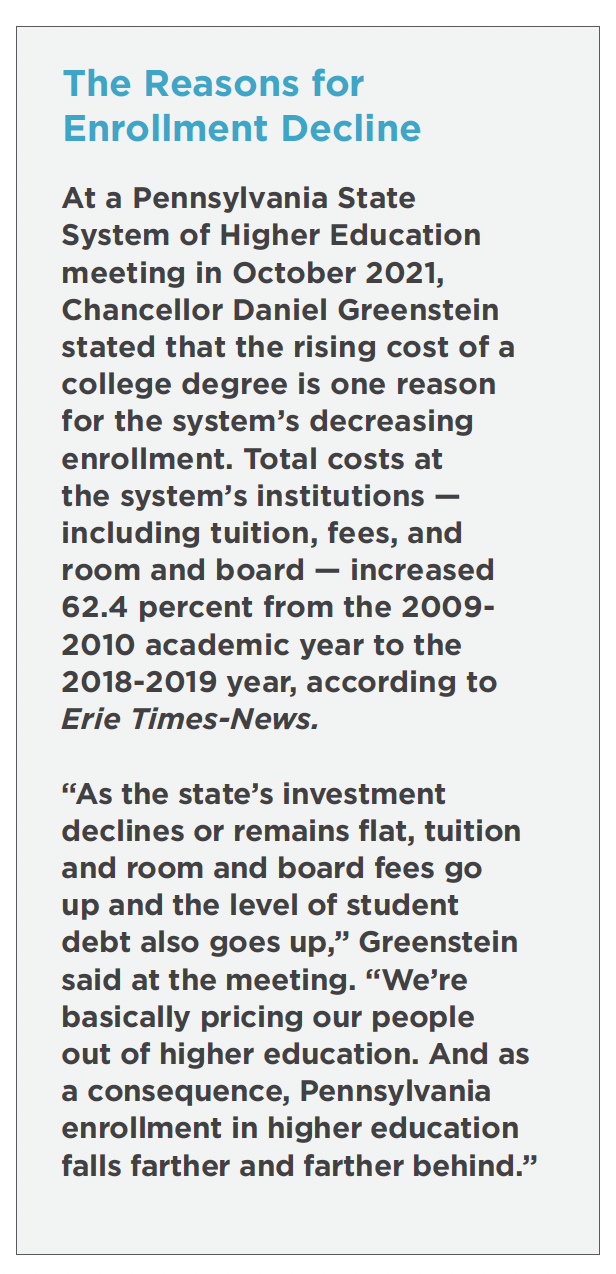 Despite freezing the price of tuition and spending $160 million on financial aid annually to support students, the system has continued to see enrollment decline. With the future of the system in dire straits, the State System's Board of Governors voted unanimously in 2020 to approve a plan to consolidate six of the universities into two. In addition to safeguarding PASSHE's financial sustainability, the merger is expected to expand educational access and opportunities as well as advance diversity, equity, and inclusion (DEI) efforts.
On the western side of the state, California, Clarion, and Edinboro universities will combine to become Pennsylvania Western University, or PennWest, in summer 2022, pending approval of the Middle States Commission on Higher Education, the Philadelphia-based accrediting body for colleges and universities in Pennsylvania and the Mid-Atlantic states. Bloomsburg, Mansfield, and Lock Haven in the northeast will also merge, with a name for the new institution yet to be released. Each campus will maintain its own identity, but with the new moniker attached; Edinboro University, for example, will be known as PennWest Edinboro. The combined institutions will welcome their first students in fall 2022.
The merger will expand academic opportunities by enabling a student enrolled at one campus to take advantage of programs, internships, and other academic offerings at other campuses. PennWest is also developing an online campus — Global Online — that will offer fully online degree programs.
In addition, leaders anticipate the merger will enhance each school's DEI capabilities. 
"The process of integrating California, Clarion, and Edinboro universities accomplishes more than bringing the universities together under one fiscal umbrella," said Dale-Elizabeth Pehrsson, EdD, president of Clarion and interim president of California and Edinboro universities, in a statement to INSIGHT. "It provides an opportunity to examine every aspect of what we do — from student enrollment and success, to hiring practices — through a lens of diversity, equity, and inclusion."
The intensified focus on DEI could potentially alleviate inequities between White and non-White students. Even though underrepresented students have doubled in number at PASSHE campuses since 2008, their graduation rate is 20 percent lower than White students, according to system data. As with many institutions in recent years, students have voiced concerns about discrimination and inequality within the system. 
In August 2020, PASSHE took steps to address these issues by hiring Denise Pearson, PhD, as its inaugural vice chancellor and chief DEI officer. In the first six months of her tenure, Pearson says she spent time speaking with students, faculty, staff, and other stakeholders across the system to determine strategies that would create a positive impact and increase feelings of belonging for all students, regardless of their backgrounds. 
As a result of the meetings, Pearson was able to highlight five specific areas of focus for DEI efforts: faculty, staff and student diversity; equitable student outcomes; inclusive campus environments; curriculum diversity; and infrastructure, which includes funding, operational systems, incentives, and methods for accountability. 
"When I came on board, it was clear to me that campuses were already doing excellent work, but they were doing it independently," she explains. "I have the privilege of working with all 14 campuses and bringing us together as a convener so that we can share across institutions. We can share ideas, we can share resources, and we can coalesce around a unified strategy."
The PASSHE merger will empower the campuses to assess their collective data in order to identify which DEI policies are most effective for building inclusive learning environments that lead to better retention and graduation rates.
"We're talking about the actions and policies that promote feelings of belonging, feelings of respect and value," Pearson says. "If you bring students to your campuses from historically excluded groups who are not treated equitably, and they do not feel as though they are included, they're not going to stay."
Terrence Mitchell, PhD, served as chief diversity and inclusion officer at Edinboro before being named PennWest's vice president for DEI. He says that the PASSHE merger has allowed for better funding and the expansion of DEI staff, including bringing on additional Title IX officers who will assist with this work. 
The three institutions under the PennWest umbrella are in the process of developing a unified DEI policy, according to Mitchell. Because the schools can work together and share insights, they've been able to identify which of their current programs and strategies are achieving the best outcomes and then applying those models across all three campuses. For example, each of the PennWest schools have Inclusive Community Assessment Teams that respond to reports of bias and hate speech. After reviewing them, Mitchell and his office determined that Clarion's team was the most effective and thus could serve as a model for the other campuses. 
The PennWest campuses are also working to bolster their DEI programming, according to Mitchell. There are several DEI programs already in the works for next fall, including a Pride conference at the California campus and a diversity conference at Edinboro. With more staff now available, the schools also plan to expand their Title IX and social equity efforts by doing a "deep dive into the data" and proposing solutions to challenges that have arisen in recent years, he says. A system-wide campus climate survey is currently planned for this spring.
Both Mitchell and Pearson say they are enthusiastic about the potential impact these new initiatives will have on the entire PASSHE community. 
"[The integration] has helped us think larger about the ways we can help the students, faculty, and staff enjoy a welcoming, inclusive community," Mitchell says. "We've had lots of time to think about the possibilities and ways we can expand our influence and our work with each other and really take advantage of the things that are special about each campus."●
Lisa O'Malley is the assistant editor of INSIGHT Into Diversity. Millersville University is a 2012-2021 recipient, West Chester University of Pennsylvania is a 2020-2021 recipient, and Shippensburg University is a 2021 recipient of the INSIGHT Into Diversity Higher Education Excellence in Diversity (HEED) Award. All three are member institutions of the Pennsylvania State System of Higher Education.
This article was published in our January/February 2022 issue.