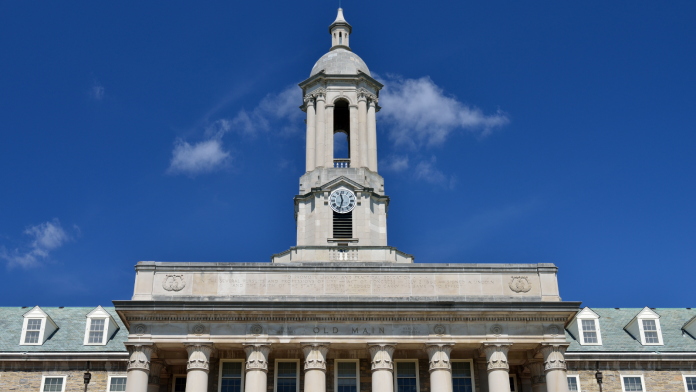 Pennsylvania State University is facing backlash from students and faculty after canceling plans to create a Center for Racial Justice in October.
Former Penn State President Eric J. Barron announced the center's formation in 2021 as part of the university's initiative to address racism following the murder of George Floyd. The $3.5-million center was intended to bring together Penn State scholars whose studies focus on racism and racial bias. In March 2022, the university said it had begun a faculty-led search for a founding director.
Neeli Bendapudi then took the helm as Penn State's president in May 2022. With the university contending with budget issues, Bendapundi told The Washington Post that she concluded that funds earmarked for the center would be better used on existing anti-racism initiatives.
"I've often thought of institutions as leaky buckets, where we don't invest enough in the people who are already here," she said. "So they leak away. They go elsewhere, while we try to bring something else new in." She denied receiving any pressure from the university's board of directors to abandon the project.
On October 26, Bendapudi formally announced that the center was canceled. The university was already facing criticism at the time for hosting a student-planned event with the founder of the Proud Boys, a far-right organization that promotes political violence.
Though the event was canceled, the combined actions sparked a wave of backlash from the campus community and state leaders. The Pennsylvania Legislative Black Caucus released a statement rebuking the university, and more than 400 faculty members signed a petition condemning the decision to cut the center.
"While university officials claim this decision was made in consultation with key stakeholders, the committees, staff, students, and faculty who labored to make the center happen were not consulted," the petition said.
The faculty also drew into question Bendapudi's statements about budget concerns.
"Either the university did not have the resources for the center, or they had the money all along and were going to invest it elsewhere. The current administration is employing questionable scarcity tactics with budget numbers that appear to have shifted."
During a November virtual town hall, Bendapudi responded to questions surrounding the canceled center.
"I've made my best judgment," she said. "And I know that I'm asking you to give me time, to give me a little grace. The timing of the whole thing was terrible and I know how much pain it caused, but my heart is in this work. My commitment is in this work."