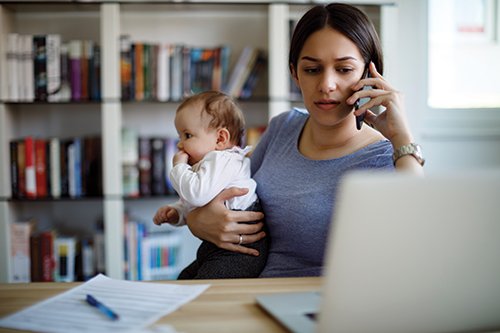 Research has long shown that the road to academic tenure in the U.S. is increasingly narrow. Now, the coronavirus pandemic is exacerbating the competitive academic job market and creating even more barriers for those pursuing coveted tenure positions. Many experts predict that it will be marginalized academics whose careers ultimately suffer the most from these barriers and that these setbacks could have long-term consequences on diversity and inclusion. 
The pandemic "amplifies the mental, physical, social, and economic impacts attributable to preexisting inequities in academia. Making matters worse, in times of stress, such as pandemics, biased decision-making processes are favored, which threaten to deprioritize equity initiatives," states a recent op-ed titled "In the wake of COVID-19, academia needs new solutions to ensure gender equity" in the journal Proceedings of the National Academy of Sciences of the United States of America (PNAS).
Multiple hardships caused by the outbreak of COVID-19 have halted the research and teaching opportunities necessary for junior faculty to advance on the tenure track. As campuses closed last spring, many found themselves abruptly shut out from their research laboratories and cut off from other campus resources necessary for on-site research and advancement. The transition to online courses, the closing of childcare centers and K-12 schools, and other burdens caused by the pandemic also created obstacles to the practical necessities of time and mental energy for early-career faculty to devote themselves to the tenure track. 
As such, many colleges and universities instituted a one-year extension — either universally or by request — beginning in the spring 2020 semester for tenure-track employees. Some experts say that granting this type of accommodation on a massive scale in the face of the coronavirus is a sign that colleges and universities are becoming more sympathetic to the hardships faced by junior faculty, especially those who are women or from underrepresented backgrounds. Others say an extension is not nearly enough. 
Extending the tenure clock has been considered an acceptable accommodation for junior faculty, especially women and new mothers, only since the 1990s. Data has long shown that choosing to take a tenure extension for familial obligations negatively affects perceptions about a woman's dedication to her career. This bias — whether implicit or explicit — disproportionately affects single parents from marginalized backgrounds and those who have limited financial or family support when it comes to childcare or eldercare. Unsurprisingly, the burden of caring for family members while working from home during the pandemic has fallen primarily on women, according to data on employees across multiple sectors. Even for those who have accepted an extension due to the pandemic, this caretaking can be a major hindrance to the teaching, virtual networking, research, or planning opportunities available to them. 
Granting extensions on a large scale may in fact exacerbate gender inequities in tenure by providing men with more time for writing and publishing than would otherwise be afforded to them, according to a recent article in Chemical & Engineering News (C&EN). In several early analyses from spring 2020, researchers found that the gender gap in article submissions to academic journals had already begun growing for faculty members in the U.S., Canada, and the U.K. Colleges and universities as well as tenure review committees, therefore, must take into account the fact these extensions could "strengthen the invisible escalator" for men in academia, stated Joan C. Williams, director of WorkLife Law, a research and advocacy organization at the University of California, Hastings College of Law. 
Women of color will be the most vulnerable to these setbacks, according to the authors of the PNAS op-ed. In addition to the caretaking burdens of their gender, women of color are faced with the disproportionate impact that the pandemic has had on marginalized communities. The economic hardships of the pandemic are more likely to affect junior faculty from these populations, especially women who already face documented discrepancies in academic salaries. The setbacks to their productivity will also make them more vulnerable to salary and layoff decisions by colleges and universities facing unprecedented budget constraints, according to the article.  
Critics note that the uncertainty of the coronavirus pandemic, including how long it will take to produce a vaccine and to return to campus life as normal, is another reason why a one-year deferral for accomplishing the myriad requirements for tenure is unrealistic. Instead of expecting junior faculty to plan for and rely on opportunities for future research and networking that may not come to fruition, colleges and universities should amend their policies for what is acceptable in the tenure package, some higher education experts suggest. Some institutions such as Florida State University, for instance, have agreed to still accept papers that were scheduled for now-cancelled conferences in tenure packages, according to C&EN. Other policies can include alleviating or entirely lifting a junior faculty's courseload or giving them priority access to labs and resources if and when they become available.
Some institutions have begun adapting or creating new online seminars and professional development programs for junior faculty. These options can help make up for the lost networking and mentoring opportunities normally provided by being on-site with colleagues or traveling to in-person conferences, including those specifically designed for scholars from underrepresented groups. 
Colleges and universities should also consider how much weight is given to teaching evaluations when it comes to making tenure decisions. These evaluations have already been controversial in recent years due to evidence of student bias against women. Students adjusting to the "new normal" of online courses and classrooms designed to accommodate social distancing may find themselves understandably frustrated with their learning conditions, which will likely be reflected on teaching evaluations at the end of the term. "Online teaching is uniquely hard and cannot be mastered as a skill in a couple of hours or days. Student evaluations — which for pre-tenure or pre-promotion faculty are vitally important to their career advancement — will be useless in this new arrangement, as will any evaluations of research productivity," states David Perry, a University of Minnesota academic adviser and historian, in a March op-ed for CNN. 
Furthermore, the increased bigotry that has emerged with the coronavirus and the ensuing racial justice movement could have an effect on how racially and ethnically underrepresented faculty are assessed by students, colleagues, and tenure committee members. Hostilities against Asian Americans have been evident in the U.S. at large and on college campuses as some in society, whether consciously or subconsciously, associate the pandemic's origins with China. 
A conservative backlash to Black Lives Matter protests and the recent push for more intentional steps toward social justice in higher education and society has also fueled conscious bigotry and hatred against underrepresented groups. People of color in academia are especially susceptible to this backlash's effects on public sentiment regarding affirmative action, diversity hiring and advancement programs, and subjects such as African American studies that some criticize as fanning the flames of what they see as violent or radical racial justice movements. All of these factors are likely to have at least some influence on student, peer, and supervisor perceptions of marginalized faculty. 
Despite all of these concerns, some in higher education say that the communal struggles of a global pandemic may actually help advance a cultural shift in how the academic community views and supports junior faculty. Some are also pushing for the pandemic to lead to a change in the elitism of academic conferences, as moving these events online makes them more financially accessible for junior faculty and can increase their exposure to fellow scholars on a larger scale — provided they find the time to attend. Some faculty also remain optimistic that the pandemic has exposed how vulnerable all campus employees are when it comes to matters of childcare and other forms of assistance, creating sympathy and comradery among peers facing similar challenges, even if from a distance. 
Timothy F. Jamison, associate provost and Robert R. Taylor Professor of Chemistry at MIT, told C&EN for instance that the extent of the challenges of the pandemic has forced the scientific community to be more creative in the strict parameters of the tenure track — and that this creativity not a bad thing. "This is our opportunity to adapt and to learn how to be better and more supportive of one another," he stated.●
Mariah Bohanon is the senior editor of INSIGHT Into Diversity magazine. This article was published in our October 2020 issue.