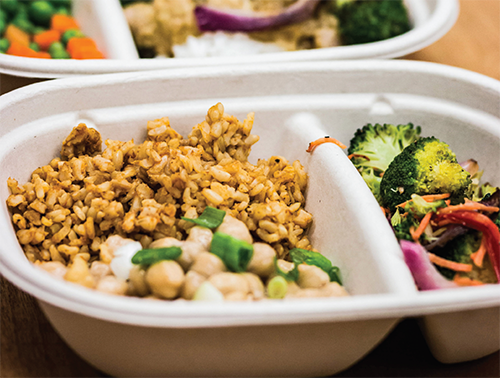 Food insecurity is a growing crisis in higher education, with students on campuses across the United States finding themselves forced to attend class on empty stomachs or subsisting on inexpensive and unhealthy options.
At Oregon State University (OSU) in Corvallis, students who struggle with this issue can dine for free on chicken marsala over rice with green beans, yakisoba noodles with shredded beef and vegetables, black beans and quinoa with roasted beets, and other balanced meals provided daily by the university's Food for Thought program.
"The students say they can concentrate better now that they have less to worry about and are eating real food," says Emily Faltesek, coordinator of food security programs for OSU's Human Services Resource Center (HSRC). "It's simultaneously hard to hear but also really exciting, because they report that their bodies feel so much better in their day-to-day lives and at school."
The Food for Thought pilot program launched in fall 2019 with the twofold mission to feed students in need and to reduce food waste. The meals are assembled by OSU's dining services using leftover ingredients from campus dining locations.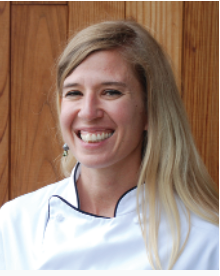 "We have a myriad of extra food that comes back to the production kitchen. Our culinary team are just these creative engineers, piecing together these different [ingredients] and putting together some really wonderful meals," says Tara Sanders, assistant director for nutrition and sustainability for OSU's University Housing and Dining Services (UHDS).
UHDS operates Food for Thought in partnership with HSRC, which supports low-income students through housing assistance, textbook lending, and other forms of aid. While UHDS takes care of food assembly, HSRC handles the application process and logistics. Eligible students can come to the center to report that they might run out of food before their next paycheck, that they often skip meals in order to save money, or that they have gone a day without eating, says Faltesek.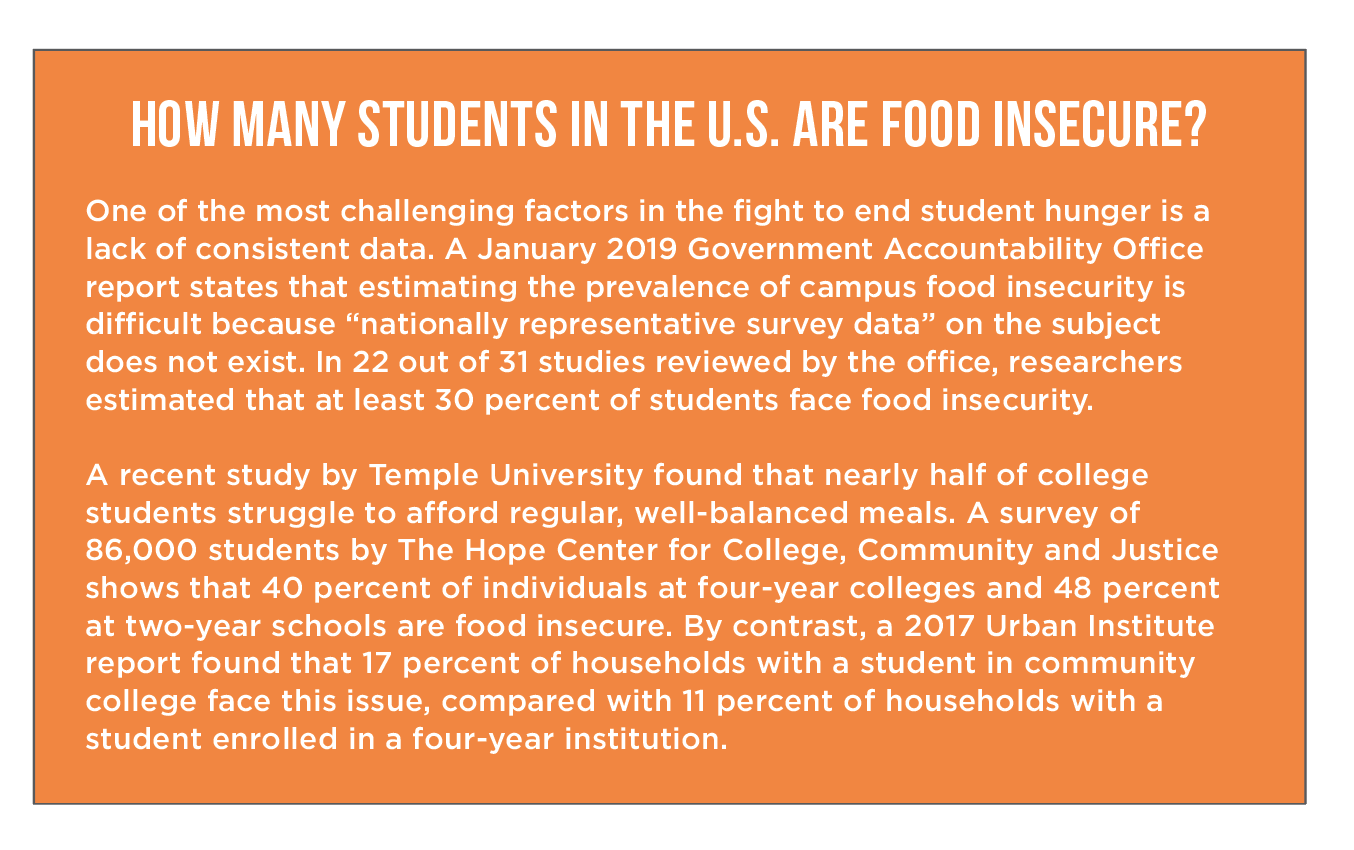 "The food assistance application is how students let us know about all the different aspects of their food insecurity situation. Then we're able to figure out different ways that we can help them based on their individual stories," she explains.
Students who don't qualify for the program can purchase Food for Thought's pre-packaged meals for the reduced price of $3.50. The revenue helps cover the cost of labor, compostable packaging, and other program essentials.
"The benefit of having some of these meals available for sale is that it allows us to be financially self-supporting," says Sanders. "We need about 50 percent of these meals sold and 50 percent of these meals free in order to stay solvent."
The OSU employees and students who created Food for Thought drew inspiration from the National School Lunch Program, which provides free and reduced meals for qualifying K-12 students.
"It was actually our president, Edward Ray, who put out the directive to … look at how we could provide meals for students who are food insecure and combine our efforts to reduce food waste," Sanders says. Fulfilling this request was a collaborative process that involved many units across campus, she adds.
Fifty students were initially enrolled in Food for Thought at the start of fall 2019; by the end of the semester, it had expanded to 120 participants. OSU scaled up the program to include 420 students for the spring 2020 semester, according to Faltesek.
This innovative program is just one of many food sustainability initiatives at OSU. Its 560-square-foot campus food pantry is the second largest in the U.S. — Michigan State University's is first — and distributed 94,000 pounds of food last year.
OSU notifies students on Twitter when and where leftover food from campus events is available. In recent years, the university received a grant to reduce food waste through a computer program called LeanPath. It also launched the Full Plate Fund, which allows students with campus meal plans to donate their unused dining dollars to feed peers in need.
OSU's work in this area is longstanding thanks to its students, says Nicole Hindes, HSRC assistant director. "Years ago, even before the Great Recession, our students started some great programs to support their peers," she says, explaining that it was students who started the food pantry and other services that have "evolved to what has become [the HSRC] and a whole robust suite of programs." 
Like other HSRC services, Food for Thought was designed for the university to take responsibility in reducing food waste and feeding those in need rather than relying on student volunteers to do all the work.
"At other schools, typically what is done is there are student groups that really champion the cause. They will come to the dining halls and take the extra food to their food pantry or to repack and redistribute," Hindes says. "What's unique at OSU is that we've implemented this within our production team. It's become a normal part of [food production] and is a more sustainable model."
Mariah Stewart is a senior staff writer for INSIGHT Into Diversity. This article ran in the March 2020 issue.