Nearly all marginalized populations in the U.S. face hurdles to accessing health care, and Native Americans are no exception. Poverty, provider shortages, cultural differences, and other social factors have created massive health disparities for many in this community. As a consequence, Indigenous Americans have a life expectancy that is 5.5 years shorter than that of all other races, according to the Indian Health Service, a federal agency. Furthermore, this population is more likely to die from preventable illnesses,.such as diabetes and chronic liver disease, than the general U.S. population. These inequities were highlighted by the COVID-19 pandemic, as Native Americans were infected at a rate 3.5 times higher than White Americans and were 1.8 times more likely to die from the virus, according to the U.S. Centers for Disease Control and Prevention.
A significant lack of Indigenous representation in the health care workforce is one contributor to these disparities. Only 1 percent of medical school students identify as Native American, according to 2021 data from the Association of American Medical Colleges (AAMC). Though their numbers are low, AAMC research shows that — as is the case with other underrepresented populations.— these students are more likely to one day serve patients who share their background and heritage.
Oklahoma State University (OSU), situated in a state with 39 federally recognized tribes, has undertaken several major endeavors to improve student recruitment and health care services for this population. These innovative programs provide training that is both clinical and cultural in order to prepare future doctors to best serve Native American patients.
In 2014, the OSU Health Sciences Center established the Office of American Indians in Medicine and Science (OAIMS) at its Tulsa campus. The mission is to recruit Native students into the science, technology, engineering, math, and medicine (STEMM) fields, explains Kent Smith, PhD, the office's associate dean and an anatomy professor at OSU. A member of the Comanche Nation who is also part Cherokee and Chickasaw, Smith says he was inspired to start the program based on his personal experiences as a student.
"As a Native researcher, I never had a mentor in my undergraduate and graduate programs that was Native American," he says. "I really wanted to do more for my people, for American Indians. And what more can you do for people than to provide opportunities for education and careers that not only benefit the individual but also extend beyond that individual to their communities?"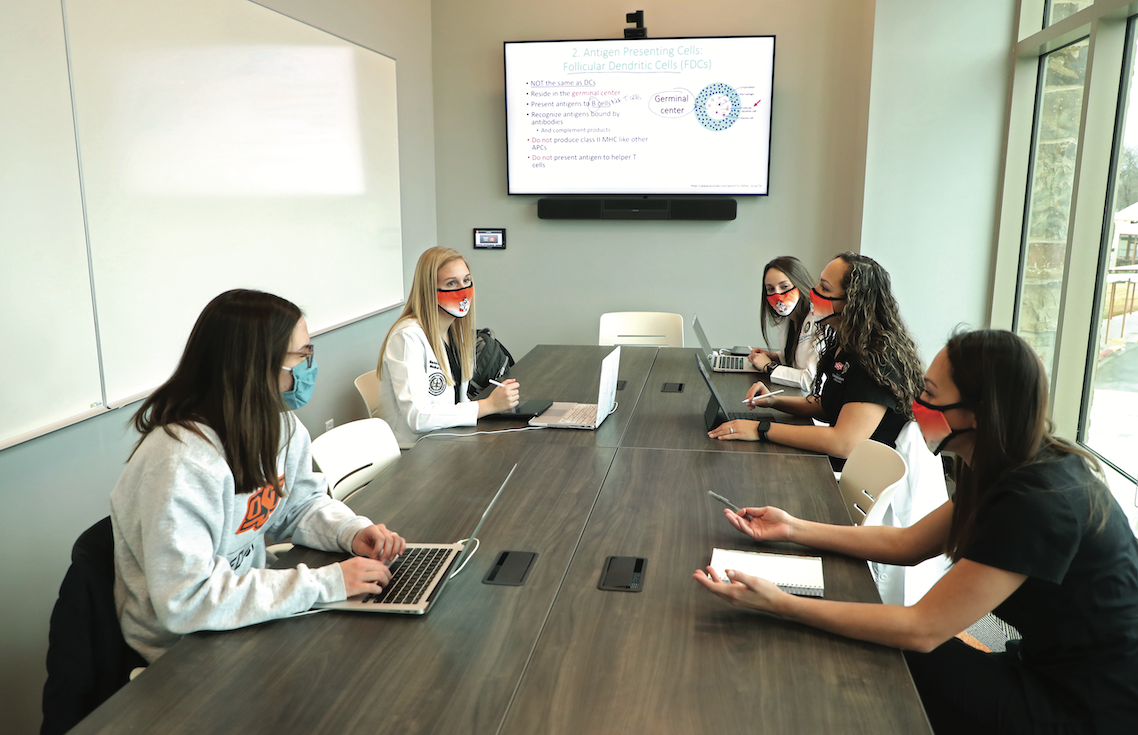 An example of one of those opportunities is the tribal medical track (TMT), an elective program launched this year that provides training to Native American medical students interested in completing a residency at a tribal facility. The TMT is made possible through partnerships with the Cherokee and Choctaw Nations and other local Oklahoma tribes. These communities invite TMT students to work alongside their physicians at tribal hospitals and clinics to learn essential skills and cultural knowledge. The program had 10 students in its initial cohort. 
Some of the unique skills taught in the TMT track include tribal customs and manners. Participants study different Native American languages and learn about traditional medicines. In the future, Smith plans to expand this cultural training so that students can meet with Indigenous elders to learn about proper social etiquette, which he says can vary from tribe to tribe.
OAIMS has been able to recruit for the TMT program through outreach to Native American communities and collaborations with other campus organizations and initiatives that target underrepresented or Indigenous students. While enrolling Native American students is a top priority for the office, Smith underscores that the ultimate goal is not just about increasing numbers.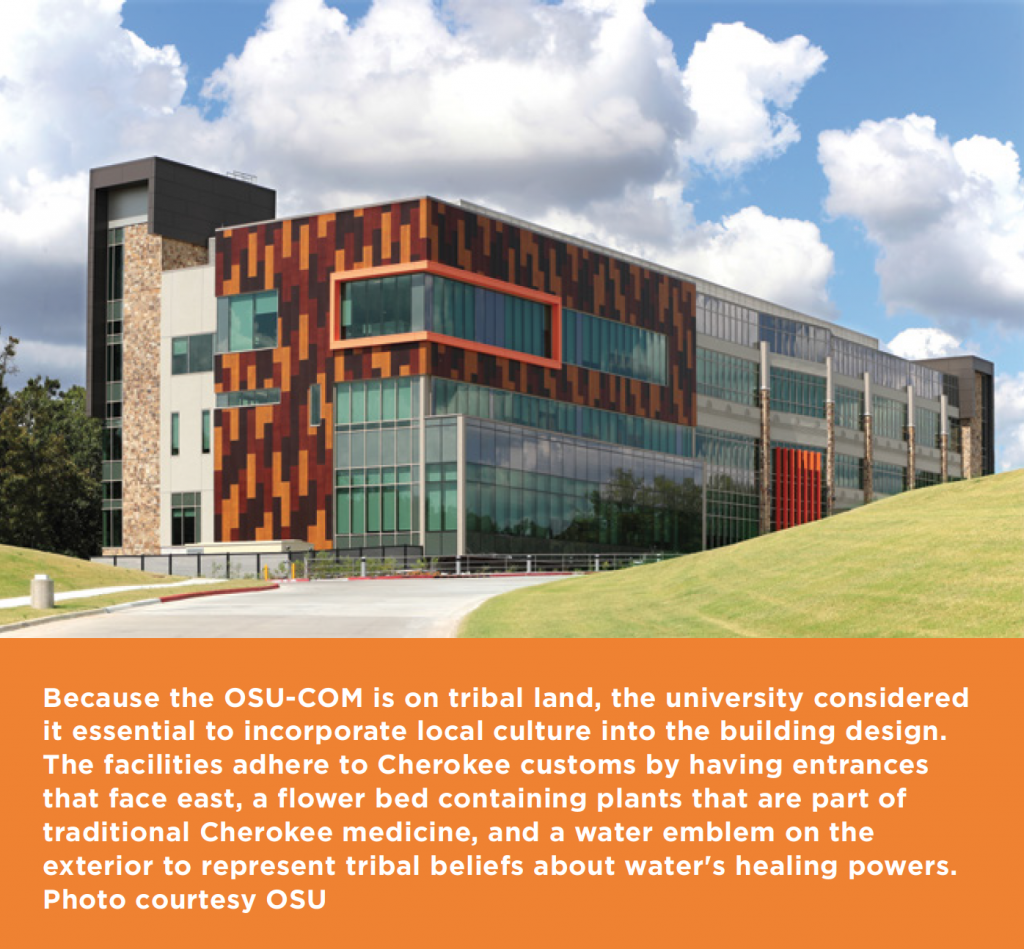 "I'm trying to improve and make a positive impact on the competitiveness of our American Indian youth," he says. "It's not just about getting more [of them] to apply, but it's about getting more competitive students who are Native to be able to apply."
In addition to OAIMS, OSU recently founded the country's first tribally affiliated medical school, the College of Osteopathic Medicine at the Cherokee Nation (OSU-COM).
Although initially delayed by the COVID-19 pandemic, OSU completed construction of the 84,000-square-foot college last year. Located in Tahlequah, Oklahoma — the capital of the Cherokee Nation — the facilities include an anatomy laboratory, clinical and patient labs, and a state-of-the-art simulation center that allows students to work with programmable mannequins that mimic common medical conditions.
The idea for the school came about after it became apparent that both the university and the Cherokee Nation were looking to address health care disparities for Native American people.  
"There was an alignment of missions between OSU and our desire to train primary care doctors for rural and underserved environments and the Cherokee Nation's mission to provide quality health care to their citizens," says Natasha Bray, DO, OSU-COM's interim dean and the associate dean for academic affairs and accreditation at OSU's Center for Health Sciences. "One of the unique things about this partnership is the shared mission that allows both sides to really do what they do best, which is to provide care for people that need it. Together, we will hopefully be able to make a major impact on health outcomes."
OSU-COM has also already partnered with a nearby institution, Connors State College, so that Connors nursing students will have the opportunity to complete training at OSU's unique facility.
When it comes to recruiting students for this innovative institution, Bray says a critical component will be engaging with Indigenous youth early in their educational journeys. "We're trying to inspire [students] at a younger age to understand that there are opportunities out there, but it's a process. You don't wake up one day and think, 'I'll go to medical school tomorrow,'" Bray explains.
Thus far, OSU's recruitment initiatives, especially those for Indigenous students, have played a key role in bringing potential applicants to OSU-COM. While the college is only in its second year, it has already been successful in cultivating a sizable Indigenous student population. The inaugural Class of 2024 is 22 percent Native American, and the Class of 2025 is 25 percent Native American. Each cohort has 54 students; once fully operational, the school will enroll up to 200 future physicians. 
As with the TMT, the medical college emphasizes culture-centric care to train providers who have "the information, knowledge, skills, and attitudes to take care of populations who are underrepresented, underserved, and have limited access to health care," says Bray. OSU-COM offers an introductory Cherokee language course and is in the process of creating a special library collection of books written by and about Oklahoma's tribes. Other plans include working with the Cherokee Nation to add a pediatric residency program.
"It's really important to train [students] within the community so they want to stay there and then transition them into their residencies," Bray says. "We know that most physicians will practice within 100 miles of where they complete their residency training, so giving them the opportunity to complete the entire scope of their training within a cultural environment is how we're going to get physicians to stay long term and serve these populations."●
Lisa O'Malley is the assistant editor for INSIGHT Into Diversity. The OSU Center for Health Sciences is a 2021 recipient of the INSIGHT Into Diversity Health Professions Higher Education Excellence in Diversity (HEED) Award.
This article was published in our December 2021 issue.