Research has long shown that oral health care is integral to overall health and well-being, yet millions of people who need dental care continue to go without treatment. To tackle this issue, New York University (NYU) College of Dentistry launched the Center for Oral Health Policy and Management in January 2021. The center aims to prepare dental students to become future leaders who can guide their industry in eliminating barriers to care, such as financial limitations, lack of insurance, and lack of oral health care literacy. The center will also collect data and evidence that will be used to provide policy recommendations on improving essential dental care access. 
Leading the program is Richard Valachovic, DMD, a visiting scholar at the college and former president and CEO of the American Dental Education Association.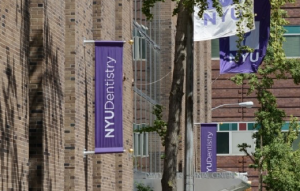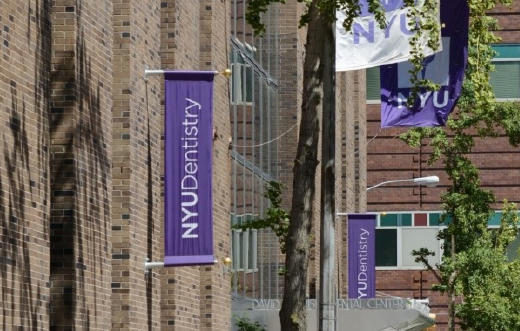 The center plans to adopt a holistic approach, which Valachovic says will address the entire patient experience. Instead of merely attending to a singular issue, its dentists will examine how individuals' oral health is connected to their overall well-being.
This approach will be accomplished by taking into consideration the social determinants of health — such as income, education level, and access to nutritious food — that disproportionately affect racially and ethnically diverse populations. The effects of these determinants on dental health are well-documented; Black and Hispanic Americans, for example, are nearly twice as likely as White Americans to have untreated cavities, according to the U.S. Centers for Disease Control and Prevention. 
Studying the impact of oral health care disparities is especially relevant in a location like New York City, where the U.S. Bureau of Labor Statistics reports that 67 percent of residents are people of color. The center plans to use this holistic approach when examining the large amount of data that the college collects about patients at its multiple dental clinics across the city. The data — which does not include confidential, HIPAA-protected information — touches on specifics such as where patients come from, what family units look like, insurance access, and more. Because the city is composed of a large population of immigrants, the dental college also records information about patients' countries of origin and the oral care they received there.
This data will become the framework for one of the center's key projects, the Health Services Research Database. It is the university's hope that this database will serve as a fundamental resource for researchers and policymakers to propose wide-ranging solutions for improving dental care, and thereby overall health, for some of the nation's most underserved patient populations. One option that might be supported by the database's findings could be extending Medicaid to cover oral health care in more states, says Valachovic.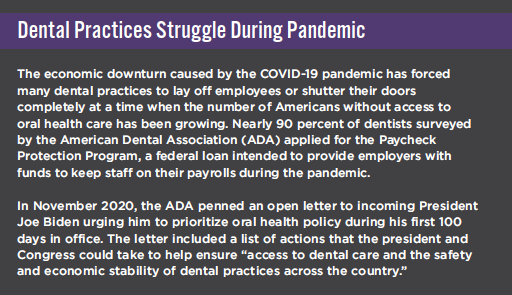 On a more local level, the database will be used to improve the quality of care at NYU's dental clinics by tracking feedback on how patients feel they were treated, both medically and socially, to ensure optimal service in the future. It will also aggregate how patients finance dental appointments and procedures to determine ways that the university's clinics can provide high-quality care regardless of economic circumstances.
Valachovic says there are plans to extend the dental school's efforts to recruit those from traditionally disadvantaged backgrounds to learn and work at the new center. Just as with other forms of health care, ensuring that future dentists reflect the diversity of the patients they serve is critical, he says.
"We're hoping that as we grow the center, participants at all levels — including students, faculty, staff, and patients — will reflect the diversity of the community that is New York City," Valachovic states.
Developing Future Leaders
Another key mission for the center is the development of future leaders who can guide the industry in adopting its holistic approach to patient care and public health policy. In the fall, the center will launch its Student Leadership Institute, which Valachovic says is designed to educate approximately 35 students using a character-based approach to leadership. The goal is for participants to be prepared for careers at the helm of dental practice and policy. These could include deans and department chairs of dental schools, staff leaders at clinics and hospitals, or even decision makers in government, he says.  
The institute will include practical experiences designed to develop leadership competencies as well as a network of advisers to help direct curriculum and provide informal support for participants. To provide students with self-understanding, formal assessments will be used to determine data-driven strategies for personal change and improvement. Furthermore, the institute will highlight the importance of self-reflection and offer methods for cultivating a commitment to lifelong learning.
This willingness to consistently reflect and adapt is essential for confronting the challenges and uncertainties of the dental industry, or health care in general. While a pandemic is the most noteworthy example of a challenge for the profession in current times, Valachovic says leaders must also be prepared to handle changes in technology, health care financing, and the diversification of the U.S. population as a whole.  
"[We're] ensuring that these students, when they graduate, are ready for whatever long-term changes, short-term changes, or crises may occur during their careers."
Lisa O'Malley is the assistant editor of  INSIGHT Into Diversity.