As with many health professions, the field of dietetics and nutrition has long suffered from a lack of diversity. As of 2020, only 16 percent of professionals in this discipline identified as non-White, according to a Commission on Dietetic Registration (CDR) survey; Black Americans are especially underrepresented, making up only 3 percent of the dietitian workforce. 
Improving these statistics is crucial to overcoming health disparities for communities of color and underserved populations, according to Diversify Dietetics (DD), a nonprofit dedicated to helping underrepresented students pursue careers in this field. This group and other advocates posit that better representation in this discipline will lead to lower rates of diet-related illnesses such as diabetes and heart disease for marginalized populations.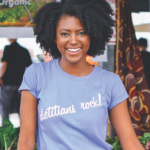 Deanna Belleny, co-founder of DD and assistant director of health systems transformation at the Harvard Medical School Center for Primary Care, explained in a March 2021 article for the center's blog that "a lack of diversity within the field of dietetics has unique implications." Nutrition education and research in the U.S. have traditionally focused only on the dominant culture, overlooking differences in important factors such as access and heritage for non-White groups. Belleny writes that "healthy eating often excludes many cultures. Eurocentric diets are often pointed to as the gold standard, while foods and diets from non-dominant cultures are not taught, not highlighted in mainstream media, and not studied at the same rate."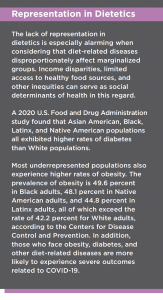 DD focuses on several factors that serve as barriers to nutrition education programs for underrepresented and disadvantaged students, including cost, cultural competency, and faculty diversity. To address these issues, the organization — which was founded only three years ago — has already implemented a student mentorship program, webinars and workshops, educator resources, and more. As of August 2021, approximately 200 students across the U.S. were participating in at least one
of the programs.
The path to becoming a licensed dietitian or nutritionist can be intensive and costly. Currently, registered dietitians (RDs) must hold a bachelor's degree in dietetics, but by 2024, the CDR will require a graduate degree in dietetics. Furthermore, dietitians in training must complete 1,200 hours of supervised practice as part of an internship, which is generally unpaid. Tamara Melton, a co-founder of DD and former clinical instructor at Georgia State University, stated in a recent interview with Health Magazine that the rising cost of higher education and the prospect of completing a lengthy internship — ranging from eight to 24 months — without compensation makes the dietetics career path unattainable for many economically disadvantaged and underrepresented students.
DD helps students plan for these expenses as well as find scholarships and paid internship opportunities. The organization offers free assistance with completing the arduous task of applying for internships and, in the near future, plans to launch an internship preparation program as well as scholarships. It also recruits and matches students with professional mentors, many of them dietitians of color, to provide support.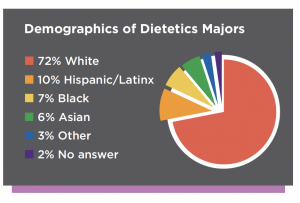 In addition, the organization targets working RDs and academics by organizing workshops and webinars that teach cultural competency, support strategies for students and interns of color, and techniques for recruiting underrepresented students. One recruitment method promoted by DD, for example, is the use of diverse alumni as resources to increase student representation. 
The efforts of DD and other advocates may be working, as the field is already seeing progress. Recent data collected by the CDR found that 22 percent of current dietetics students identify as belonging to an underrepresented racial or ethnic group. Still, health equity experts say there is a continuous need for more robust recruitment and support efforts to attract diverse populations to these degree programs. As Belleny explains in an article titled "The Unique Implications of Diversifying Diversity," professionals in this field who eat foods similar to those of their patients or are aware of their patients' unique cultural diets will be better equipped to address their eating habits and be able to recommend culturally relevant health foods. As is the case in other areas of health care, people of color are less likely to seek services from predominantly White dietitians, she writes.
The rising cost of higher education and the prospect of completing a lengthy internship — ranging from eight to 24 months — without compensation makes the dietetics career path unattainable for many economically disadvantaged and underrepresented students.
Though DD's work is vital in raising awareness and supporting diverse students, advocates say that higher education institutions must take the initiative and implement policies that increase representation within the field. Attracting, retaining, and supporting diverse students and faculty are key factors in reducing and eliminating diet-related health disparities in underserved communities.●
Erik Cliburn is a senior staff writer for INSIGHT Into Diversity. For more information on recruiting and supporting dietetics students, visit diversifydietetics.org. 
This article was published in our December 2021 issue.