Students care about religious diversity. In fact, 85 percent say it's important for their campuses to provide a welcoming environment for individuals of diverse religious and nonreligious groups, according to a recent survey of more than 20,000 American students by the nonprofit group Interfaith Youth Core. 
A majority of those surveyed also reported that it was important or very important to have opportunities to get to know students of diverse religious and nonreligious perspectives and to participate in community service with them. 
[Above: A speaker at an event for the Clark University Muslim Student Association (Photo courtesy Clark University MSA)]
But students' good intentions don't always translate into action. Only 50 percent of those surveyed had worked with people of other religious and nonreligious perspectives on a service project and just 19 percent had participated in interfaith dialogue. Some also saw certain worldviews in a more negative light than others. Only 43 percent of students reported holding highly appreciative attitudes toward Muslims, for instance.
Muslim Student Associations (MSAs) on university campuses across the United States hope to change that dynamic. MSAs work to promote education about Islam and inclusion for Muslim students with a focus on public service. As instances of Islamophobia continue to surface around the world, MSA efforts become increasingly important.
"These groups are necessary to celebrate the individuality that different people and different groups bring to the table, especially with the most recent increases of hate crimes at the national and international level," says Reem Subei, board member at Islamic Networks Group (ING) Midwest.
The Council on American-Islamic Relations reports that hate crimes against Muslims rose by 15 percent from 2016 to 2017. Advocates for Muslim awareness attribute this increase to the election of President Donald Trump and the attempted implementation of his anti-immigration policies that sought to ban travelers from predominantly Muslim countries. But the marginalization of Muslims in America has always been there, Subei says.
Western Michigan University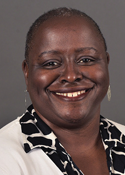 Candy S. McCorkle, vice president of diversity and inclusion at Western Michigan University (WMU), says culturally focused student groups such as her institution's Muslim Student Association (MSA) help educate people on campus and in surrounding communities about different religions.
"Although our world is shrinking in regard to how much we are integrated with one another as a result of technology," she says, "we are still ignorant of cultures in which we do not hold membership."
Talal Arshad, president of the WMU MSA, says his organization breaks barriers and eradicates stereotypes. These efforts make the campus a friendlier environment for everyone.
The organization isn't just for Muslims, Arshad says. While the MSA is strongly connected to Islam, people of any background who are interested in learning something new, meeting people, or helping those in need are welcome to join. McCorkle says education is also key to awareness.
"The Muslim Student Association, as well as other culturally focused student groups, are important because they often serve as a mechanism to educate the campus and surrounding communities about the Islamic faith and Muslim people," McCorkle says. "The [organization] can provide a connection between students and the Muslim community in the area so that the students have social and spiritual support."
The group's overall mission includes the following principles: Facilitate tolerance and understanding by maintaining relationships between Muslims and non-Muslims, promote discussion through programming and special events, enhance education of students and prepare them to live in a globalized world, and serve as a spiritual beacon for Muslim students.
"It's important for Muslim students to feel and know that they have a place to go, where they can express the concerns they have and connect and engage with others like them who will come to their support when they are facing problems," Subei says.
To build this sense of belonging, the MSA hosts a number of different activities ranging from community volunteering to informational speakers to religious events such as a Ramadan Iftar, the meal eaten after sunset during Ramadan fasting. Another recent event included a discussion about stereotypes surrounding Muslim women.
McCorkle says she recently visited the Kalamazoo Islamic Center to hear an Imam speak about the history of Islam and the Qur'an. Attendees observed a prayer service and learned how to do the foot and hand washing required before prayer service. Experiences such as these provide a cultural education students and other community members might miss out on.
The WMU association also makes it easier to advocate for the rights of Muslim students, Arshad says. Because of his concern about food options available on campus for Muslims, he asked the university to include more halal dishes in campus dining areas. The MSA supported his idea and the university made the changes. 
For students considering starting similar organizations on other campuses, Arshad says it's important to ask for help. "Do not worry about the population, the number of people that support you, or the criticism that you encounter," he says. "Just stick to the path to accomplish your goal. … Ask the faculty and staff at your university, reach out to MSAs of other universities. You would not know how much others are willing to help you until you ask for help."
Clark University
For Anushka Harlalka, being a member of Clark University's MSA is about allyship. She sees a lot of racial diversity and inclusion work being done on campus, but not as much around religion. "Our purpose as an MSA," Harlalka says, "is to provide a voice for students of Muslim identity and as an organization that helps make Clark a place inclusive to Muslim students."
Because she doesn't identify as Muslim, Harlalka sees facilitation as her role in the MSA. "I cannot decide what is best for the needs of the Muslim community at Clark," she says, "so I chose to focus on the logistics of how to fulfill those needs." 
During Harlalka's time with the MSA, the organization has advocated for an interfaith prayer room and halal burgers in the cafeteria. Harlalka says she hopes the club will continue pushing so "Muslim students on campus are able to practice their faith as easily as any other student on campus." 
For institutions to truly be inclusive of Muslim students, they must first have a basic understanding of the Islamic faith, Subei says. Her organization, ING, gives presentations to help schools such as Clark understand how they can better address the needs of Muslim students.
"A lack of knowledge, sometimes willful and sometimes unintentional, leads to an oversight as to the rights of those students," Subei says. "Merely knowing about others and feeling that others know about you, who you are, and what you stand for provides a sense of belonging to those students and reminds them they can, in fact, practice their religion freely as protected by the law."
There's also a social aspect to Clark's MSA. Members gather for events such as the annual Eid al-Adha dinner, jeopardy, and dialogue sessions. The group provides an important supportive, safe space for Muslim students and their allies, Harlalka says.
After the 2016 presidential election, many Clark University students were shaken, Harlalka says. The MSA president spent their meeting time checking in with members. "I remember her telling us to breathe and asking what we needed. We had a debrief that day about the election, what that meant for us, and what that meant for Clark University students as a whole. I remember that meeting as somber and a place for all of us to lean on each other."
Harlalka says being a member of the MSA has helped her grow. "It has taught me how to advocate for Muslim-identifying students to make their voices heard when and if their needs aren't being met," Harlalka says. "It has taught me how to 'take space' and 'make space' in a club where that identity is not my own."
MSAs and allies are all the more important on college campuses where new enrollees who have just left home are already at risk of feeling alienated or marginalized, Subei says. If Muslim students feel supported and included, they will go on to succeed socially and academically.
"Walking into that college and finding a welcoming environment," Subei says, "enables them to grow and develop in all areas, not just in their spiritual lives. When they have a sense of camaraderie with other students, they can feel more relaxed and comfortable."
Another main purpose of MSAs, including those at Clark and WMU, is to provide education to non-Muslims and Muslims alike about differing cultural groups.
"You need to meet someone who is different from you in order to recognize that it is important to learn about that group," Subei says. "If you cannot bring in a diverse group of people in the process of our education, then everyone's education is stalled and stagnated."
Alice Pettway is a contributing writer for INSIGHT Into Diversity. Western Michigan University is a 2013-2018 HEED Award recipient. Clark University is a 2018 HEED Award recipient. This article ran in the June 2019 issue.