Over the course of the tumultuous events of the past year, when many Americans could find little to agree on and few sources of hope or inspiration, one thing remained consistent: the nation's admiration and gratitude for its health care workers in the face of a devastating pandemic. 
Evidence has already shown that the constant media coverage of medical professionals combating COVID-19 has inspired more students to pursue careers in this field. Experts have dubbed this increased interest the "Fauci Effect," due to Dr. Anthony Fauci's powerful influence, as well as simply the "Pandemic Effect." Applications for nursing, public health, and other health degree programs are on the rise. At medical schools, applications have increased by 18 percent compared with pre-pandemic levels, according to the Association of American Medical Colleges (AAMC).
That increase includes a significant growth in diverse applicants. While demographic data is still being collected for the current application cycle, it is estimated that the number of underrepresented medical school applicants has increased by as much as 10 percent, says Norma Poll-Hunter, PhD, senior director of Workforce Diversity at AAMC. This can likely be attributed to the highlighting of significant health disparities among underserved communities during the pandemic as well as the national attention on racial injustice over the past year, she says.
"I think COVID-19 has increased people's awareness of how this is impacting everyone, but more so communities living in poverty and those who are underrepresented," Poll-Hunter says. The events of 2020, including the murder of George Floyd in May, served as a re-awakening regarding the relationship between racial injustice and health, she explains. 
Increased diversity among medical school applicants could eventually lead to a reduction in health disparities, as research shows that physicians from disadvantaged areas are likely to return to their own communities to practice and that patients of color have better health outcomes when treated by a doctor of similar identity or background as themselves. Such physicians can also serve as a voice for communities that have consistently had little representation in medical research, public health policy, and other areas that affect a population's overall well-being.
While this increased interest may seem like a blessing for a profession that suffers a severe lack of diversity and that is expected to have a shortage of 139,000 physicians by 2033, more medical school applicants does not necessarily equate to more doctors. Limited class sizes and a dearth of residency positions have been an ongoing problem for the profession. Solving these issues will take concerted efforts from medical degree programs, hospitals, and legislators and will ultimately come down to funding, experts say.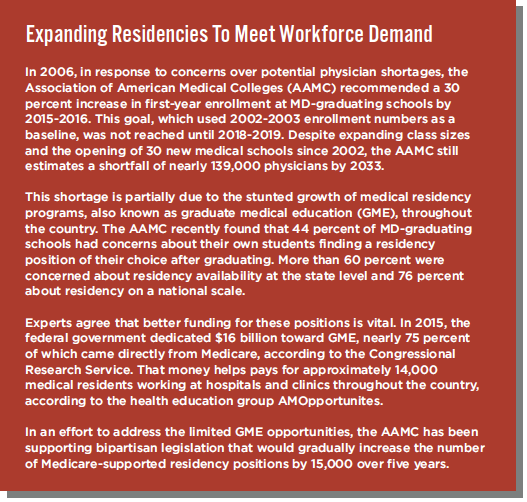 Now, while schools may have larger, more diverse candidate pools to choose from, the spike in interest means that a higher burden will be placed on admissions offices, and the application process will become even more competitive. Admissions staff have extended timelines and working hours to accommodate the rise, according to the AAMC. At Stanford University, medical school admissions staff have reported a 50 percent increase in their workload, NPR reported in December. 
Given such large and hyper-competitive applicant pools, medical schools must be more intentional than ever when it comes to assessing candidates from different backgrounds and socioeconomic identities in order to cultivate diversity. The Ohio State University College of Medicine (OSUCOM), which has seen a 14 percent rise in applications this year, employs an admissions process that assesses candidates beyond academic standing. The college breaks down applications into three equal sections: traditional grades and testing metrics, research capabilities, and experiences — both personal and medical. 
The program looks for students who display resilience and persistence, good communication, and leadership skills, explains Demicha D. Rankin, MD, the associate dean for admissions at OSUCOM. This approach is considered more equitable because it takes into account whether a student has been disadvantaged or has had access to the same level of education as more privileged students.
"We believe that there are some fundamentals that every student should have in terms of qualities and experiences as they decide to become a physician, and it extends to much more than just a perfect MCAT score or a perfect GPA," Rankin says. 
This approach to admissions, in addition to recruitment efforts, has led to a steady growth in diversity among OSUCOM students. Between the 2014-2015 to 2017-2018 academic years, underrepresented enrollment at the college increased from 11.1 percent to 16.4 percent, and enrollment among Black students jumped from 7.0 to 10.8 percent, according to AAMC data.
The University of California Davis School of Medicine (UCDSOM) has experienced one of the largest spikes in interest since the start of the pandemic, with an approximate 38 percent increase in candidates during the current application cycle — or 9,701 applicants for just 132 open spots. 
UCDSOM is also exceptionally diverse; its class of 2024 is 43 percent first generation students and 72 percent are from disadvantaged backgrounds. 
Diversity among 2021 applicants has also increased, with 19.4 percent of current candidates coming from underrepresented backgrounds compared with 15.5 percent in the previous year.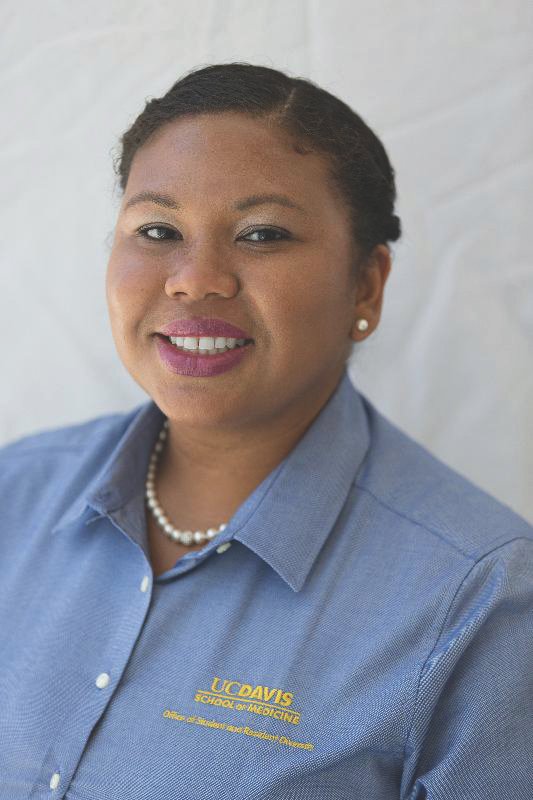 The bulk of medical school hopefuls, however, continue to come from White suburban backgrounds, according to Charlene Green, director of admissions and the Office of Student and Resident Diversity. 
Ensuring that the school remains equitable in its application review process, especially in light of the surge in interest, requires what Green refers to as socially accountable admissions. In a recent paper written by Green, UCDSOM's Dr. Mark C. Henderson, and George Washington University's Dr. Candice Chen, this method is described as going beyond holistic admissions to strategically use "socially-conscious criteria [that] may result in greater economic and racial-ethnic diversity among medical students." At UCDSOM, this approach includes diversifying admissions personnel, conducting multiple mini interviews with candidates, adopting a socioeconomic disadvantage score "that attaches value to lived experiences of economic or educational disadvantage," and more. The school's admissions mission statement pledges to develop future physicians who will address diverse health care workforce needs.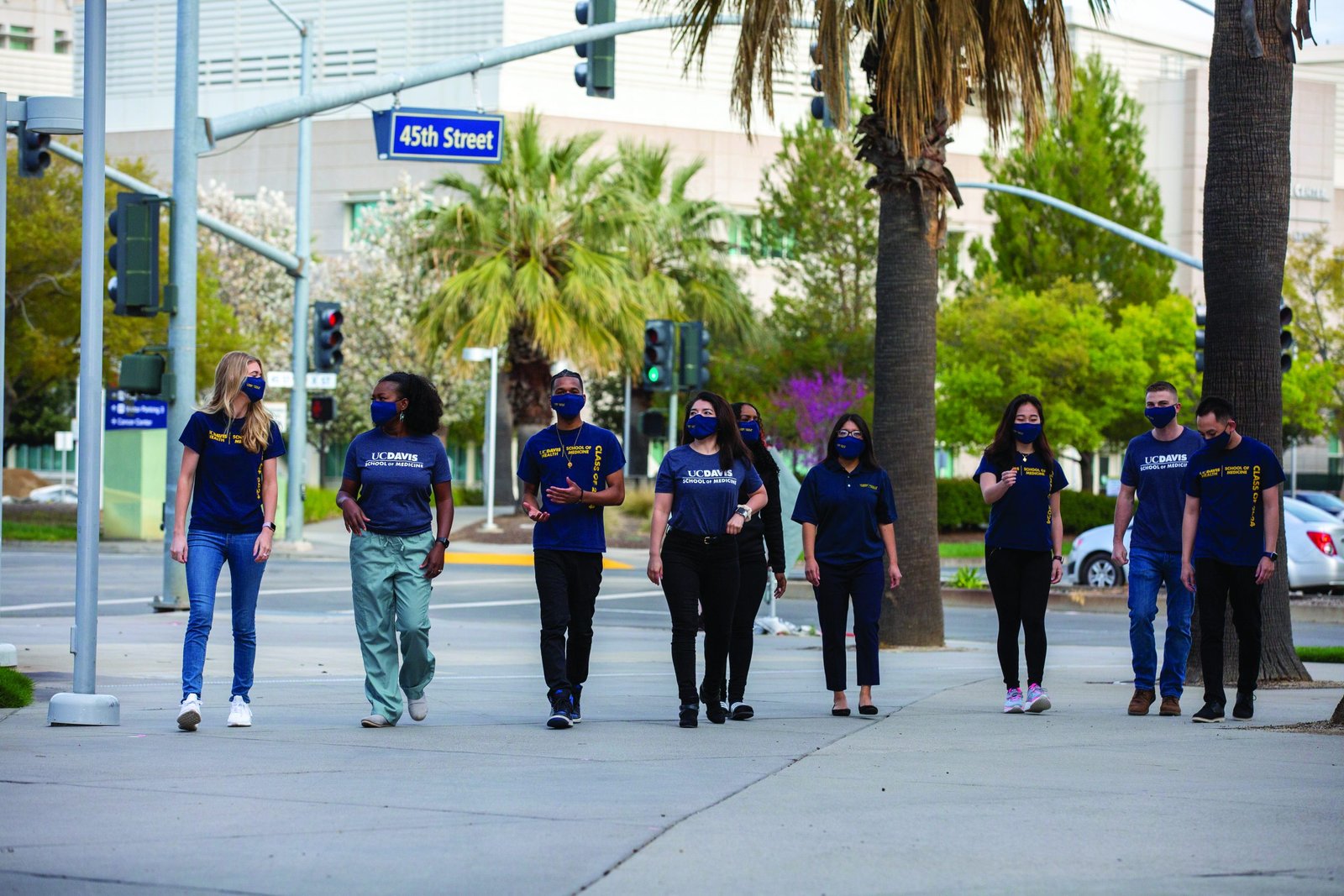 "There are lots of people who went to this really prestigious school and they also have a 4.0 [GPA], but do they have the other stuff we're looking for?" Green says. "Being a physician is more than just doing really well academically."
Henderson, who serves as an associate professor as well as the associate dean for admissions, and Green both say that the application review process will undoubtedly be strained by the surge in candidates. While the college has worked to grow its class sizes over the course of the last decade — it offered just 96 spots in 2010 — the number of candidates continues to swell. Even before the pandemic, in its 2020 application cycle, UCDSOM had 7,023 applicants for just 127 spots. 
"It's hard when you have such a narrow funnel," Henderson explains. "We do the best we can, but I do worry that we will not be able to spend as much time or as much effort on each individual application."
Rankin, who notes that some of the increase in COVID-era applications is likely from students who had previously applied to and been rejected from medical school, agrees that the solution is much more challenging than simply lifting enrollment caps. Perhaps most importantly, the quality of physician education must not be sacrificed in the name of quantity, she says. 
"I would like to see [enrollment] increase, but it has to be thoughtful," says Rankin. "We have to be thoughtful in the cost, we have to be thoughtful in the student experience, and we have to be thoughtful in how we educate our students because that takes time, and it's not something that can be rushed."
Erik Cliburn is a senior staff writer and Mariah Bohanon is the senior editor of INSIGHT Into Diversity. The Ohio State University College of Medicine is a 2017-2020 recipient of the INSIGHT Into Diversity Health Professions Higher Education Excellent (HEED)in Diversity Award.