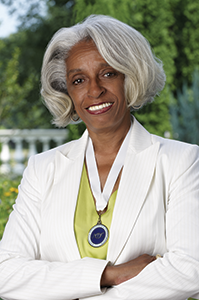 Barbara Ross-Lee, DO, became the first female Black dean of a medical school when she was appointed to the role at Ohio University's College of Osteopathic Medicine in 1993. Later in her career, she served as dean of the College of Osteopathic Medicine at the New York Institute of Technology.  During her time there, Ross-Lee "reformulated the entire course of study, and drafted a women's curriculum, earning a reputation as a 'change agent,'" according to the U.S. National Library of Medicine.
The older sister of entertainer Diana Ross, Ross-Lee originally wanted to pursue a career in show business. Instead, she studied biology and chemistry at Wayne State University (WSU) in Detroit. After graduating, she had a brief stint as a teacher, serving as a member of the National Teacher Corps in the Detroit Public Schools, and later went on to earn her master of arts at WSU. 
In 1969, Ross-Lee earned her medical degree from Michigan State University's (MSU) College of Osteopathic Medicine. Upon graduating, she opened a family practice in Detroit. In 1983, she joined the United States Navy Reserves as a physician and became a professor in the Department of Family Practice at MSU, thus launching her career in academic medicine.
Source: thehistorymakers.org