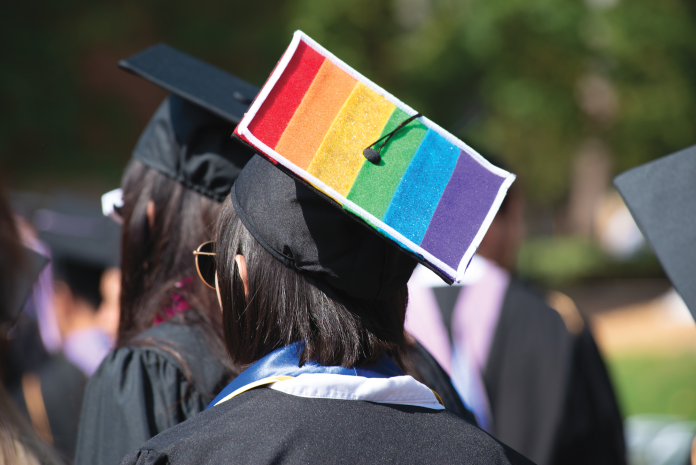 Despite the progress that has been made to protect LGBTQ+ rights in higher education, many religious colleges and universities still have policies in place that restrict students and employees from expressing their sexual orientation or gender identity. In the face of such discrimination, a growing number of LGBTQ+ students and allies have begun taking a stand to demand that these institutions are held to the same standards as nonreligious colleges when it comes to guaranteeing equal rights. 
One of the most significant efforts to date is a class action lawsuit against the U.S. Department of Education filed by the Religious Exemption Accountability Project (REAP) on behalf of 46 current and former LGBTQ+ students at more than 20 Christian colleges and universities. The suit, Elizabeth Hunter, et. al. v. U.S. Department of Education, argues that the government cannot make an exemption to Title IX — the law barring gender and sexual discrimination in education — for any institution receiving federal funds, regardless of religious status.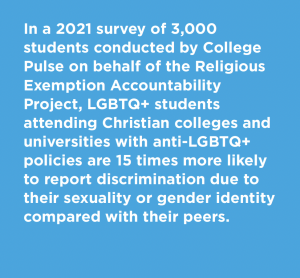 Plaintiffs in the case include students who have been expelled or faced other disciplinary action because of their LGBTQ+ identity and members of LGBTQ+ campus groups that have not been recognized as official organizations by their institutions. Other plaintiffs allege facing verbal harassment or other forms of discrimination from faculty, classmates, and campus leaders. Many filed Title IX complaints that were dismissed by the Education Department because of its exemptions for religious schools. 
"REAP's lawsuit asserts the constitutional and basic human rights of LGBTQ+ students, seeking to end the sexual, physical, and psychological abuses perpetrated under the religious exemption to Title IX at thousands of federally funded schools, colleges, and universities across America," REAP's website states. "The Constitution guarantees equal rights for all Americans, holding space for religious belief and practice, while ensuring that religion does not serve as a government-funded vehicle to harm racial, ethnic, gender, sexual, religious, or other minorities."
Filed in March 2021 with 33 plaintiffs, the suit has expanded and gained national attention while awaiting a judge's decision over the past 16 months. Paul Southwick, director of REAP, recently told the news agency Baptist News Global that the case has faced delays due to the courts being backlogged during the pandemic, but a ruling on preliminary issues could come in the next several weeks or months. The organization appears optimistic, especially since the Biden administration has decided to launch investigations into six of the schools named in the suit, including Liberty University — one of the nation's most prominent evangelical institutions. 
Meanwhile, students and employees at Seattle Pacific University (SPU), which is affiliated with the Free Methodist Church, have made national headlines for their continuous efforts to guarantee equitable employment. Campus community members have taken multiple steps to protest SPU's Employee Lifestyle Expectations Policy, which prohibits "sexual behavior that is inconsistent with the university's understanding of biblical standards, including cohabitation, extramarital sexual activity, and same-sex sexual activity."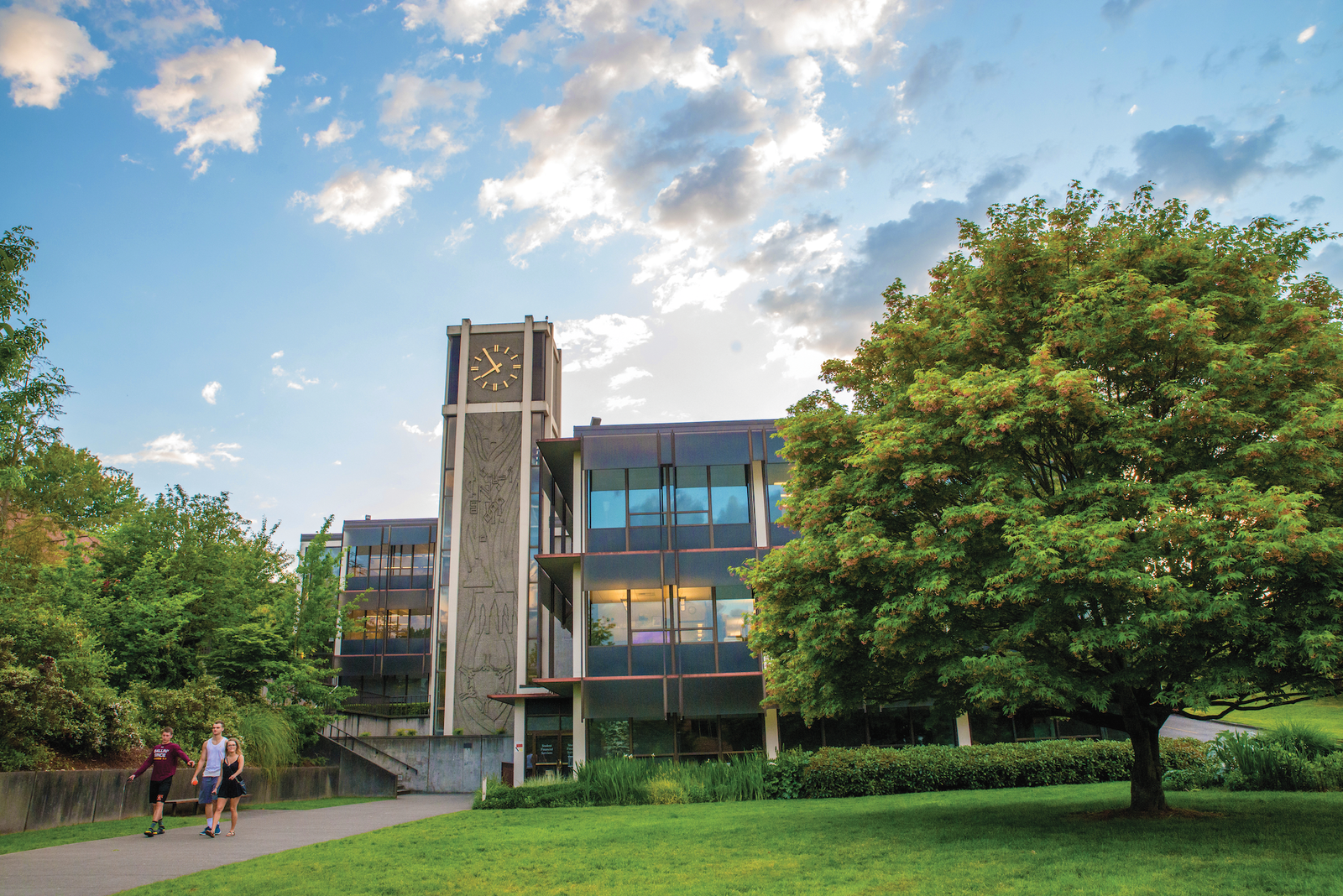 In April 2021, 72 percent of SPU faculty approved a vote of no confidence in the university's Board of Trustees after its members declined to change the policy. In response, a campus work group was formed to study the school's approach to sexual orientation and gender identity. Despite the group's recommendations for changes this spring, the board once again voted against revising the Lifestyles Expectations Policy in late May. 
"While the board has landed on a decision that reflects a prayerful and sincere commitment to the wellbeing of SPU's identity as an orthodox, evangelical, Wesleyan, and ecumenical institution of faith and learning, there is also sober acknowledgement of how this news will be received," SPU said in a statement. "The board acknowledges that there is disagreement among faithful Christians on the topic of sexuality and identity."
Approximately 200 students and faculty members participated in a walkout following the board's announcement, and students organized a campus sit-in that lasted the entire month of June. Multiple graduating seniors expressed their disdain for the policy by handing interim President Pete Mejares a Pride flag during their commencement ceremony, rather than shaking his hand. 
"The reality is that the culture at SPU is loving and accepting, and it looks like [the sit-in protest in June]," one student told Fox 13 Seattle, "but the problem is that there are a few members of the board who hold all the power to do something."
The student protesters gave the board until July 1 to reverse its decision. When that date passed with no action from the trustees, they called an end to the sit-in and announced that they would be filing a lawsuit. "The board has elected to refuse our demands, meaning we will be moving forward with litigation. This is not a decision that we take lightly, but it is a decision we believe will protect the future of our university," the Associated Students of Seattle Pacific said in a statement.
Their actions appear to have garnered the attention of government authorities, as Washington State Attorney General Bob Ferguson recently announced an investigation into SPU's employment practices. "Seattle Pacific University admits that it refuses to hire gay faculty and staff," Ferguson said in a statement. On July 28, the university filed a lawsuit against Ferguson's office, alleging that the investigation violates its "freedom to choose employees on the basis of religion, free from government interference or intimidation," according to an SPU press release. 
Now, with so many legal decisions hanging in the balance, LGBTQ+ students, employees, and allies across the U.S. are left with uncertainty regarding their future at religious institutions. While multiple Christian colleges have instituted policies that affirm the rights of this population, advocates say that true equality must be guaranteed under the law. 
"Religious exemptions to civil rights statutes come at a price," REAP states. "The price is paid by the young and vulnerable who find themselves at the mercy of religiously affiliated, taxpayer-funded social service and educational institutions that often turn them away or force them into the closet."●
Greg Evans is a contributing writer and Mariah Bohanon is the managing editor of INSIGHT Into Diversity.
This article was published in our September 2022 issue.