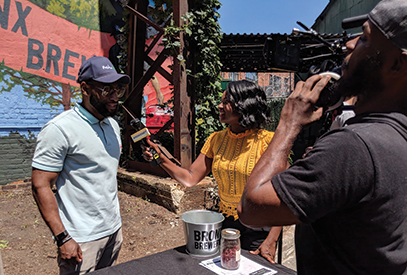 A study of Chicago's media landscape shows people of color in more demographically diverse neighborhoods feel journalists are not doing a good job of covering their communities. Residents of the city's west and south were more likely to agree that stories in their neighborhoods are too negative or that there isn't enough coverage, according to the study by the University of Texas at Austin (UT Austin).
But those same respondents were also some of the most interested in donating to, volunteering for, or otherwise becoming involved in news organizations, researchers found.
[Above: Naomi Yane, a 2018 CUNY graduate, on assignment in the Bronx in New York City (Photo courtesy Craig Newmark Graduate School of Journalism at CUNY).]
Misrepresenting or underrepresenting diverse audiences is a missed opportunity for news outlets, not just in Chicago, especially as the business model shifts in favor of subscription- and donation-based revenue. But if journalism students are trained to cover diverse areas, they can help their organizations tap into new audiences and the potential for revelatory reporting.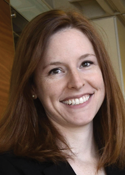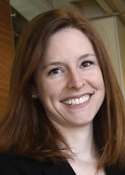 "The results clearly show how imperative it is for journalism students to be trained on how to cover news in different areas of a city and how to identify the need for coverage of different issues in different neighborhoods," says Natalie (Talia) Jomini Stroud, PhD, director of the Center for Media Engagement and associate professor of communication studies and journalism at UT Austin.
Journalism schools can engage the community by recruiting volunteer reporters or by establishing relationships in neighborhoods to better prepare students for effective local news coverage that is empathetic to the needs of diverse communities, says Damian Radcliffe, the Carolyn S. Chambers Professor in Journalism and a professor of practice at the University of Oregon.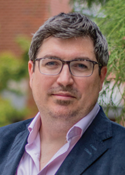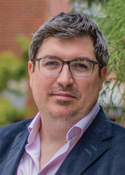 "We need to talk about how it is important to listen to our audience to provide stories that cover issues important to them because the news media business model is shifting from an advertiser-supported publication to a subscription-supported publication," he says. This shift means readers want local news media that include stories that some sources aren't covering. 
"Journalists must be able to go into communities, talk with people and establish relationships to build the trust that is needed to identify and develop meaningful local news stories," Radcliffe says.
Empathy in Journalism
As traditional print newspapers serving local areas change and shrink, journalism students will have to find new ways to listen to disenfranchised communities, says Carrie L. Brown, director of the journalism master's program at City University of New York (CUNY).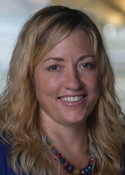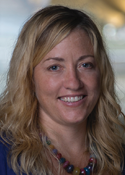 "The same core skills required for journalism are important, but we are flipping the script by teaching students that they no longer should be writing for peers or editors but should be looking at local residents for story ideas and sources to be able to write articles that meet their needs," Brown says.
Deliberate efforts to empathize with sources can help journalists better understand their audience, according to the American Press Institute (API). While reporters should be careful to not compromise journalistic integrity, they should spend "time and energy" on considering empathy while covering underserved or underrepresented communities, especially if people in those communities feel wronged.
The API outlines the following strategies for empathizing with sources:
● Do your research but admit you don't know everything. Ask people what you're missing.
● Be aware of the history and perspectives of the people you interview but don't make assumptions about their background.
● Take time to listen to people who feel they've been ignored, whether you believe their perspective is the truth or not.
● Be conscious of how writing a story about a marginalized community might affect them, positively or negatively.
● Be there for the good and the bad to build trust over time.
● Don't just follow up with sources for more stories but follow up with them to see how they're doing.
● Be empathetic but maintain boundaries to make sure sources know you're a journalist writing a story about them. Be clear about what story you want to tell from the get-go.
● Be willing to connect emotionally.— in person — to your sources.
● Focus on having a conversation rather than simply interviewing someone and asking questions.
To read more about empathy in journalism, visit americanpressinstitute.org/publications/reports/strategy-studies/empathetic-newsroom.
Providing Solutions
When journalists dive deep into a problem in an underserved community, the resulting investigative story will naturally draw interest. But investigative journalism alone isn't always helpful, Radcliffe says. Journalists can reach a diverse audience and also gain their trust by doing investigative reporting that focuses on providing solutions to problems in the community rather than just pointing them out.
This type of reporting, known as solutions journalism, "relies on listening to and engaging our audience," Radcliffe says. While traditional investigative journalism can leave a negative impression of a community, solutions journalism bridges the gap by providing stories that improve audiences' trust in media and inspire community leaders to solve problems.
The assignments Radcliffe gives students on this topic require interacting with residents and developing relationships for complex stories, he adds. Professors must be prepared to give their classes more time to complete assignments as well as additional mentoring and coaching.
Not only do journalism students learn how to investigate an issue in these assignments, but they learn to gain their audience's trust by providing "potential ways to respond" to their problems, according to the Solutions Journalism Network (SJN), an organization dedicated to helping journalists and journalism professors learn about the rigorous form of reporting.
● Solutions journalism is defined by the following characteristics:
● It focuses in-depth on a response to a social problem.
● It examines how the response works in meaningful detail.
● It focuses on effectiveness, not good intentions, and presenting available evidence of results.
● It provides not just inspiration, but insight others can use.
● It discusses what's not working about proposed solutions.
For more information about how to teach solutions journalism, visit the SJN's free learning lab at learninglab.solutionsjournalism.org.
Creating a Pipeline for Diverse Journalists

Diversifying newsrooms themselves is another way to reach new audiences. CUNY's graduate school of journalism actively recruits students of color, Brown says, to create a pipeline of diverse talent positioned to reach the upper ranks of newsroom staff.
The school works with the Ida B. Wells Society, which focuses on increasing the number of people of color seeking careers in journalism. Last year, they established an annual scholarship for a full ride in the journalism master's program. Each year, the scholarship will be awarded to a member of the Ida B. Wells Society for Investigative Reporting.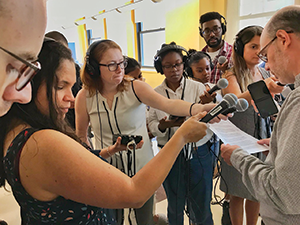 The university also hosts the Knight Foundation's Summer Internship Program, which welcomes a cohort of 20 aspiring journalists from historically Black colleges or universities, Hispanic-serving institutions, or associations for underrepresented journalists. In addition to obtaining internships and networking opportunities at news outlets, CUNY instructors provide digital media training to participants in the program.
As journalism schools evaluate changes in the industry and identify new skills that students must develop, Brown says innovative approaches are necessary. "It is hard to change curriculum, but we can add courses, additional programs and new ways to train students on how to cover a beat by engaging their audience without changing an entire curriculum."
Sheryl Jackson is a contributing writer for INSIGHT Into Diversity. This article ran in our May 2019 issue.