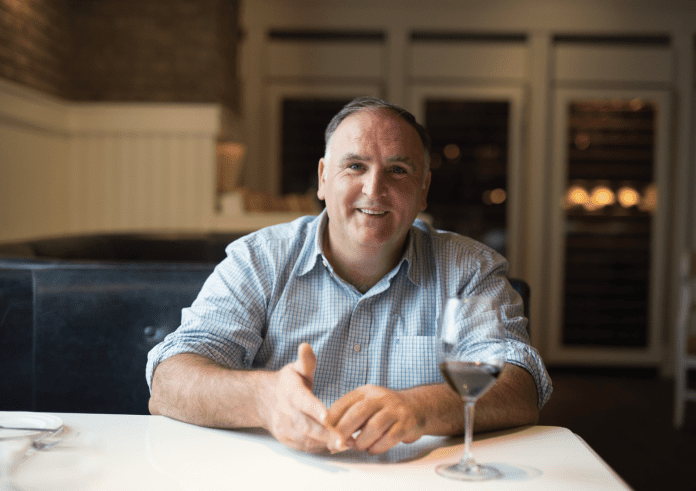 The celebrity chef and humanitarian speaks with INSIGHT about food equity, immigrant rights, and how college students can change the world.
While much of the U.S. has spent the majority of 2020 at home, José Andrés has spent the past year traveling far and wide to feed communities in need. As founder of the nonprofit World Central Kitchen (WCK), Andrés takes a "boots on the ground" approach to serving people facing food insecurity due to natural disasters and the economic impact of COVID-19. Being a world-renowned celebrity chef doesn't stop him from personally distributing food alongside the thousands of WCK volunteers who have helped serve more than 40 million fresh meals to people in need since the organization's founding in 2010. 
Recently, Andrés traveled to Lebanon to help WCK serve fresh, healthy meals to people affected by the August 4 explosion in Beirut before heading back to the U.S. to help feed Gulf Coast communities affected by Hurricane Laura. On September 1, he spoke with INSIGHT about his work to improve food equity worldwide and to inspire the next generation of Americans to follow their own passions in creating positive change.
When he's not visiting disaster zones, Andrés can be found educating college students about the relationship between food and social justice. Though he immigrated to the U.S. from Spain at the age of 21 without having earned a high school diploma, he has served as a classroom instructor and guest speaker at Harvard University, MIT, The George Washington University, and other leading institutions of higher education. His mission is to help students understand that "food is not something that exists in a vacuum," he says.
"Food very much touches everything in ways that we sometimes don't understand, and we can begin teaching young people about the power of food and how one day this knowledge can be applied to public policy, and this can influence the way that they make decisions about food and know that the way we feed America is at the heart of creating jobs, of urban development, of socioeconomic growth, of health and national security," Andrés says.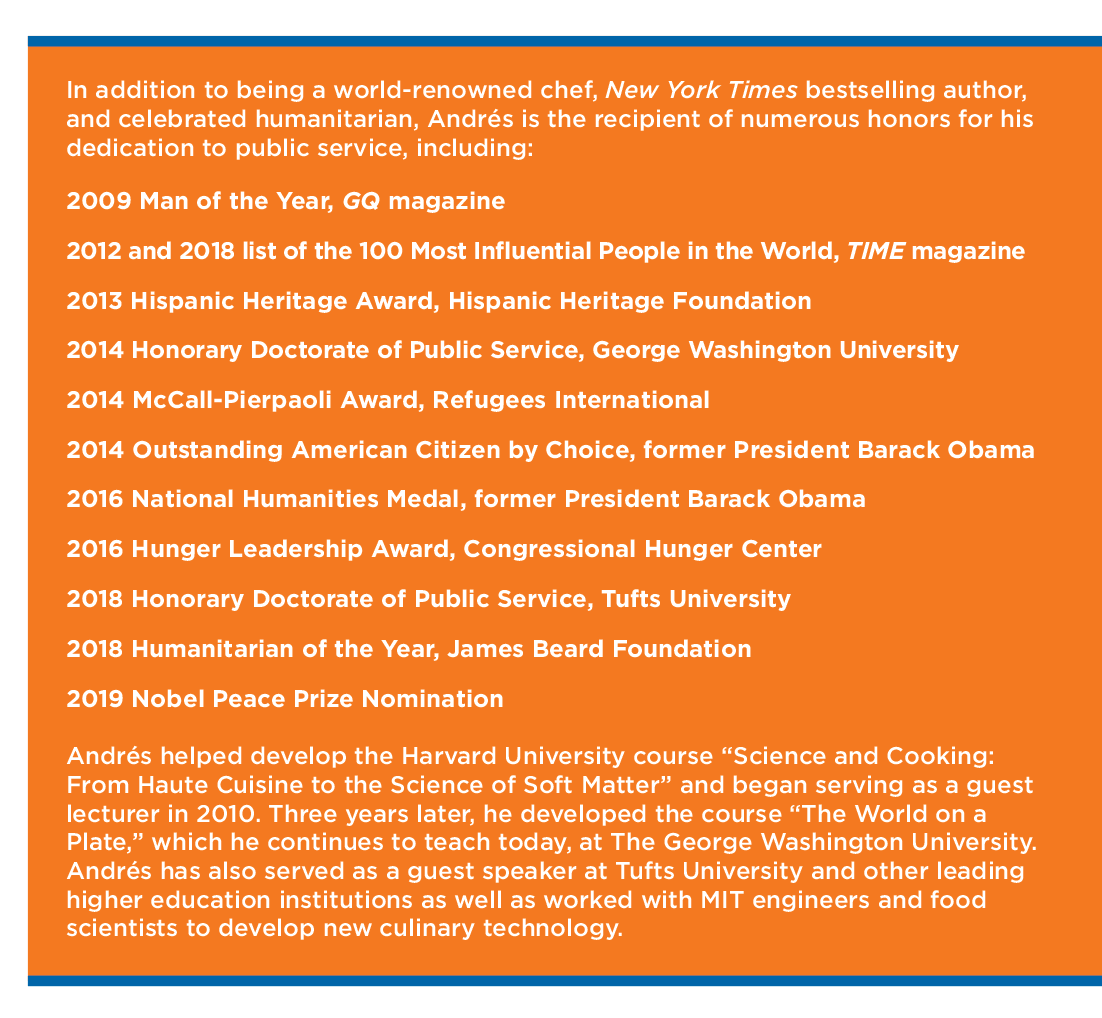 A prominent advocate for immigrant rights, one of Andrés' most crucial messages to students is about the importance of foreign farmworkers to America's food supply. He never shies away from sharing his ideas about how to create more equitable immigration policies, such as a revolving door visa system that would allow people from Latin American countries to enter the U.S. for seasonal farm work. 
Andrés has also gained public attention as a fierce critic of the Trump administration and its treatment of immigrants, including its multiple attempts to end the Deferred Action for Childhood Arrivals (DACA) program. The Obama-era program protects an estimated 600,000 to 800,000 young people from deportation, including more than 200,000 college students.
"Kicking them out is just not American, and it's just not logical [to spend] the billions of dollars it takes to get rid of nearly 1 million young people," Andrés says. "Giving them the chance to be citizens is what's smart to do. They deserve it and it's in the best interest to America." 
"They are as American as anyone," Andrés — who became a citizen in 2013 — adds. "They are already the force that is going to keep moving America forward." 
His belief in the power of young people to create a better, more equitable future for the U.S. is what motivated him to accept honorary doctorates from The George Washington University and Tufts University.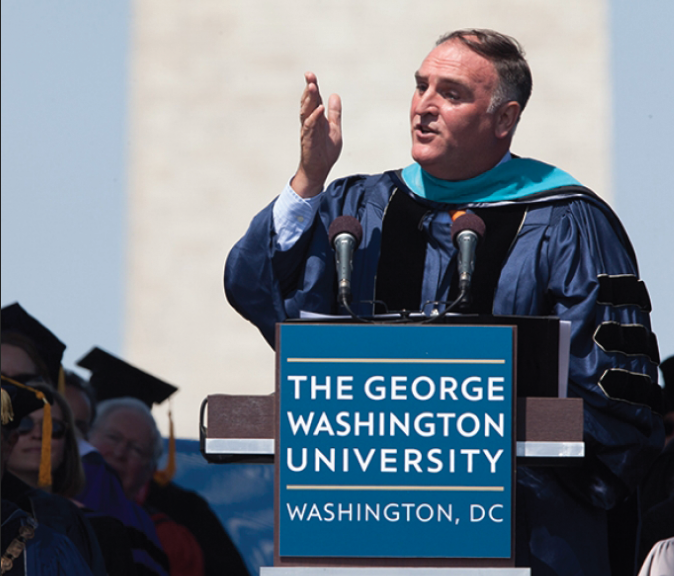 "For me, [receiving the degrees] is more about having the opportunity to give a speech to young people that are going to be the ones moving America forward," he explains. "When I gave the [commencement] speech at The George Washington University in front of [thousands of] people, that was a huge moment for me to send a message about what it means to be an immigrant and what it means to me for the new American dream."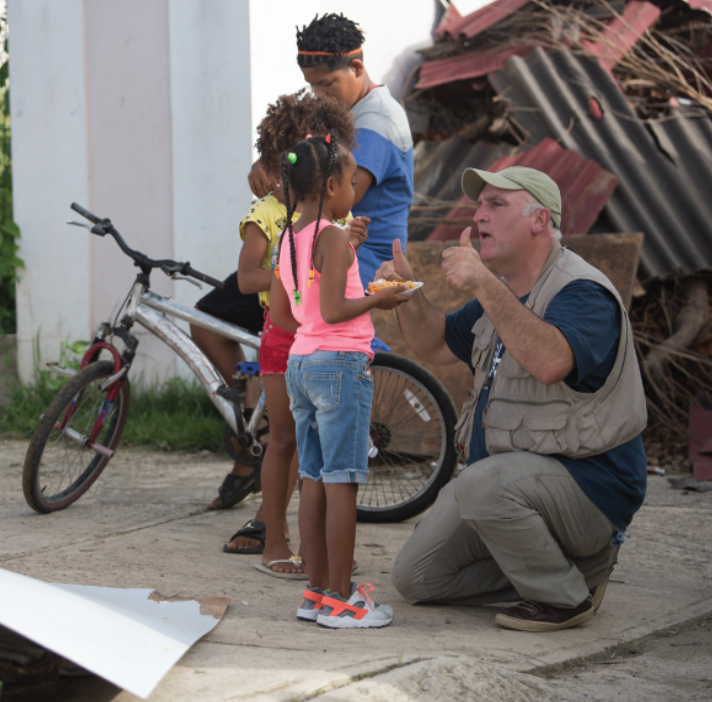 At Tufts University, where he delivered the commencement speech for the school of nutrition science, his message focused on his own experiences with WCK and the importance of "trying to be boots on the ground to solving the issues that people face around the world, especially in poor areas and poor countries," Andrés says. "I told them we need to be talking less and doing more by being on-site in the places where [help] is needed."
Recognizing where help is needed includes looking at college campuses. Part of Andrés' mission to fight food insecurity involves advocating for free, healthy school lunches for all K-12 students — a policy that colleges and universities should also undertake, he says.  
"Some universities have these big endowments but their students, these young men and women who are supposed to be the future, have to be struggling to pay fees, costs of living, books, and then not knowing how they're going to get by day to day — this is something I've seen myself firsthand," Andrés explains. Yet it's entirely possible for the U.S. to afford to invest in feeding these students, and doing so would have huge returns, he says. 
 "The future of our country is going to be made on how well you are preparing the workforce for years to come. The better you feed children and young men and women [who are] students, the better they will perform in school and when they join the workforce," he says. "We should be investing in solutions where every person all the way until they finish university are not left behind and everybody is fed."
Furthermore, buying food for students from local farmers and producers would have a positive chain effect on communities. Andrés is a major proponent of government investment in local agriculture to help provide accessible, fresh food to underserved communities, and eradicating food deserts is one of his primary social justice missions. 
"Everyone has to find their cause, everybody has something to contribute, and for me obviously food is a complex but easy place to focus," Andrés says. He wants students to know that there is always a way to use your passion to help others, regardless of your own hardships. "I believe the American dream is to do your part to fight for the betterment of the lives of other people."●
Mariah Bohanon is the senior editor of INSIGHT Into Diversity. Learn more about Andrés' work and World Central Kitchen at wck.org. This article was published in our October 2020 issue.