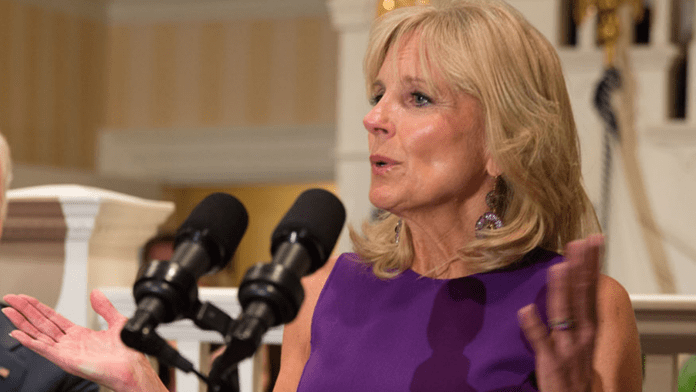 Jill Biden, the next first lady of the U.S., was criticized for using the title "Dr." in an opinion editorial published by The Wall Street Journal on Friday.
Biden received a doctorate in education from the University of Vermont in 2007.
In the article, writer Joseph Epstein referred to Biden as "kiddo" and asked her to drop the honorific as it "sounds and feels fraudulent" and "a touch comic" because she is not a doctor of medicine.
The op-ed quickly received backlash across social media with many calling it unfair and misogynistic. In a show of solidarity with the future first lady, women on Twitter have begun adding their credentials to their handles on the website.
Added back the 'Dr' to my name in #solidarity with @DrBiden & all the other non-MD doctors. @WSJ shot itself in the foot today by publishing a throwback opinion piece. It's 2020. Will keep my title up until Dr. Biden officially becomes #FLOTUS.

— Dr. Gail Johnson Morris (@LeaderLink) December 13, 2020
Biden also received support from notable political figures such as former first lady Michelle Obama, who praised her for "wearing her accomplishments with grace, good humor, and yes, pride" in an Instagram post.
Northwestern University, where Epstein was a former professor, took measures to distance itself from the writer in a statement released Saturday.
"While we firmly support academic freedom and freedom of expression, we do not agree with Mr. Epstein's opinion and believe the designation of doctor is well deserved by anyone who has earned a Ph.D., an Ed.D., an M.D. or any other doctoral degree," the school's statement said.
In the Journal's follow-up to the piece, Paul A. Gigot, the top editor for the opinion section, suggested the Biden team was drumming up negative press toward the article as a ploy to use "identity politics to send a message to critics as it prepares to take power."
Biden appeared to issue her own response to the editorial on Sunday.
"Together, we will build a world where the accomplishments of our daughters will be celebrated, rather than diminished," she tweeted.
For many women in academia, the op-ed's criticism echoed their own experience of having their qualifications questioned or minimized.
"As a woman who holds a Ph.D., I was seething before I finished his first paragraph. But I wasn't surprised," Kara Alaimo, an associate professor of public relations at Hofstra University wrote in an opinion piece for CNN.
"It's commonplace for women with expertise in this country to be expected to deny it — which is exactly why it's so important that Dr. Biden use her 'Dr.' title in the White House, prominently and with pride."