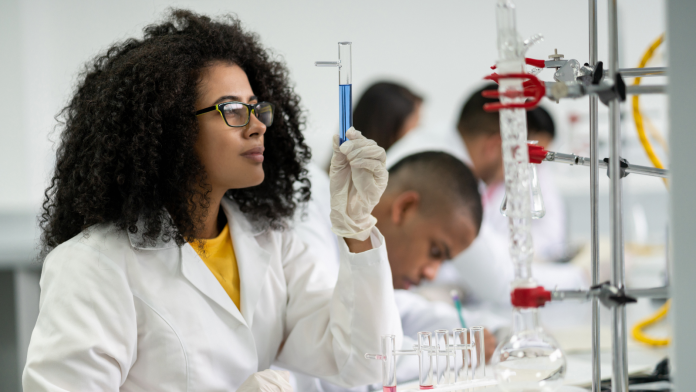 The likelihood of obtaining a college degree within the areas of science, technology, engineering, and mathematics (STEM) after receiving a low grade in just one introductory course is disproportionately lower for underrepresented female students compared to White male students, causing a diversity gap and talent loss in such fields.
That finding comes from the study "Do Introductory Courses Disproportionately Drive Minoritized Students out of STEM Pathways?" published in August by researchers at Pennsylvania State University (Penn State), Williams College, and the Institute for the Quantitative Study of Inclusion, Diversity, and Equity.
The term "weed-out classes" carries a stressful weight for many undergraduates — and for good reason. Because these introductory classes are foundational and challenging, lower-achieving students often feel compelled to change their area of study, but some students are more likely to move on than others, according to the data. 
The study finds that a White male STEM student with average academic preparation who receives a grade C or better in all introductory courses has a 48 percent probability of obtaining a STEM degree. In contrast, the probability is 35 percent for an underrepresented female student with similar grades, and for Black women specifically, it falls to 28 percent. If either of these students receives lower than a C in one introductory STEM course — a D, F, or course withdrawal — the probability drops to 33 percent, 21 percent, and 15 percent, respectively. 
Despite controlling for three important predictors — high school preparation, interest, and first-semester performance — a 20-point gap exists in the probability of White men obtaining a STEM degree compared to Black women, says Nate Brown, PhD, professor of mathematics at Penn State and co-author of the study.
"This really just puts to rest the excuses that my colleagues love to throw out — that disparities in education are a K-12 problem, that once our students get to us there's really nothing we can do, we just teach," Brown says.
Female and underrepresented minority students are less successful in STEM education because they are penalized for personal attributes (race, ethnicity, and gender) which they have no control over, the study finds. Institutional structures, including the role of a teacher and the university, are to blame for this gap in representation. 
The culture of exclusivity within STEM is also to blame, Brown says. 
"What our work shows is that we're losing tons of talent. We're not losing students that aren't going to make it, we're losing students that are equally qualified, equally interested, equally successful in their first-year courses — we are driving them out," he says.
While the cause of the disproportionate weeding out of students can be attributed partly to the competitive nature of STEM courses, Brown points to teaching methods that lack inclusivity as a major cause for the gap in student success for underrepresented minority students. The study concludes that for decades efforts to address STEM disparities have focused on "fixing students" rather than the teaching structure, and it calls on the education system to work toward change — to expand diversity, equity, and inclusion within STEM courses, departments, institutions, university policies, and cultures. 
"Interventions like tutoring or mentoring have been around for a long time and certainly have a positive impact, but STEM faculty like me have no training in pedagogy and [it] seems clear that's a huge part of the problem," Brown says.
A barrier in STEM instructional transformation is the lack of pedagogical training and the lack of importance placed on teaching effectiveness, according to a 2017 study on STEM education reform in the International Journal of STEM Education, "Faculty Drivers and Barriers: Laying the Groundwork for Undergraduate STEM Education Reform in Academic Departments." 
While education faculty have training specifically in pedagogy, Brown says STEM faculty do not — although disciplined in research, they are not typically skilled in how to teach. 
"I would say the biggest thing that needs to go under the microscope to explain and reduce the disparities that we're seeing would be better teaching practices, better teacher training for STEM professionals, because that's not something that we get training in," Brown says. 
Simply having hard conversations about the issue can also create improvement, Brown says.
"Our STEM education is contributing to institutional sexism and racism, and just acknowledging that and owning it is the first step toward changing that," he says.●
Nikki Brahm is a senior staff writer for INSIGHT Into Diversity.
This article was published in our December 2022 issue.