STEM scholars from countries outside of the United States contribute enormously to research initiatives at American universities. They generate billions of dollars annually toward the U.S. economy.
They have an especially large impact in certain disciplines. Nearly 80 percent of full-time graduate students enrolled in American computer science and electrical engineering programs come from abroad, according to a 2017 report by the National Foundation for American Policy (NFAP).
In recent years, these individuals have come under intense scrutiny by President Donald Trump and his political allies.
The Trump administration touts the idea that international STEM students pose an economic and national security threat by stealing American jobs and engaging in espionage or intellectual property theft on behalf of their governments.
The administration's antagonistic stance toward both undergraduate and graduate students often impedes their ability to obtain short-term worker visas that could potentially lead to a green card.
One visa program under attack is the STEM Optional Practical Training (STEM OPT), which allows international STEM students on an F-1 visa to work at a U.S. company relevant to their field of study for up to three years.
The broader OPT program, open to international students in all academic areas, allows participants to work in the U.S. for up to a year.
Both programs are open to an unlimited number of applicants and help them eventually obtain H-1B visas so that they can live and work in the U.S. on a longer term basis, according to the NFAP.
These temporary visa programs create a path toward legal residency, says David Bier, an immigration policy analyst at the Cato Institute, a public policy think tank.
"Temporary programs are only necessary because there's no viable path to a green card," Bier explains. "Even if they are lucky enough to get an H-1B visa, Indian and Chinese nationals face long backlogs for permanent residency."
But the programs are under fire. In June of last year, Rep. Paul Gosar (R-Arizona) introduced federal legislation to end STEM OPT and also wrote Trump asking him to close it down via executive order, Bloomberg Law reported. Gosar says the programs hurt job prospects for American STEM workers. Trump also propagated this idea in executive orders such as "Commitment to the American Worker" in July 2018 and "Buy American, Hire American" in April 2017.
Economics professor Paul H. Rubin refers to this argument as "zero sum thinking." Believing there are a fixed number of U.S. jobs and hiring one person inevitably means an opportunity loss for someone else is "probably the source of most errors in economic understanding, such as a preference for tariffs or immigration restrictions," Rubin told the authors of the 2017 NFAP report. 
"The way the economy actually works," Bier says, "is that if a new worker enters the economy, they increase the demand for jobs elsewhere in the economy through their spending."
With regard to STEM in particular, demand for workers is so high that human resources executives are likely to hire both a native and an international applicant if they are qualified, the NFAP report states.
Despite the evidence that international students contribute to a healthy economy, those enrolled in both OPT and STEM OPT have encountered prolonged visa delays that have prevented them from starting and completing summer internships. The situation was distressing enough that leaders at Yale University decided to create a special fall course that would allow its students to complete their internships through Curricular Practical Training (CPT) employment instead of OPT.
Yang Song, an Australian born in China and studying computer science at Princeton University, was only able to start his internship with the New York City company Two Sigma because they worked out a special, private agreement. He was finally approved for STEM OPT on June 7, nearly four months after he submitted his application.  
When asked why he chose to attend college in America, Song said he wants to work at the intersection of technology and finance, and all the best opportunities are in the U.S. "When you think about Google, Facebook, Amazon, Microsoft — they're all American. There are a lot more resources here, and the field is more advanced," he explains. He said he is also drawn to the country's diversity.
However, his experience of waiting on a delayed work visa has made him more inclined to pursue graduate school after he earns his Bachelor of Science next year, rather than endure the same frustrating process to enter the workforce.
Song's situation and the latest drama with the STEM OPT program are just the tip of the iceberg when it comes to visa problems affecting STEM students from outside the U.S. 
Targeting Chinese Scholars
In early June, the Chinese Ministry of Education warned anyone interested in studying in the U.S. is likely to encounter visa difficulties because of recent actions by the American government.
In May 2018, the State Department announced it would make it more difficult for Chinese students studying high-technology fields such as robotics and aviation to obtain a valid visa beginning in June that year, according to Texas immigration law firm Berry Appleman & Leiden. The department did not specify how the policy would be implemented but indicated it would likely result in more "administrative processing" denials and lengthy delays.
In early 2018, White House aide Stephen Miller pushed Trump to ban all Chinese citizens from studying in the U.S, the Financial Times reported. At the time, a nonpartisan organization of Chinese American leaders known as the Committee of 100 issued a statement that such a policy would be akin to reinstating the Chinese Exclusion Act of 1882, which prohibited Chinese laborers from entering the U.S. for 10 years. Trump backed down from the idea. 
Even those Chinese scientists who have successfully completed their PhDs and obtained H-1B visas face additional government-imposed hurdles once they apply for American jobs, according to Stuart Anderson, executive director of the NFAP and a contributor to Forbes magazine.
The hurdles come in the form of U.S. export control laws, which stipulate that the release of certain technical information to non-American workers should be considered an export to the person's country of origin.
Thus, when American companies hire a Chinese worker in STEM fields, they have to obtain an export license from the Bureau of Industry and Security in the U.S. Department of Commerce, Anderson wrote in Forbes.
The bureau can prevent the hiring of Chinese workers by either prolonging the processing time for the license so long that companies decide to hire someone else, or by adding restrictions to the license that effectively render these scientists incapable of doing their job.
In the article, Anderson argues that this policy, intended to make the U.S. more competitive with China, is causing the country to go against its own entrepreneurial principles and operate more like China's communist regime. 
Distrust of International STEM Researchers
The Trump administration has also accused international STEM scholars of engaging in espionage and intellectual property theft, stoking a climate of fear on college campuses.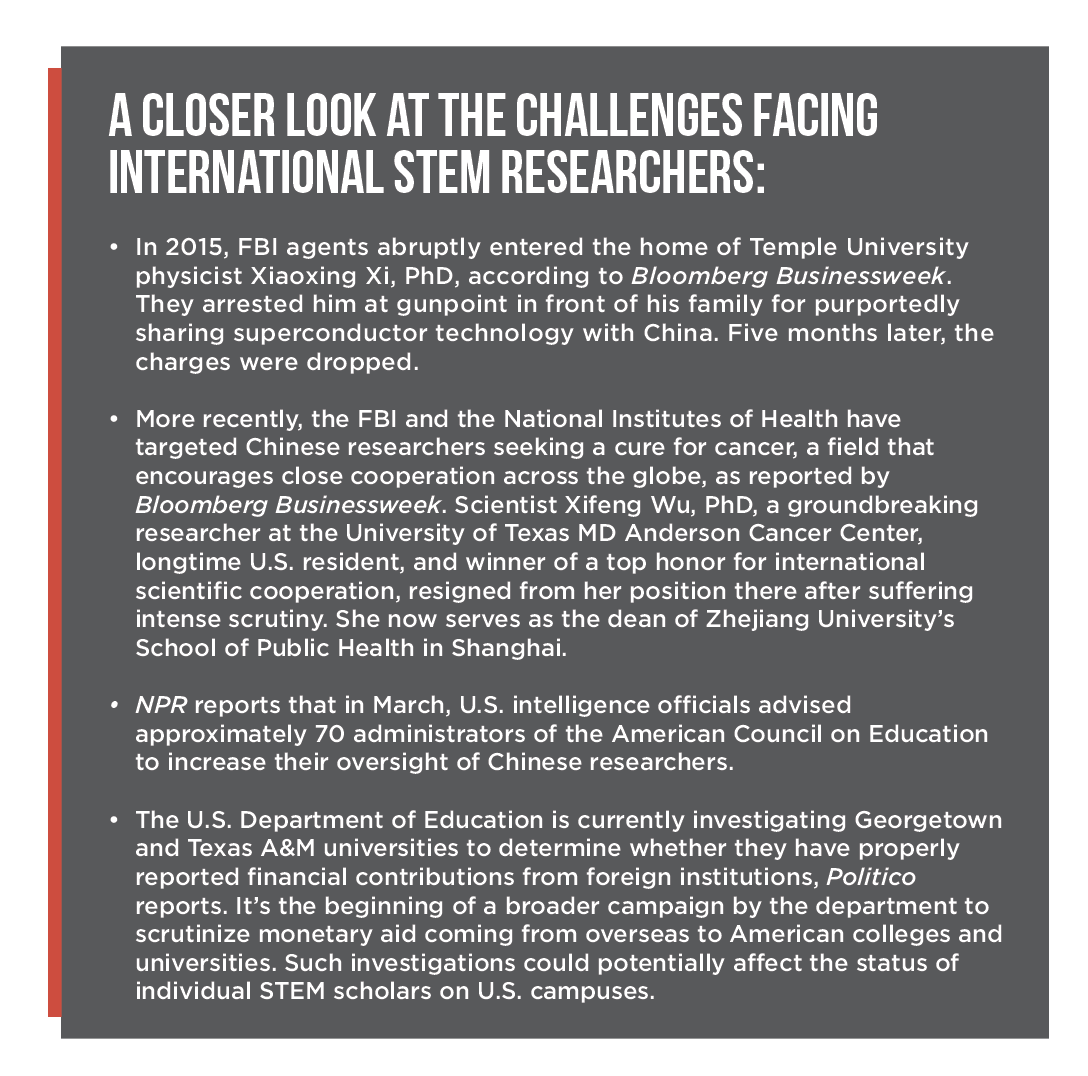 Such fear-mongering has taken numerous forms, including memos directing American STEM scholars not to participate in foreign talent recruitment programs by certain "sensitive" countries, such as China. Congressional testimony by FBI director Christopher Wray stated that combatting China's national security threat requires a "whole-of-society response" involving widespread cooperation among the academic and private sectors.
Last June, Massachusetts Institute of Technology (MIT) President L. Rafael Reif sent an email to the university community warning of a "toxic atmosphere of unfounded suspicion and fear" affecting Chinese researchers in particular. MIT has instituted policies to protect breaches of national security.
The vast majority of Chinese researchers are acting in good faith, he added. He went on to say that "faculty members, post-docs, research staff, and students tell me that in their dealing with government agencies they now feel unfairly scrutinized, stigmatized, and on edge — because of their Chinese ethnicity alone."
Government officials had been racially profiling Chinese scholars even before Trump took office, according to a December 2018 article in the Cardozo Law Review. The number of defendants with Chinese names indicted under the U.S. Economic Espionage Act tripled from 2009 to 2015 to 52 percent. One in five of these individuals was found not guilty, nearly twice the rate of wrongful accusations for non-Chinese defendants, the article says.
Some students refer to the prevalence of racial profiling in STEM as "researching while Asian," taking a cue from the phrase "driving while Black."
Bier argues that political and educational leaders need to continue to promote cooperative and friendly relationships between international and American STEM researchers, or they will take their talents elsewhere.
In fact, this is already happening. According to a NFAP analysis, the number of Indian students enrolled in American graduate programs in computer science and engineering fell by 21 percent between 2016 and 2017.
"We know through data that the declines have been attributed to visa issues and 'feeling unwelcome' in the United States," says Jill Allen Murray, senior director of public policy and legislative strategy for NAFSA: Association of International Educators, referring to an Open Doors report issued this year by the Institute of International Education. 
It remains to be seen how the administration's limitations on Chinese students will affect their participation in STEM innovation in America, much less the U.S. economy. They accounted for one third of all international students in the United States during the 2017-2018 school year, according to data from the Institute of International Education. Major enrollment declines among this group would have a powerful effect on industry, higher education, and the U.S. economy.
"My fear is that the Trump administration's policies toward China will become a self-fulfilling prophecy, with these individuals going back and working for the Chinese state rather than contributing to the U.S. economy," Bier says.
Ginger O'Donnell is a senior staff writer for INSIGHT Into Diversity. This article ran in the September 2019 issue.