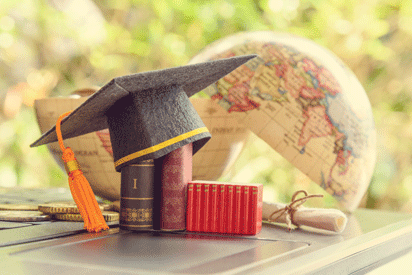 Studying abroad can be life-changing. Institutions of higher education and corporate recruiters recognize the value of such an opportunity. In fact, studying abroad is one of the most dynamic ways students can make their résumés stand out as they look to gain experience in their field of study and enter the workforce.
INSIGHT Into Diversity is committed to improving educational equity for students from underrepresented backgrounds. Toward that end, INSIGHT will award five $2,000 scholarships to underrepresented students who are applying to or have been accepted into a summer or fall 2020 study abroad program of at least four weeks in a single country. 
Eligible applicants must be U.S. citizens and qualify as underrepresented individuals based on race, ethnicity, LGBTQ identity, veteran status, or physical disability. They must be full-time students in good standing at an accredited institution of higher education, including four-year baccalaureate-granting institutions, law schools, graduate schools, and health professions schools.
Online applications open September 15, 2019 and close November 30, 2019. Required materials include an online application, proof of U.S. citizenship, an unofficial college transcript, proof of acceptance into a study abroad program, and a letter of recommendation from a faculty member. All materials must be submitted to scholarships@insightintodiversity.com.
Winners will be notified by January 15, 2020, and must accept or reject their award by January 31, 2020. The five scholars will be announced and profiled in the March 2020 issue of INSIGHT Into Diversity magazine. For more information about the scholarship, email INSIGHT Into Diversity publisher Lenore Pearlstein at lpearlstein@insightintodiversity.com.
INSIGHT looks forward to helping five deserving students embark upon this life-changing experience. For more information visit insightintodiversity.com/scholarships.
Ginger O'Donnell is a senior staff writer for INSIGHT Into Diversity. This article ran in the October 2019 issue.