A string of mass shootings this year — most notably in Buffalo, New York; Uvalde, Texas; and Highland Park, Illinois — have propelled the national conversation on gun violence to new heights. Recently released data from the Centers for Disease Control and Prevention (CDC) further highlight the issue by revealing that firearm injuries have outranked automobile accidents as the leading cause of death among children and adolescents.

 
In response to ever-growing demands for action, Congress passed the first gun control legislation in nearly 30 years in June. Although the bill, the Bipartisan Safer Communities Act, provides some of the most significant firearm safety measures to date, many activists and experts say it still falls short of the response needed to rectify this public health crisis.
One of the main obstacles to finding solutions is a lack of fundamental data, as federal funding to support research on the topic was stunted for more than two decades by the Dickey Amendment, a provision to a 1996 omnibus bill. Lobbied for by the National Rifle Association and other gun rights advocacy groups, the amendment prohibited the CDC — and later the National Institutes of Health (NIH) — from using funds to advocate for gun control. Congress eventually clarified in 2018 that the CDC is allowed to direct money toward research on gun violence, but the amendment already had its effect on the field, ultimately resulting in a lack of vital information, including data on the number of people in the U.S. who own firearms.
Despite these setbacks, experts have remained committed to the cause. Over the last two decades, a handful of universities have partnered with groups such as Arnold Ventures, a nonprofit, and the RAND Corporation, a public policy think tank, to secure funding for firearm research. Both organizations were involved in establishing the National Collaborative on Gun Violence Research (NCGVR) in 2018, which has since raised $22 million from private donors to support a range of projects. While these efforts have helped bridge some of the information gaps, the lack of federal support has impeded researchers from conducting the large-scale studies necessary to sufficiently tackle the issue.
The good news is that the funding freeze appears to be thawing. Over the last three years, federal legislation has been passed to allocate support for the CDC and NIH to study gun safety, providing a much-needed boost to academics in the field. In light of this increased financial backing, colleges and universities around the nation are amplifying their efforts to find answers to one of the most urgent challenges of our time.
In just the last few months, a multitude of higher education institutions have organized conferences, initiatives, and other projects centered on gun violence prevention. In June, Rice University's Baker Institute for Public Policy — located in Houston, just over four hours from Uvalde — invited researchers, community leaders, and doctors to a symposium to discuss policies and procedures being implemented at the local level. 
Tulane University in New Orleans recently began an initiative to provide gun safes to the public. And in the Washington, D.C., region, 16 university presidents announced in July the launch of a six-month collaboration to study and offer recommendations on how to resolve this national epidemic. Entitled the 120 Initiative, the project is named in honor of the approximately 120 people who die from gun violence every day.
University of Michigan
One institution that has been a leader in this work is the University of Michigan (U-M). Home to the nation's largest collection of data sets on firearms, it has secured more federal funding to study the issue than any other U.S. college or university.
In 2018, U-M received an NIH grant to form the Firearm Safety Among Children and Teens Consortium with 25 faculty members in various disciplines — including public health, medicine, social sciences, engineering, public policy, and the arts — from 12 universities. It also launched a special initiative on gun violence in 2019, which would subsequently lead to the creation of the U-M Institute for Firearm Injury Prevention last year. 
While one of the major focuses of the institute is finding prevention strategies and measuring their effectiveness, U-M researchers are also looking at the ways in which this problem affects marginalized populations. 
One current project, led by Kristi Gamarel, PhD, an associate professor of health behavior and health education at the U-M School of Public Health (U-M SPH), examines the factors that influence gun violence against LGBTQ+ youth and young adults of color in Detroit. The idea came from Gamarel's work as a founding member of the Love Her Collective, a community-academic partnership between U-M SPH and the nonprofit organization Trans Sistas of Color Project, which aims to better understand and meet the needs of Black and Brown transgender women. Based on feedback from the collective's community partners and organizers, Gamarel knew this was a critical area of study.
"There have just been too many brutal murders of Black LGBTQ+ people in Detroit, yet they have been largely invisible in the larger body of literature focused on firearm violence and prevention," she wrote in an email to INSIGHT.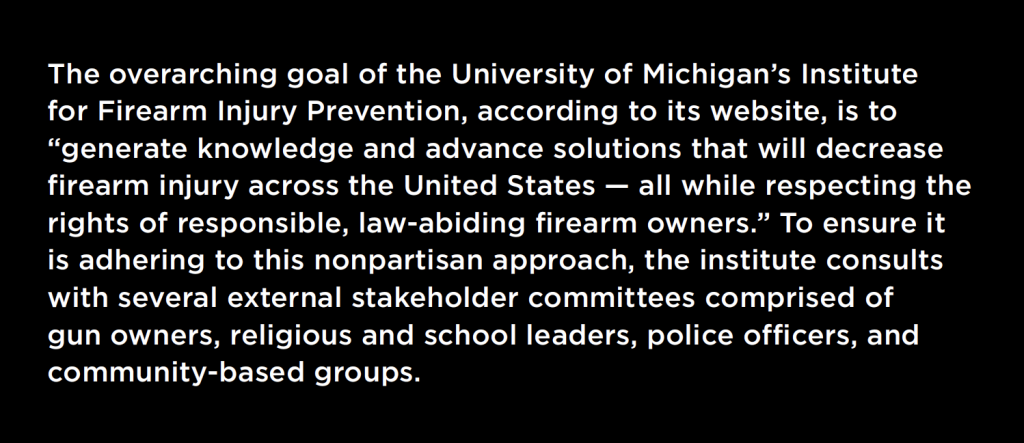 Although still in the early stages, Gamarel's project ultimately seeks to identify the oppressive structural, social, organizational, and psychological factors that contribute to firearm violence against these groups; create a method to measure their exposure to firearms; and discover strategies that will improve data collection on LGBTQ+-related gun violence.
"We hope that the findings from this pilot project will help us to answer questions about intersectional oppression and firearm experiences among LGBTQ+ communities of color," Gamarel says, "so that we can inform community-based interventions that are not just effective at reducing firearm injury but are most appropriate and have real-world utility."
Columbia University
Another institution where researchers have taken a strong stance on firearm safety is Columbia University. In the summer of 2020, faculty members from the university's Teachers College (TC) and Mailman School of Public Health held a meeting for researchers across campus who were interested in the subject. From there, the Columbia Scientific Union for the Reduction of Gun Violence (SURGE) was born. The group — made up of 40 faculty members from six Columbia schools as well as staff, graduate students, and alumni — is primarily concerned with "generating new evidence, interdisciplinary collaborations, and creative ideas that, they hope, go beyond traditional solutions to gun violence," according to a university news release.
Thus far, SURGE has organized seminars and other events, including an annual Gun Violence Action Week on campus, to bring awareness to such topics as gun politics, intimate partner violence, and suicide prevention. The group's members are actively involved in research projects that approach the issue from a variety of angles, including examining the links between alcohol and gun violence, firearm injuries and the health care system, and more. The SURGE website also highlights courses at Columbia that touch on this topic and ways that students can get involved. In addition, SURGE members have worked with the TC Media and Social Change Lab on (Re)Search for Solutions, a podcast series that explores creative ways that researchers are responding to this epidemic. 
This drive for finding nontraditional solutions to the long-standing problem of gun violence is central to the heart of SURGE's mission. Three of its founders recently authored an opinion piece for The Los Angeles Times expounding on the need for innovative methods to prevent mass shootings and other incidents in advance, rather than simply responding to events that have already occurred.
"If our goal is to keep school shootings from happening in the first place, we have to prioritize prevention over after-the-fact interruption, the way we do with other forms of violence such as bombings," they wrote.
National Research Conference
on Firearm Injury Prevention
This fall, NCGVR, U-M, and Columbia are joining the RAND Corporation to host the first-ever National Research Conference on Firearm Injury Prevention. 
"The main goal of the conference is to bring together firearm injury prevention researchers of all levels, backgrounds, disciplines, and focus areas to highlight the current state of the science and research in this field across the lifespan," Kate Barnes, a communications specialist in the U-M Office of the Vice President for Research, wrote in an email to INSIGHT.
The conference, which will take place November 29 through December 1 in Washington, D.C., will enable scholars to share best practices and expand the reach of their studies both within the field and to external audiences. The event is still in the planning stages, but Barnes says organizers have been met with great enthusiasm.
"We are seeing many researchers — both early career and established researchers, as well as trainees — from numerous academic institutions interested in attending or presenting, which is exciting," she says.
Along with the recent influx of federal funding, the conference may be a sign that the country is facing a turning point in the field of gun violence scholarship. While more government support and resources are still needed to adequately address this national crisis, the interest already being generated shows just how passionate researchers are about the topic.
"The array of registrants thus far is showcasing how much this field of study is growing," Barnes says, "and why a conference like this is critical to ensuring researchers have the resources they need to continue their work."●
Lisa O'Malley is the assistant editor of INSIGHT Into Diversity. 
For more information about the 2022 National Research Conference on Firearm Injury Prevention, visit ncgvr.org.
This article was published in our September 2022 issue.