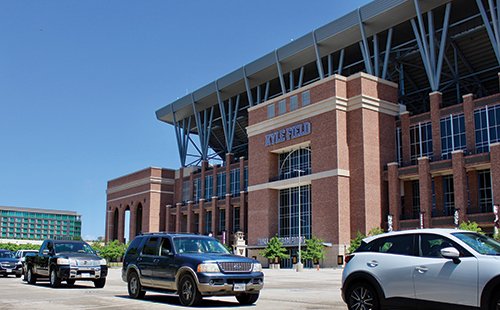 When California State University, Fullerton (CSUF) associate professor Shu-Chen Yen's four-year-old daughter overheard news reports about the COVID-19 pandemic on television, she came to her mother with some difficult questions. 
"She was so scared, saying things like 'Is it going to come to our house?' and 'Are we going to die?'" says Yen, who has a PhD in early childhood development and teaches in the CSUF College of Health and Human Development.
An expert in trauma-informed education, Yen writes "social stories" for children in communities affected by natural disasters; the term refers to a story-based learning tool that explains frightening situations to children in a way that mitigates the anxiety and fear that leads to post-traumatic stress disorder. To assuage her daughter's fears, Yen decided to write Something Strange Happened in My City, a social story explaining the coronavirus in the form of a conversation between mother and child. 
"I chose the information and pictures [to include] very carefully because I don't want to traumatize her, I want to get the message across to help her understand what's going on and to comfort her. Then I shared it with my students, and eventually it just went viral," Yen says. 

With the help of colleagues, she turned the story into an eBook, audiobook, and animated video complete with an accompanying lesson plan and suggested activities for empowering children, such as writing thank you notes to frontline workers. CSUF publicized the story on its website and faculty members shared it with student parents; before long, people from around the world were contacting Yen for permission to translate and share the piece. 
As of May, Something Strange Happened in My City, which is available free online, has been translated into 18 languages.
Yen's project demonstrates the ingenuity and willingness to help despite hardship that has characterized the higher education community throughout the COVID-19 pandemic.
While Yen, who wrote the story while on medical leave, didn't have the challenge of converting her courses online mid-semester as did many educators, she undertook her project despite far greater limitations — having just finished chemotherapy for breast cancer in February. 
"I feel very fortunate right now," she says, explaining that she feels lucky to have finished treatments before the pandemic hit the U.S. and to have the support of so many people in trying to mitigate its psychological harm.
"This is how I can help," Yen says. "This is my contribution."
Like Yen, students and faculty from across the country have found ways to help those affected by the COVID-19 pandemic in ways both large and small. As colleges and universities grapple with unprecedented challenges in funding, teaching, and every other aspect of campus life, many in the higher education community have nevertheless found ways to support their communities and one another. 
CovidSitters
For most of the nation's nearly 22,000 medical students, all contact with patients has been banned since March. Bobby Gosey and Yasmine Bargoti-Gosey, married fourth-year students at Ross University School of Medicine (RUSM) in Florida, didn't let that stop them from joining the fight.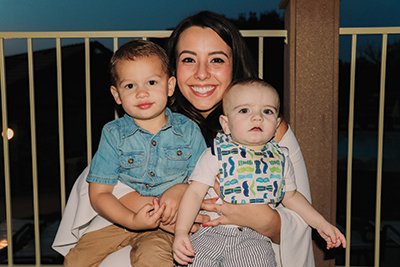 The couple are founding members of the Michigan chapter of CovidSitters, a national organization of students that provides free babysitting for frontline workers. 
The pair were inspired to start the chapter after having to discontinue their on-site clinical rotations at St. Joseph Mercy Oakland Hospital, just outside Detroit.
"We were feeling like we had to do something to help, especially because a lot of our residents and other doctors are on the frontline," Bargoti-Gosey says. "We were trying to figure out something bigger we could do for them [because] many of them are our teachers and have helped us get this far by teaching us a lot of what we know."
CovidSitters was originally founded by University of Minnesota (UMN) Medical School students shortly after they learned that all clinical rotations would be moving online. At the same time, most K-12 schools and daycare centers were shutting down, leaving overworked healthcare employees with few options for childcare.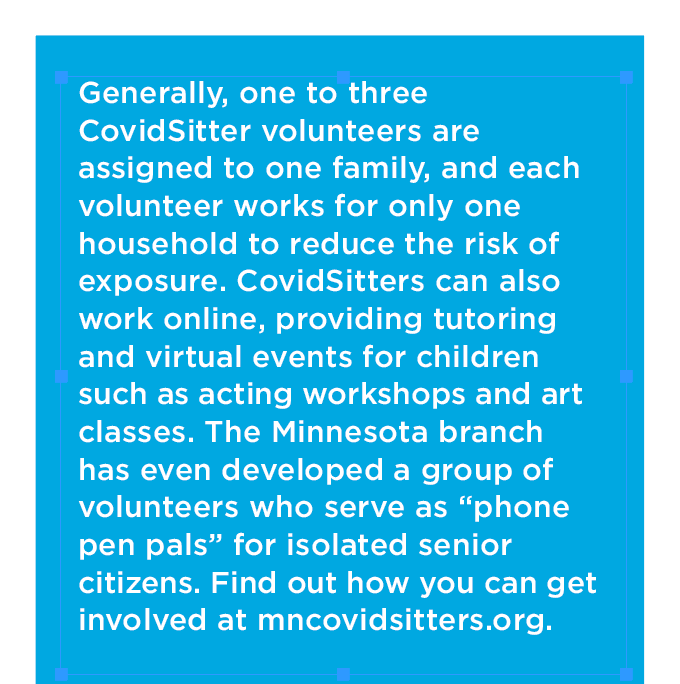 Recognizing this need, a small group of UMN medical students shared a social media post on March 13 offering free babysitting services for frontline workers. By mid-May, the group had 386 student volunteers serving nearly 300 families across the Twin Cities and had helped launch 30 sister branches of CovidSitters across 21 states, according to Brianna Engelson, a UMN Medical School student and a board member of MN CovidSitters.
"Physicians and nurses are not the only ones who receive our services," Engleson says. "We define [healthcare workers] as anyone who helps make the hospital run. This includes janitorial and housekeeping staff, kitchen staff, social workers, etc."
In addition to childcare, the organization helps with tasks such as dog walking and grocery shopping. Nursing and other healthcare students have signed up and, as local universities began recruiting their pre-med students as volunteers, undergraduates from multiple disciplines also began expressing interest. Nonprofits like the United Way as well as private companies in the healthcare and tech sectors have helped the organization gain traction by advertising their services, developing an app to help volunteers match with families, and more. 
Gosey and his wife say the experience is invaluable training for their future careers. 
"We're all going into medicine to help others and being where we are most needed at this time is in line with that end goal," he says. "It really strengthens the intrinsic value or feeling of being able to help people, even when you don't have many options for doing so."
"The other way it relates [to being a physician] is learning to act quickly in an emergency situation and discovering where you can be most useful," Bargoti-Gosey says. "To be a successful resident or physician, or even future business owner one day if you are to open your own practice, these are critical life skills." 
The couple say they have been discussing with RUSM how their work with CovidSitters might count toward course credit. At UMN, the medical school has already decided that volunteering with MN CovidSitters will be part of a new course this summer. 
"The details are still being worked out, but the University of Minnesota has been very supportive of our efforts," Engelson says. "Many schools across the country are working to create new service-learning curricula [in light of the pandemic]."
Engelson stresses that CovidSitters is far from limited exclusively to medical students and that the organization is always desperately in need of more help, as healthcare workers "are significantly burdened by lack of access to childcare," she says, noting that 70 percent of these workers are women and nearly half have children. 
"You do not have to be a health student to volunteer with the COVID response," says Engelson. All college and university students have a role to play, whether it be with CovidSitters or helping out at food pantries, homeless shelters, or personal protective equipment drives, she says. 
Give Essential
Crystal An, an incoming medical student at Case Western Reserve University, was spending a gap year working with a nonprofit in Asia when the COVID-19 pandemic hit. She saw the escalation of the disease on that continent firsthand before having to return home to New Jersey, where she says she felt powerless to help. 
"Now that I was home in the U.S. without school or work, I had this really strong desire to help but didn't know how to do so without leaving my home," An says. "I have friends who are fighting on the frontline as nurses and medical school friends who are helping with contact tracing and COVID hotlines, but without any medical training yet I felt at a loss for how to make a positive impact."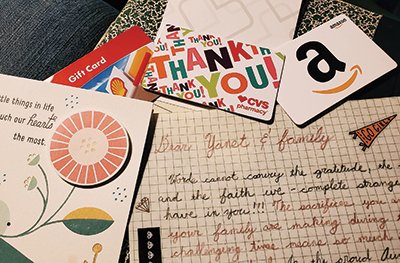 An was far from alone in this feeling. Her friend Amy Guan, a senior at Dartmouth College, was working long-distance with her college roommate, Rine Uhm, a sophomore, on ways to contribute to the fight against COVID-19. They decided to develop a platform called Give Essential for people to donate basic supplies to frontline and essential workers in need. 
"The idea behind the platform is that we all have extra household items laying around, things like toys and hygiene products that we're not using — so why not find a way to connect those resources to the essential workers who might need them, these workers who are putting their health at risk to keep the rest of society running yet don't seem to be getting enough support or protection?" An says. 
The women brought Luiza Odhiambo, a junior at Dartmouth, onboard to do outreach. "I have a lot of members of my family who are essential workers and I've been hearing lots of stories of the struggles they've been having finding the resources they need, so I wanted to find a way to help others in that situation," she says.
Odhiambo asked her mother, who is an essential worker, to help spread the word about Give Essential when it launched in early April. Within 24 hours of launching, the website had approximately 300 registered users.
By May, approximately 1,600 essential workers and 500 donors had registered with the site, which is a "peer-to-peer matching platform," An explains. Workers are able to ask for specific supplies in four categories: personal hygiene, feminine hygiene, kids activities, and gift cards. Give Essential volunteers — primarily college students — connect these requests with appropriate donors and facilitate communication, packaging, and other logistics while maintaining worker and donor anonymity.
While hygiene products may sound like a small gesture, these basic necessities can make a big difference for people on the frontline, Odhiambo says. 
"One of the stories that touched me was a nurse who ended up packing very last minute to go to New York to help with the outbreak, and she didn't have time to pack some basics. She reached out to us to ask if there was any way we could connect her with someone offering lotion and soap because wearing an N95 mask all day was very difficult on her skin," she says. "Here's this person who is really a hero, who is putting their life on the line every single day, and all they asked for was some lotion."
In addition to product and monetary donations, people from across the U.S. have offered to help Give Essential in whatever ways they can. Some have volunteered assistance with website development, and teachers have offered to host virtual conferences and activities for essential workers' children. 
"That's the beauty and the utility of Give Essential," An says. "It gives regular people like you and me the chance to make a direct impact on an essential worker's life. In this time of social isolation, to be able to make that connection is a powerful experience."
The REACH Project
Among the people whose lives have been turned upside down by the pandemic are the essential support staff who keep college campuses running.
At Texas A&M University (TAMU), where many of the contract support staff have been laid off or furloughed since March, student Max Gerall knew that the campus community wanted to support these workers — they just needed a way.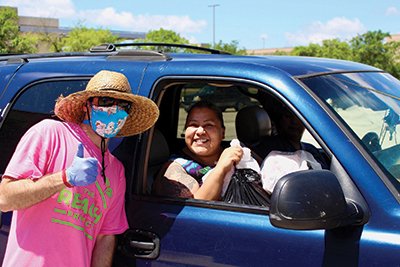 Gerall founded the The REACH Project in 2019 with the goal of creating a "self-sustaining higher education system" that could leverage university and community resources to support employees that Gerall refers to as "Invisible Aggies"— the workers that keep campus running yet are rarely recognized by students. 
The project's work included engaging students to deliver services such as first aid courses, accounting and finance training, and language development and naturalization coaching. Its overarching mission is providing affordable housing, and the organization had been in talks with the chancellor's office regarding the possibility of developing affordable staff housing on university property.
"We've been really gaining momentum and have won a couple of grants through the university for building our research and platform, and then of course the pandemic hit," Gerall says. "I wasn't really sure what we were going to do, but we knew that the original mission had to be put on hold and we needed to come up with an immediate impact solution."
Gerall consulted with his advisory board, which is made up of TAMU department heads and community leaders, to develop a meal distribution service that could support both campus workers and local restaurants.
He established a GoFundMe for community donations to purchase meals from local restaurants, raising more than $46,000 to cover 10,000 meals over the course of several weeks. Local county health officials helped REACH develop a drive-through system on campus that maintains social distancing. Student and staff volunteers help distribute the family-sized meals twice a week for approximately 180 employees.
TAMU department heads have sent out mass emails announcing the service, and faculty have raised awareness and connected the project with alumni who help with fundraising. A tech company in California recently provided REACH with a free app to help facilitate donations and meal distribution. Students from other universities have reached out to ask how they can develop similar projects at their own schools. 
The project's ability to raise awareness and support for campus workers is one positive outcome of a disastrous situation, Gerall says. 
"It's just been really beautiful how everyone is coming together, people from all across the country, and supporting one another at this time," he says. "It's definitely been the silver lining that's starting to show through all the chaos of the pandemic."●
Mariah Bohanon is the senior editor of INSIGHT Into Diversity. Texas A&M University is a 2019 Higher Education Excellence in Diversity (HEED) Award recipient and a 2019 Diversity Champion. This article was published in the May/June 2020 issue.