Since Roe v. Wade was overturned in 2022, keeping up with new abortion laws and restrictions is difficult, and it's especially challenging for women in the Deaf and hard of hearing (DHOH) community who face language barriers when seeking reproductive health care services.
To better understand the challenges and identify accessibility solutions for this population, the first national survey on the reproductive health care experiences of DHOH women is underway. The survey is led by Tiffany Panko, MD, associate research professor and executive director of the National Technical Institute for the Deaf at the Rochester Institute of Technology, and Corrine Occhino, PhD, assistant professor in the Department of Languages, Literatures and Linguistics at Syracuse University.
The project is funded by a grant from the Society of Family Planning, an international nonprofit that focuses on abortion access and contraceptive science.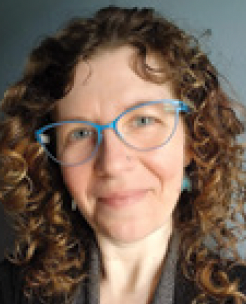 One part of the research involves a national survey of women between the ages of 18 and 44, regardless of hearing status. Examples of survey questions include asking where a respondent goes for health care, how comfortable they are in medical settings, and their use of contraception. In the second segment of the project, semi-structured interviews are conducted with DHOH women who have had an abortion or who have sought contraceptives. These conversations are then annotated to find common trends. 
Results will be shared with the public periodically, and further work with providers will focus on developing solutions to eliminate health care inequities for the DHOH community.
One key preliminary finding is that among individuals who reported difficulty in acquiring contraceptives, a greater proportion of DHOH participants reported they did not understand why they had no access to birth control, and they were unable to identify the barriers.
Occhino and Panko attribute this issue to the communication challenges between hearing and DHOH communities in health care settings. For example, DHOH women are often unable to develop a strong personal relationship with their provider, and there is a lack of in-person and reliable health care interpreters, Panko says.
A greater proportion of DHOH participants reported they did not understand why they had no access to birth control, and they were unable to identify the barriers. 
It's challenging to find women willing to share their stories of abortion for the study, says Panko, in part because of the new anti-abortion laws. Little information is available overall on the topic of abortion in American Sign Language (ASL), and no reliable ASL resource on abortion access has been created since Roe v. Wade was overturned, she says.
"A lot of people have misconceptions or beliefs that are not true within our community, or people become pregnant and want to get an abortion and then find out they can't," says Panko. "They don't have the full picture because there's no language access."
Gaps in women's health care research are especially prevalent when there's an intersection of identities, such as communities of color and people with disabilities, says Occhino. Because of the communication barrier for DHOH patients in health care settings, a lack of trust in the medical system is common, says Panko, so more representation in services and in research is critical.
"We need to think of health care as a right," says Occhino. "It's a social justice issue that we should all be concerned about, not just the Deaf community, but everyone should care about it."●
This article was published in our June 2023 issue.