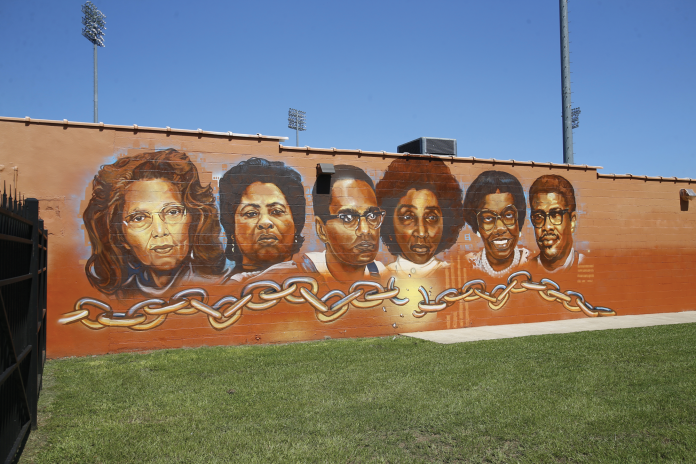 On July 24, Jackson State University (JSU) in Mississippi unveiled a new mural honoring local civil rights icons at the Council of Federated Organizations (COFO) Civil Rights Education Center on campus.
The piece, entitled Chain Breakers, features six Black citizens, both living and dead, who overcame obstacles and advocated for equal rights in education, business, voting, and more. They are depicted rising above a broken chain. From left to right, the mural features:
Rep. Alyce G. Clarke (D), the first Black woman to serve as a state legislator in Mississippi

Fannie Lou Hamer, co-founder and vice chair of the Freedom Democratic Party

Robert Parris Moses, leader of the Student Nonviolent Coordinating Committee (SNCC)

Rose Elizabeth Howard Robinson, famed local educator

Louise Marshall, the first Black bookstore owner in the Washington Addition neighborhood

Albert Powell, Washington Addition's first Black florist
The Washington Addition community, where JSU is located, is a historically Black neighborhood.
"Each person portrayed in this mural broke barriers and set examples in the community surrounding the COFO museum," Sabrina Howard, the local painter who created Chain Breakers, stated during its unveiling. "As an artist, it's such a privilege to create public art that not only brings beautification to the city, but also creates a positive impact on this community by activating learning and imagination by adding value to and awareness."
The mural took approximately three months to complete, according to ABC News, and was funded through an $8,000 grant from the Mississippi Arts Commission.
Moses, who dedicated his life to education after leading the SNCC, passed away at the age of 86 one day after the mural's unveiling. He played a key role in Black voter registration, enduring physical violence for his efforts during the 1964 Mississippi Freedom Summer and other voting rights campaigns.
SNCC was one of several civil rights groups under the umbrella organization of COFO. JSU opened the COFO Education Center in 2011 to preserve the history of these groups as well as to "cultivate young minds and foster the development of future leaders and community builders," a university press release states.●
This article was published in our September 2021 issue.